Ah, crackers. Simple, straight forward snacking yumminess.
I had done these previously, long before [easyazon-link asin="1580082688″]The Bread Baker's Apprentice[/easyazon-link] Challenge came about. At that time, I thought they were pretty good and, for crackers, totally snack-a-licious. So I was interested to see how these would turn out now that I have a little more bread baking experience under my belt.
I went into this without any real idea what toppings I'd end up using, although I'd toyed with cheese and hot peppers – we have Jalapeño and Scotch Bonnets from the garden so that seemed tempting. But then I wanted to have several flavours and to add cheese and peppers, I'd need to add them into the dough instead of just sprinlikng on top. So without a solid final plan (yeah, this is really living on the edge!) I fired everything up. I would just raid the spice cupboard and pick out some favourite spices, herbs and mixes.
By now you've likely seen the Mis En Place in previous posts so you already know how that works. So we'll jump ahead to everything in the bowl:
Ingredients are flour, salt, yeast, oil, honey and about a half cup of water. Here's a quick tip: measure out the 1 Tbs of oil before the 1 Tbs of honey, that way the honey won't stick in the spoon. I started with 1/3 cup of water in the bowl then added a tiny (seriously!) bit more once or twice along the way. I ended up using almost all the 1/2 cup of water, minus about 2 teaspooons. Your total may vary as it will depend on the humidity in your area, the humidity of the four, etc..
I then stirred it into a ball. This is seriously simple stuff.
It then got turned out onto the counter and kneaded for about 10 minutes. At that point it passed the windowpane test (I didn't check the temp but it was warmer than room temp and it's a pretty warm day. Next it goes into the covered bowl to double, about 90 minutes.
At the 90 minute mark, it had doubled nicely so the dough is turned out onto the cleaned up counter that now has a light spay of oil.
A little hand coercing to get it a bit flatter and we're ready to roll it out to a size big enough to fit our cookie sheet.
You'll note the high tech rolling pin I'm using here. It's a 2-foot piece of PVC pipe (yes, new, not from under the sink). Cost: about $3 for two (it comes in 4 foot length so you need to cut it) at your local Big Box hardware store. A little sanding of the ends and presto, a basically non-stick smooth rolling pin you can definitely pop in the dishwasher.
Once it was pretty much to the right size, I rolled the rather thin dough aroug the rolling pin, much as one would pie dough. Then it's just a matter of un-rolling it onto the cookie sheet. Here I've got a silicone pad on the sheet instead of parchment. This turned out to be not the best idea.
With a little more last second stretching, I got the dough to pretty much cover the whole sheet and stay in a fairly straight-sided rectangular shape.
I used a plastic serving tray I had nearby to cover the dough and let it get a 5 minute "rest and relaxation".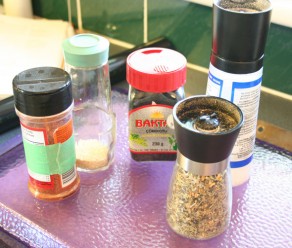 In the meantime, I had to get picking the toppings.
And here's what won out of the spice cupboard:
Some "Essence of Emeryl" (home made)
White Sesame Seeds
Black Sesame Seeds (thanks again, Alen!)
Some Herbes Provencale
Some Mexican Medley (not shown)
and coarse ground sea salt.
Once the 5 minute rest was up, time to sprinkle!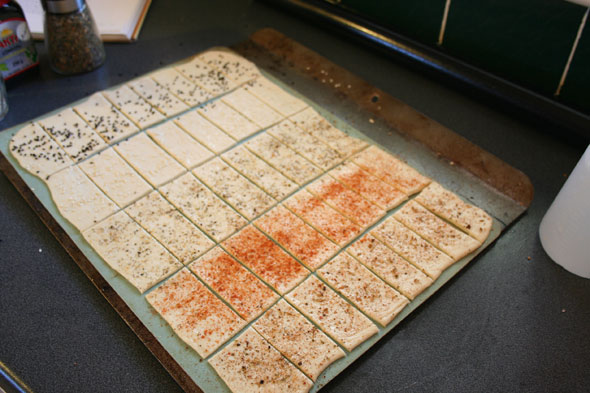 OK, so the final slicing isn't exactly "inspired" or anything but it works. Into the pre-heated 350º oven for 15 to 20  minutes.
And this is where the silicone pad didn't help. It insulated the bottom of the crackers too much so they weren't browning very well, even at the 20 minute mark. So I flipped on the convection, pulled the crakers out and put them directly on the sheet. A minute or two later, they were done. Next time: parchment paper for sure.
So out of the oven and cooled for about 10 minutes (I tested one pretty much right away. HOT!! Don't do that, give it a few minutes!)
And here's our final Glam Shot: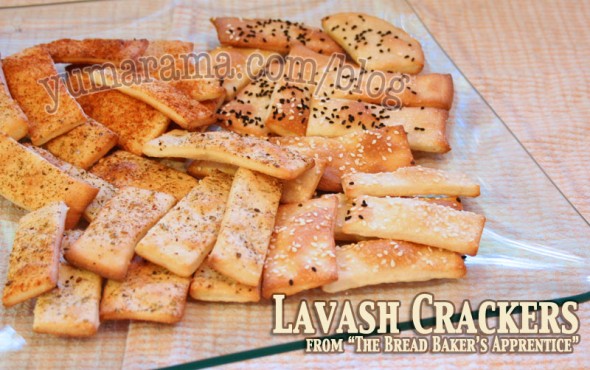 Verdict: pretty much as yummy tasting as they look. Now these are not  you normal storebought boxed things, they're a bit more "bready" so don't expect something like Ritz or Saltines.
It would be simple to make these nearly any flavour combination you'd like, of course. The possible topping choices you decide on is pretty much limitless. Aside from sprinkle-ons, you could also do, as mentioned befre, mix0ins like the Cheese and Hot Pepper or perhaps Fresh rosemary and switch the oil in the recipe to Olive Oil and add a good dash of Cracked Pepper…  Well, I'll leave it to you to come up with combos you and your family will love.
Here's out Blog Roll for the lavash Crackers with other BBA Challenge takers:
Joelen at What's Cookin' Chicago made a HUGE batch in all flavour and sizes
Michelle of Big Black Dog made each cracker 'finger" multi-flavoured
Our buddy Phyl Of Cabages and King Cakes made both cut and snap types.
Carolyn of Two Skinny Jenkins did some lovely artsy crackers.
Jeff of Culinary Disasters almost chucked the dough out (twice) but managed great results
Give these things a try, they're an interesting departure from your standard mass-made store bought fare. And since you can make them to suit your personal taste, way better.