If you ever want to make your house smell absolutely awesome, make this bread. Even during the dough building process, this was absolutely wonderful. While baking, it's to die for.
And that's just the aroma.
This is my second run at this bread, the first happening a fair while back, before I got into the whole documenting step-by-step thing. You can read that older post here.
I've also skipped ahead a few breads as far as The Bread Baker's Apprentice Challenge goes; no big impressive reason except I had some extra mashed potatoes from dinner yesterday and decided to just hop over Poolish Baguettes #26 and Portuguese Sweet Bread #27. We'll get to those next.
So let's get the show on the road here…
Naturally, we do our Mis en Place, to make certain we have and use everything we need.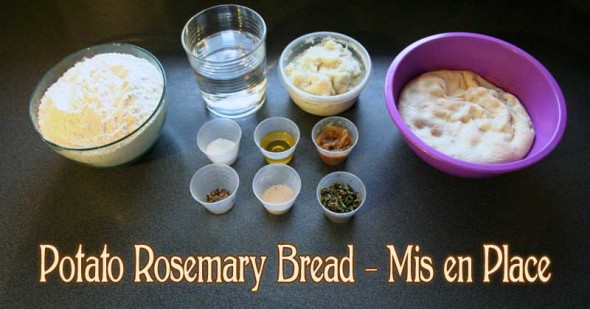 This bread is a two-day bread, the first day — in actuality, it's just a few minutes — is for building the bigga. That's it in the purple bowl above. It's simply bread flour, water and yeast and it's been allowed to ferment for a couple of hours then put in the fridge overnight. This lets the dough develop flavours you would not get if you did the whole bread in one sitting.
On baking day we assemble our ingredients which consist of bread flour, water, mashed potatoes, bigga, salt, coarse ground pepper, instant yeast, olive oil, coarsely chopped rosemary and roasted garlic. As you can see, this bread is also a little more complex in its ingredient list although it's not really too tricky.
Roasted Garlic Tip:

Although the recipe says roasted garlic is "optional", I strongly suggest you use some, it adds so much to the experience.

I made some a long while back when I got a whole bunch of garlic heads on sale, roasted six of them all at once, then froze them in little  teaspoon sized lumps (about one clove) on a parchment lined pan. Once frozen solid, I coated them in a little olive oil so they would separate easily and popped them into a freezer bag. Now I can have a bit of roasted garlic anytime I want. I used four cloves to make up the 1 ounce required.

Here are instructions on how to roast garlic from the King Arthur website that results in more garlic than the typical whole-head roasting method. This method is super easy so there's rally little reason not to make a batch, use some for your bread and save the rest for mashed potatoes and other goodies.

And the good thing about roasted garlic — sorry, ONE of the good things about roasted garlic – is that the baking takes away the "garlic breath" issue you typically have with garlic added to foodstuff. You get the flavour, though much more mellow and the roasting adds a wonderful overtone. If you haven't tried it, you REALLy owe it to yourself do so.
Ok, back to our bread…
On day 2, we pull everything out, cut up the bigga and let it warm up for an hour. The recipe calls for 7 oz (198 g) of the bigga. The directions for the bigga (page 107) makes 18 oz so I cut that in half (9 oz) which still left a 2 oz chunk. I decided to toss it in anyway. (Don't tell anybody!)
All the dry ingredients go into the mixing bowl and get stirred up.
We then add the now-warm bigga pieces, oil, mashed potatoes, rosemary and 3/4 cup + 2 tablespoons of room temp water. The remainder (1/4 cup) is held for a bit and added if needed.
The dough is then mixed with the paddle for 1 minute until it forms a ball. We then switch to the dough hook and machine knead for 6 minutes or by hand for 6 – 10 minutes. I find my flour seems to absorb a lot so I ended up using all the water save for about a tablespoon. We want the dough, when kneaded, to be supple and tacky, not sticky. We then turn the dough out onto our floured counter.
Here the dough is flattened (if it's too sticky, still, you can also incorporate a little more flour) and the roasted garlic is spread on top. I should mention that the kitchen at this point already smelled tremendous; the warm dough was decidedly rosemary-scented and the garlic spread was great.
Next we gather the dough back into a ball and give it a minute or so of hand kneading to incorporate that garlic spread.
We shape the dough into a ball and put it into an oiled bowl for the bulk proofing. The book says this can take 2 to 4 hours. Choosing to go on the safe side, I set the timer to 2 hours.
When the timer goes off, it was obvious that the dough had more than doubled already. Good thing I went for the shorter time! Much longer and the lid would have popped off.
Once more we turn the dough out on the lightly floured counter and cut it in two. We are ready to shape our loaves.
I chose to do two boules, although Peter suggest you can also make about 18 rolls. The loaves are placed on parchment sprinkled lightly with cornmeal. I also elected to put each on its own separate sheet of parchment so that they could be moved independently,  should the need arise.
On the left is the dough before final proofing. On the right, after 1.5 hours it had doubled; the book said 1 to 2 hours of proofing here so be sure to keep an eye on this one. It's hard to tell from the photos but they were indeed doubled.
Once ready and the oven is preheated o 400ºF the boules are brushed with a little olive oil which will give the finished loaves a nice bubbly crust finish.
Slashing is not necessary but can be done. I selected to do so today but I won't bother next time. This is rather soft dough and the slashes expanded a lot while it was still on the counter in the few seconds between slashing and getting them into the oven. Because of the instant expansion, there's no chance of getting 'ears' here. I was concerned the dough ball would just spread out because the tension in the skin was gone. The softness also made the actual slashing rather difficult.
So into the hot oven they went. There's no steam required here nor does Peter suggest the need of baking stones. Dough proofs on pan, pan goes into oven, can't be much simpler!
I should confess that I preheated to 420º to allow for heat loss when I put the loaves in. As soon as they're in, I turned the thermostat down to 400º. Don't know if that helped anything or not.
After 20 minutes in the oven, they loaves were rotated to allow even baking. They were left in for another 15 minutes or 35 total. The book suggests 35 to 45 minutes or until the interior temp reaches 195ºF. They were at that and a bit better at 35 minutes so out they came.
I also took the mostly baked loaves off the baking pan when I did the rotation; I've been finding that my pans seem to cause the bottom of the loaves to burn a little while the top is just getting browned. I suspect that, as you can see, the fact they have a black non-stick coating is causing the pans to attract more heat than they should. So the bread went directly onto the wire oven rack and the pan went to the (empty) rack below to help deflect the direct heat coming from the bottom. This ended up working quite nicely. With no pan in the way, the bottoms browned up nicely without charring.
And here's the loaves just out of the oven: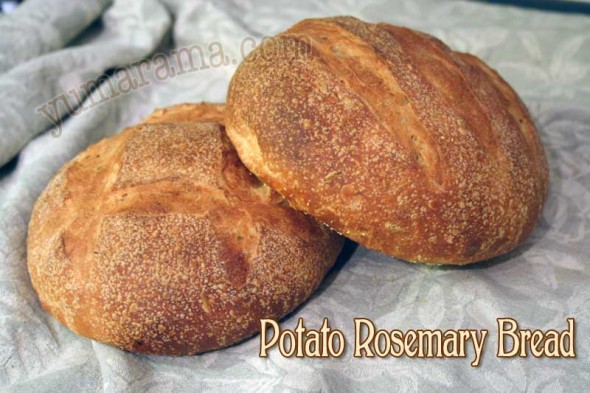 By this time, we had already had supper so the bread remained unsliced. Once we cut into it tomorrow, I'll grab a crumb shot and post it as well as add a review of the texture and taste. At this point, however, I can tell you that the crust, although crispy, seems to be thin, the loaf seems soft to the touch. This will likely firm up as it cools but it's indicating we'll have a crust that's not too heavy, something Punkin rather prefers in his bread.
And did I mention how mouth-wateringly good the house smells? I almost wish I was elsewhere so I could just walk in from outside and be hit by the wonderful aroma all at once. I guess I'll just have to contend myself with eating it in a bit.
OK, here it is, the official Crumb Shot!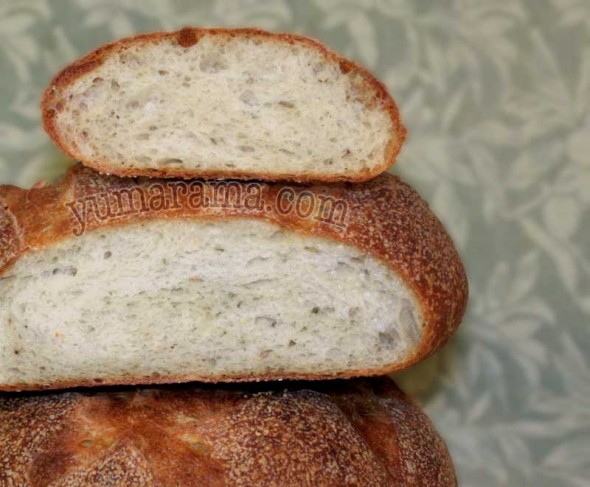 Well, I have no complaints although I had expected it to have come out holier since this was a somewhat soft, hydrated dough. But this is still quite fine by me. Perhaps the potato starch has something to do with both the softness and non-holiness. Ah well, don't care. Num num num nummm.
Regardless, it's incredibly yummy. Make this bread soon. If you like herbed bread, this is a really tasty one. Maybe not the best for peanut butter and jelly but it would be terrific with egg or deli meat, savoury tuna salad, I bet it would make an interesting grilled cheese sandwich (made with real cheese)… or all by itself with a smear of butter.
Update: Redux #2
I just made another batch of this bread, this time making a double sized recipe (four loaves). I held back the rosemary then split the dough in two after the kneading. To half, I added the rosemary and to the other half i added fresh chopped basil. Kneaded both doughs to incorporate and carried on as before. I shaped the dough into batards this time, however, makes for easier to toast slices.
Results: the basil bread is also delicious. The basil flavour is not as punchy as rosemary which isn't too surprising since rosemary does have a hefty flavour to it. I'll up the quantity of basil next time. But now I have a second variation on the original and it's excellent as well.
Others baking this bread:
Oggie at The Home Baker says this is her new favourite!
This bread was submitted to YeastSpotting. Check it out for great breads each week!