Coming in at #48 for the MellowBakers.com group, Aloo Paratha is a savoury filled Indian flatbread.
Like all Mellow Baker breads, it was sourced from Hamelman's book Bread: A Baker's Book of Techniques and Recipes (First Edition) and can be found in the Miscellaneous section on page 282.
Note that the NEW edition of BREAD has dropped this recipe, so I'll give the details here.
DOUGH:
2 3/8 cup (10.6 oz / 300 g) whole wheat flour*

Heaping ½ Tsp / 3 g salt

~ 1 cup (7.9 oz / 225 g) water 
FILLING:
1 lb / 453 g potatoes, boiled in their jacket; once cooled, peeled and grated

1 tsp cumin seed, toasted
1 tsp coriander seed, toasted & ground
2 tsp grated fresh ginger
1 Tbsp + 1 tsp finely chopped green chilies
.5 cup chopped fresh cilantro
Salt to taste
2 Tbsp mustard oil**
.25 cup Ghee for brushing
* Indian whole wheat is typically chapati flour, a finely ground & sifter whole wheat flour. You can approximate this by sifting the coarser North American whole wheat flour through a fine sieve or combining whole wheat and unbleached bread flour in a 2:1 ratio (i.e. 200 g whole wheat + 100 g bread).
** You can make mustard oil by toasting 1 Tbsp black mustard seed in a dry skillet until they pop. Grind in a mortar, put in a small bowl and pour over with 2 Tbsp veg oil.
The ingredient list is rather straight forward, if you have a decently stocked spice shelf. One thing you may not have, however, is ghee which is a clarified butter. It is a wonderfully aromatic fat made by melting butter and removing the milk solids and letting the remaining fat cook slowly for a fairly long time to get a slightly nutty taste. Cool thing: it doesn't need refrigeration although it has a fairly decent shelf life. And it's actually pretty simple to make at home if you don't find it in the local grocer's. Many grocery stores in America now have a pretty respectable International Foods section so look there for a small jar. A perfectly acceptable substitute in this recipe, if you prefer or want to stay vegan, is your favourite vegetable oil.
Let's have a look at what goes into these tasty pockets…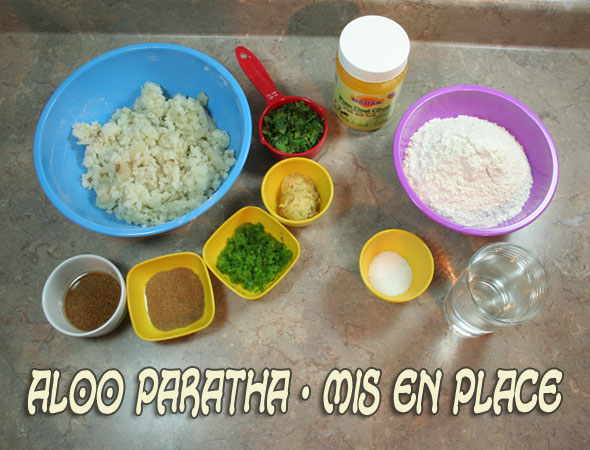 There are two parts to this bread: the outer bread pocket and the inner stuffing. These filling ingredients on the left above are:
Potatoes, cilantro, fresh grated ginger, finely chipped chili (I used jalapeño because that's all the store had), cumin & coriander and mustard oil, which I made, albeit with non-black mustard seed as that's what I had on hand.
On the right is whole wheat flour (sifted), water and salt. The jar at top is the Ghee.
I think this is the most work I've had to do yet for a mis en place. It's not difficult by any means but took a lot of preparing and chopping. The potatoes are boiled in their jackets then grated. The cilantro is washed (this bunch was very gritty!) and chopped, the ginger grated, the pepper seeded and chopped, the cumin and coriander was toasted for just a second in a dry pan – not sure that was a good idea, the book asks to toast the seed for these but I had powder and need to use it up – and mustard oil prepared.
Even the whole wheat flour needed prep: I sifted it through a very fine sieve to take most of the bran out.
Still, once done, we're on our way.
All the stuffing ingredients plus a bit of the salt are placed into a bowl and mixed together, creating a very colourful mashed potato mix. This is then divided into 8 portions and rolled into balls.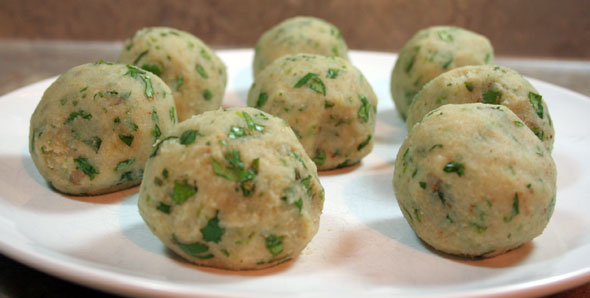 Already at this point, this was really, really tasty and looks very appealing. I might try to do something with this as it some time. Maybe add an egg to this and fry up some potato pancakes. But I digress…
The potato balls are then set aside and we move to the dough.
This is pretty plain dough: the flour, water and some salt. Stir and turn out to knead. Or pull out the stand mixer and knead for several minutes; I decided to forgo mechanical assistance and do this one all by hand.
After about 10 minutes of kneading, what started as a very sticky dough finally came together as a rather tacky but smooth ball of dough. I cut it into 8 sections and formed little dough balls.
Each dough ball is rolled out to a circle about 6 inches/15 cm. on which is placed a potato ball.
The ball is then wrapped up in the dough and pinched closed.
The ball is then turned over and gently pressed into a small disk. Prepare the rest of the dough and potato balls the same way.
The disks are then rolled flat into circles about 6 to 8 inches (15 – 20 cm). The one shown here was my second one. The first was not round at all and the filling broke out and started to squeeze out the sides. The third one I did was even better and can be seen on the right side of the griddle.
ProTip: make sure the griddle is preheated and ready to go at this point. I had expected it to be hotter than it was so these guys didn't brown up very quickly, as seen on the left. Also, these rolled out breads don't stack well at all – don't try to make a bunch ahead of time unless you have plenty of counter space to put them on. It's probably best to roll and bake as you go; you'll have time while they're cooking to roll the next set out.
Eventually, my griddle got hot enough and the breads began to get nice and browned. they also got a nice smear of Ghee on them after baking dry on both side first, then one more flip once buttered. Turned out the breads with the oozed out filling still came out fine, just not as pretty.
Time to plate!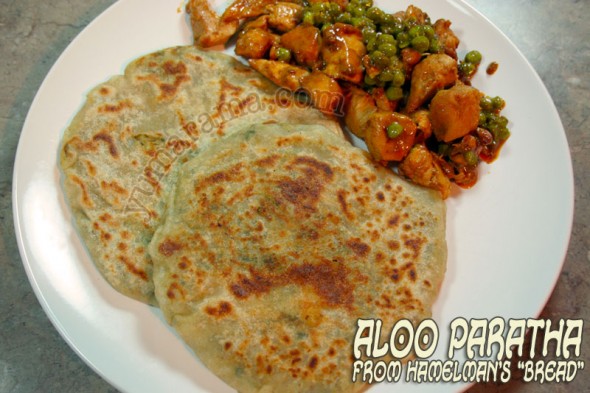 I served these with some butter chicken. I should probably have made the breads a little ahead of time and just reheated; trying to get both dishes out at the same time was tricky. I should probably have added some cilantro as garnish too, but Punkin was starving and wanted food NOW.
Verdict: aside from 'a little less salt', these turned out to be very tasty. I would probably up the chili as even 3/4 of a large-ish jalapeño wasn't actually as picante as I'd like. Or switch to some other chili with a little more punch. But the flavour of the filling, the nutty tone of the ghee, the nice browning of the dough all came together really well.
The biggest downside to this, however, is it takes a lot of time to get together. After all the prep for the ingredients, there's still a fair bit of shaping and handling to be done here. because these are to be served hot with dinner, the timing is more crucial than making normal bread and letting it cool for 'some time" before dinner. So the rolling and filling and griddling did seem to take quite a bit of work.
Is it a do again recipe? Maybe, primarily because of the work, not for lack of taste. I think I'll have to hit a local Indian food restaurant and see how theirs is; I'd never had this dish before so I can't really tell if I'm on the mark or not. But what we had with dinner tonight was still pretty darn good. I have four more filled disks back in the fridge and I'll see if prepping some ahead of time works well.
This bread was submitted to YeastSpotting on the WildYeastBlog.com