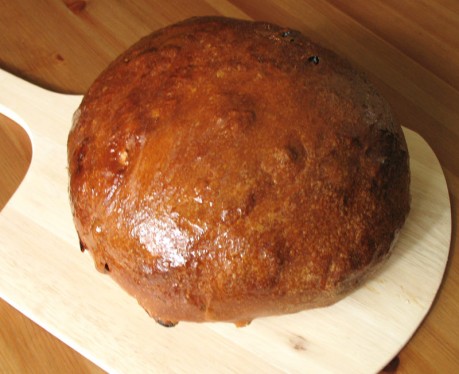 Recipe number two in the The Bread Baker's Apprentice Challenge series is "Artos: Greek Celebration Bread". In the preamble, Peter Reinhart tells how this is a holiday and festival bread that covers multiple variations.
The basic recipe is easily turned into "Christpsomos", a Christmas loaf, by the simple additions of raisins, cranberries and walnuts or into "Lambropsomo", an Easter loaf, by adding raisins, dried apricots and almond slivers, braiding and nestling red-dyed hard-boiled eggs. There are numerous local and not-so-local variations on this basic spiced bread.
I went with the christopsomos version since I did happen to have raising and cranberries, although I passed on the walnuts since we're not big fans here.
So here we go, the step-by-step evolution of my first Artos bread…
The night before, I bulked up the sourdough starter (I could also have used a poolish but since I have the starter going anyway…), measured out all the dry ingredients in one bowl and the wet (minus starter) in another. Basically, there are just two components: wet and dry stuff. In the morning, I let the wet stuff warm up from the fridge and added the 7 oz. of starter.
Then, dry ingredients, meet wet ingredients.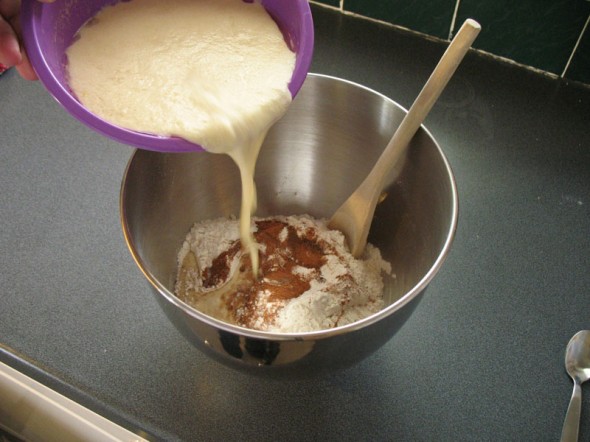 A quick stir by hand (decided to not fire up the KA mixer for this simple step). The dough is barely mixed, just enough to get practically all the dry stuff wet. There was still a bit of dry flour at the bottom but…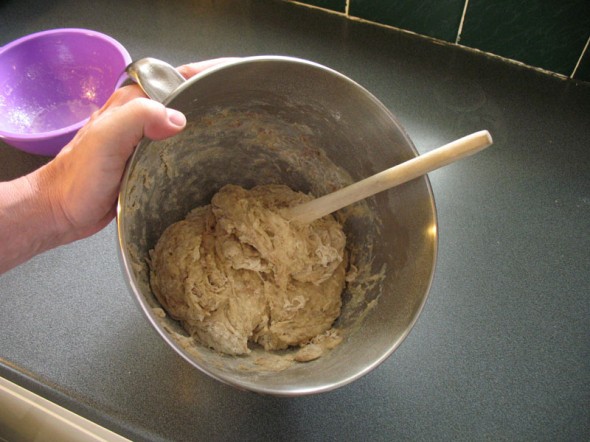 … this was going to easily be mixed into the dough. So out onto the lightly floured counter it went with all the remaining bits out of the bowl.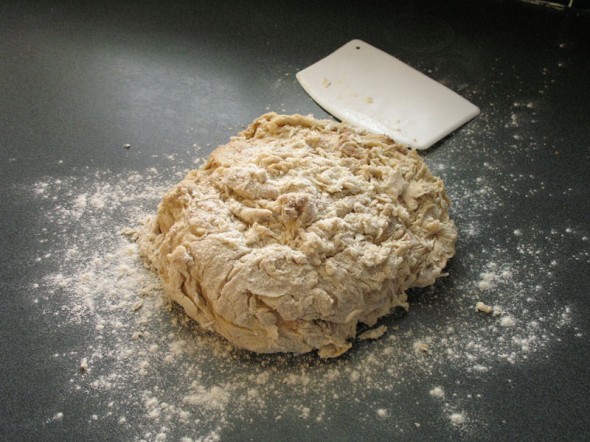 A little bit of kneading/stretching combo moves to get it a little more incorporated, here at the 1-minute mark. Not a lot of extra flour sprinkled on, just enough to keep it from sticking too badly to the counter. The bench scraper helps a lot. Note the dough, on the left,  is still rather shaggy. Eight minutes later, it's decidedly smoother although still tacky enough to stick to the counter. Three or four sprinklings of flour while kneading was all it required.
Windowpane test passes easily.
At this point, I added the raisins and cranberries. A quick bit of kneading and they are now incorporated in the dough. Into the tub for the first rise it goes, about 60 minutes until doubled.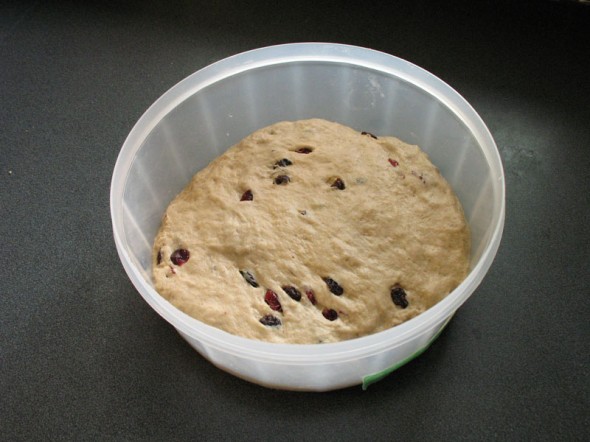 Once doubled, I shaped it into a boule (that's French for "ball") making sure to give it surface tension. It then gets a quick spray of oil and covered in cling film. 60 minutes later, it has done the final proofing and has expanded to about twice its size.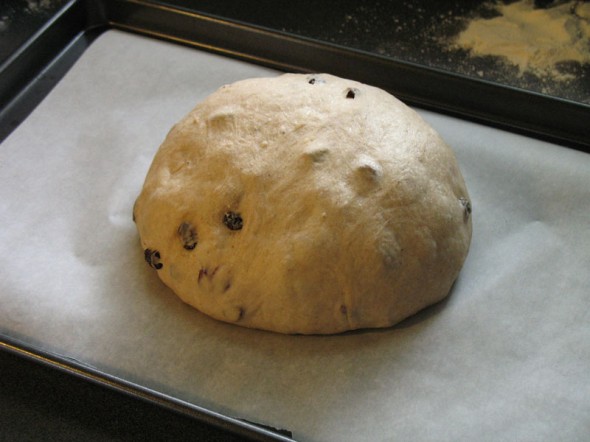 Into the preheated 350º oven it goes…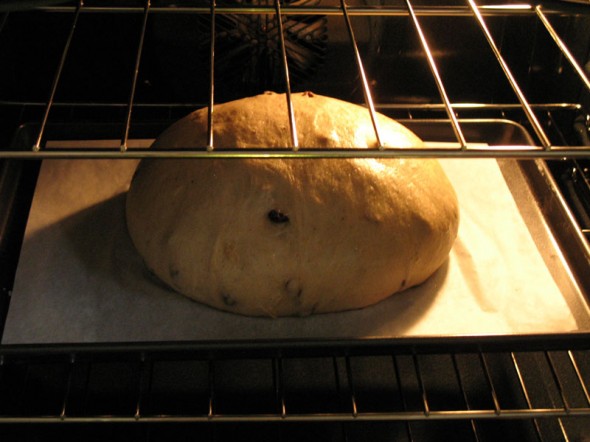 Twenty minutes later, it gets spun 180º. I yank off the stray raisins to avoid them burning.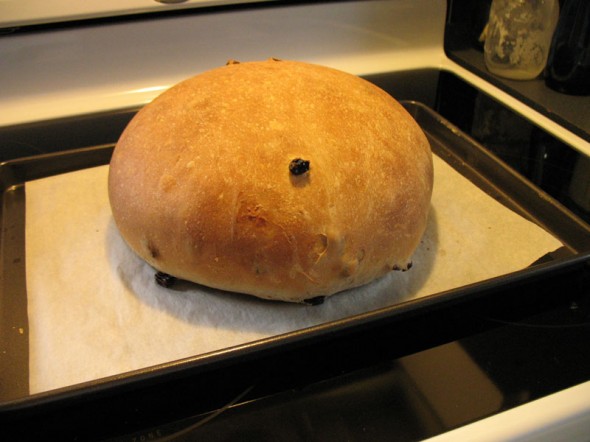 Another 20 minutes of baking and the inside has reached a hair over 190ºF. This loaf is done. And the house smells amazing.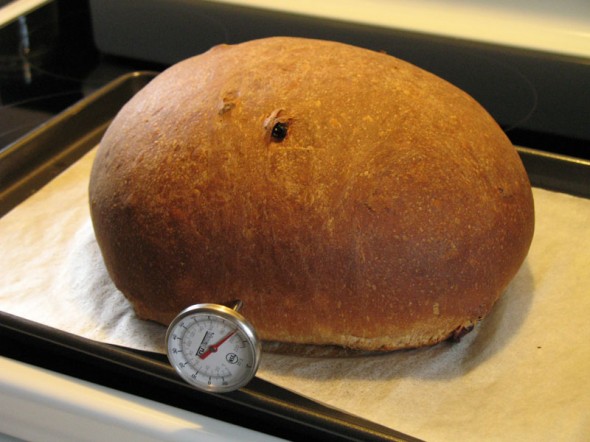 Whip up a little glaze and give it a coating (no sesame seeds on hand) and there we have it: Christopsomo loaf made with both instant yeast and sourdough culture, ready to cool and tear into.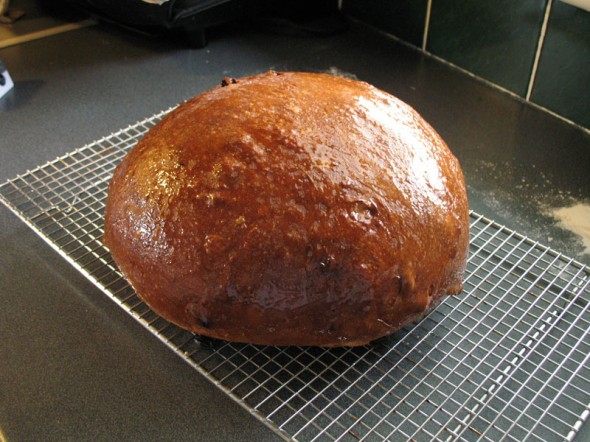 Man, that's a big loaf!! I think I'd probably do two smaller batards next time.
Want the actual recipe? You'll find it on page 111 of Peter Reinhart's great book, The Bread Baker's Apprentice, available at Amazon.
And lastly, of course, the Crumb Shot: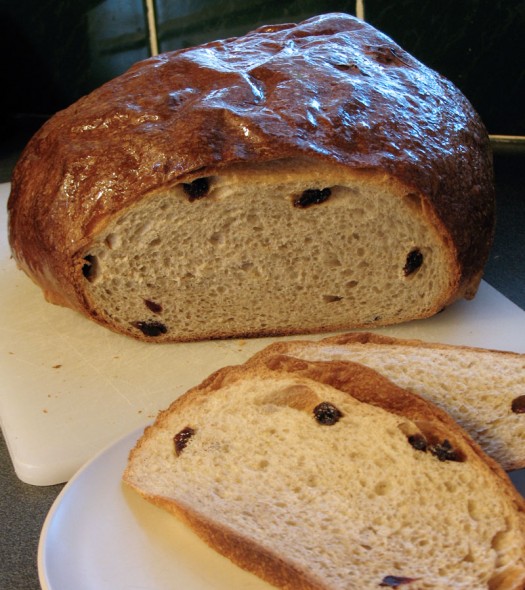 This is a lovely, lightly flavoured sweet bread, probably a little less spicy than I had expected. I might up the aromatics next time. But an hour out of the oven, it's a soft, rather even crumb, I had it with just a little butter. Very, very nice. And surprising that it's "sweet" considering there's only 1/4c of honey in the whole thing.
This loaf is so big I was worried about what to do with it, especially since it has a sticky sugar glaze, putting it in a plastic bag would be a disaster. But I happen to have a big cake carrier and a spare large cake board so it's now safe and sealed up, ready to be sliced over the next few days. It'll make awesome toast, I'm sure. And bread pudding for the extra we just can't get through.
OTHERS BLOGGING THIS BREAD
You can see how other people are doing this same bread and compare the results and techniques.
Haley of Appoggiatura does the full-blown version here
Janice of Round the Table also gives a step-by-step
Oggie rates the process on I can do that!
Cindy of Salt and Serenity  takes it in a new direction
Be sure to visit these pages and get inspired.
Next on the list:
Bagels (redux)!