At last, we've gathered up the courage to make macarons, these delightful little meringue-based almond cookies that are currently extremely de rigeur in the classiest of places. Reading up on them, however, may made you a little daunted because of the aura of finickiness that seems to be placed around their construction.
Fear not, for there are a few things you can learn that will make creating macarons much simpler than is usually shown.

This is the third part of a series showing how I made my very first batch of Macarons. Previous entries were:
Making Swiss Meringue Buttercream (great for cookies or cake)
Making Almond Flour
The following pictorial step-by-step is based on the macaron recipe found on the awesome blog BraveTart.com where pastry chef Stella Parks guides you through the process, eliminating much of the hocus-pocus typically associated with making these cookies. Her view, basically, is this: They're just cookies. Yes, there are steps peculiar to this style of cookies, but there are specific steps for many other cookies too and this doesn't elevate them to near-ritualistic requirements.
As noted in a prior post, two things you will want to read – and possibly print out – before we get too far ahead are:
The Ten Macaron Commandments
Ten Macaron Myths Busted
Some of the things we're told we can be less fussy about: perfectly aged egg whites and their temperature, drying the piped cookies, drying the almond flour, using cornstarch-free powdered sugar, being super-duper careful with the meringue. Let's just follow Stella's simple recipe and get us some nice macarons, shall we?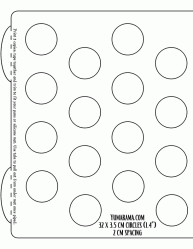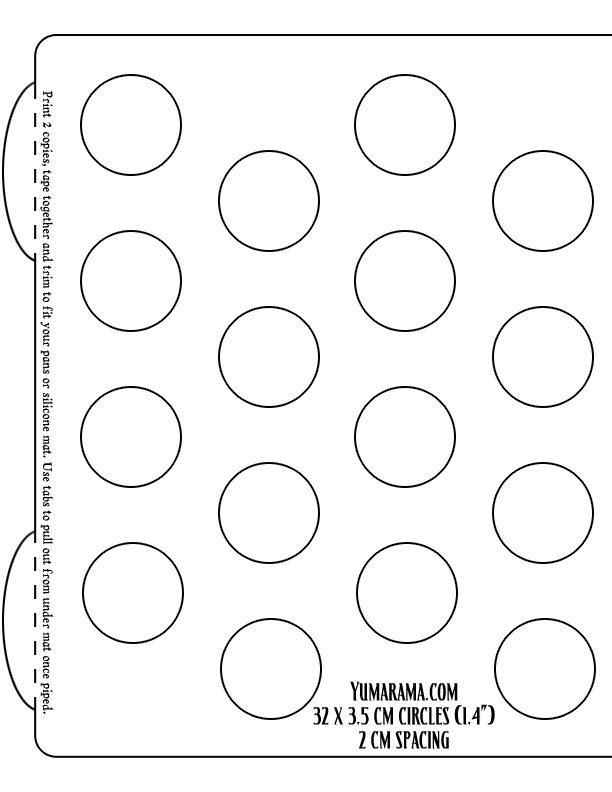 You may also want to print out this template I made for piping out macarons in either PDF format or as a PNG image. It will fit a typical (US) home sized baking pan of 16″ x 10″ under a silpat type silicone liner or parchment paper.
Simply print out TWO copies at full (US 8.5″ x 11″) page size, tape the open ends together and trim. Each baking sheet will then give you a total of 32 circles (for 16 finished cookies), optimized for the standard macaron size of 3.5 cm with 2 cm space between each. Just remember to pull it out from under your parchment or silpat before putting your piped macarons in the oven!
Alright, let's gather our ingredients and make some macarons!