Since the previous run at the Cinnamon Pull Apart – which has the complete recipe details and pics – was such a success (vanishing in about 12.6 minutes), I thought I'd give the Lemon version a go. The dough recipe is the same as the previous post so grab that there; the details of this lemon filling are a little bit further down here. For this post, we'll catch up with the last part of the process since the basic dough instructions are exactly the same ast those for the Cinnamon version. Here we've got the stacked and filled pan. So what was different this time?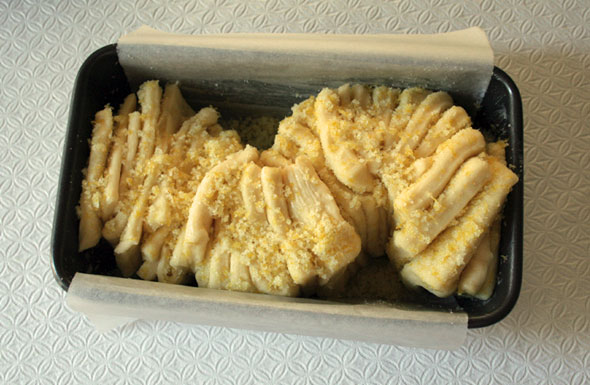 The dough itself began the same as the previous dough except this time I used the famed Bertinet "slap it around" Stretch and Fold method. Sort of surprisingly, it worked! What was a very wet, sticky sugary dough in not too much time became easy to handle. And I did it all by hand; no mixer used at all. This is where the Bertinet method really came in handy.
You can see the Bertinet video on the Stretch and Fold page.