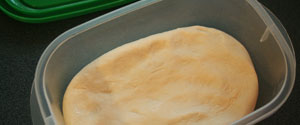 Pâte Fermentée is one of the basic pre-ferments used in bread making and it refers to a dough that is made before the bulk of the main bread dough is put together and allowed to mature or ferment.
OK, so how do you say it? The French word "pâte" means 'dough' and is pronounced "paw-tt". "Fermentée" means fermented and is pronounced "'fair-mahn-tay". (Please don't confuse"pâte" and "pâté" – one means dough where the other means a paste, as in "pâté de fois gras".)
By allowing a portion of the dough to ferment ahead of time, it can be allowed to do so overnight (or however long) in a cool space (slowing yeast activity)  where it develops a lot of great flavour that would not be available in a shorter rest time. The dough is then added to the rest of the bread's ingredients and presto, your "new" dough gets a tremendous flavour boost.
In a bakery setting, a large amount of this dough would be made regularly and a small portion of it would go into, say, baguettes, another portion into kaisers, etc. This is why the pâte is very basic – it would be used throughout the day to make whatever bread was on the menu.
At home, you still want the fermentation/development that occurs but would normally just make enough for your next bake.
In The Bread Baker's Apprentice, this shortcut is used a fair bit. It's a very simple, lean dough.