Intro • Day 1 • Day 2 • Day 3 • [Day 4] • Day 5 • Day 6 • Day 7 • Final Thoughts • Day 15
Starter from Scratch: Day 4:
(and once daily until it starts to expand and smell yeasty), mix . . .
2 oz. of the starter (1/4 c. after stirring down–discard the rest)
1 oz. flour** (scant 1/4 cup)
1 oz. water (2 tablespoons)
** You can feed the starter/seed culture whatever you would like at this point. White flour, either bread or a strong all-purpose like King Arthur or a Canadian brand will turn it into a general-purpose white sourdough starter. Feed it rye flour if you want a rye sour, or whole wheat, if you want to make 100% whole wheat breads. If you're new to sourdough, a white starter is probably the best place to start.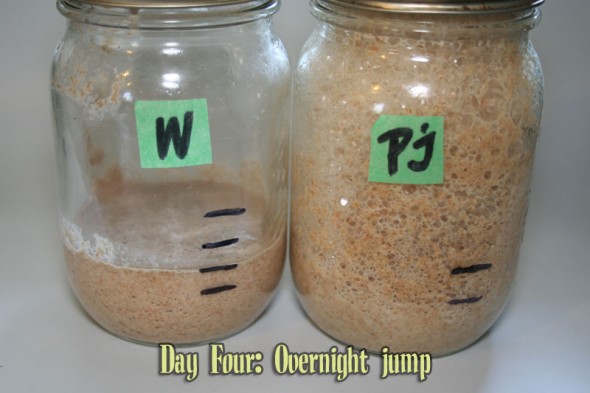 Yowza!! PJ has expanded a huge amount overnight! Continue reading "Starter from Scratch, Day Four: Going on a New Diet"