Fans of the Tartine series of books will agree that master baker Chad Robertson and his wife, pastry chef Elisabeth Prueitt have put out a truly wonderful series.
Tartine Bread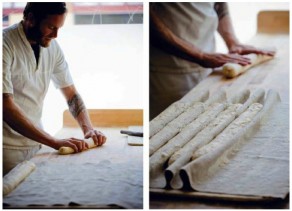 This book covers a bit of a personal history of the bakers' journey to the now famed Tartine Bakery as well as where they are now. Instructions for making wonderful, deeply flavoured artisan bread in a home oven are given with thorough photographic visuals. Many of the breads are sourdough and =instructions for making your own starter are given. There are a few breads included that will use dried yeast, however. There's something here for everyone. The
last section of the book offers the recipes for "what to do now that you have great bread"; recipes for different sandwiches and other serving suggestions, taken from the bakery's own menu.
Tartine
In the Tartine book, Elisabeth Prueitt, baker and co-owner of the bakery, offers up a few dozen recipes for the sweeter goods found at the San Francisco bakery. Here you'll learn to make everything from the basic pastry cream to croissants and tons of things in between. Breakfast treats, deserts, cakes and cookies as well as pastry shop staples are waiting for you. Again, gorgeous photos abound to guide and inspire.
Tartine Book No. 3
This newest member covers new whole grain and other ancient flours, making pan loaves (although still using their Dutch Oven methods for many recipes) as well as updating a few of their earlier recipes, including some of the pastries, to use whole grains.
We've put together a bundle of the three books below which should get you set up for baking amazing artisanal breads and pastries right in your own kitchen.
The bundle offered below (from Amazon.com) includes a superb discount so you'll want to take advantage of this quickly.
Tartine Book Bundle
Was $115.00
Get them all for just
$77.48
You Save $37.52 (33%)
If you'd prefer, you can get the individual books here:
 •  • 
Enjoy!