Intro • Day 1 • Day 2 • Day 3 • [Day 4] • Day 5 • Day 6 • Day 7 • Final Thoughts • Day 15
Starter from Scratch: Day 4:
(and once daily until it starts to expand and smell yeasty), mix . . .
2 oz. of the starter (1/4 c. after stirring down–discard the rest)
1 oz. flour** (scant 1/4 cup)
1 oz. water (2 tablespoons)
** You can feed the starter/seed culture whatever you would like at this point. White flour, either bread or a strong all-purpose like King Arthur or a Canadian brand will turn it into a general-purpose white sourdough starter. Feed it rye flour if you want a rye sour, or whole wheat, if you want to make 100% whole wheat breads. If you're new to sourdough, a white starter is probably the best place to start.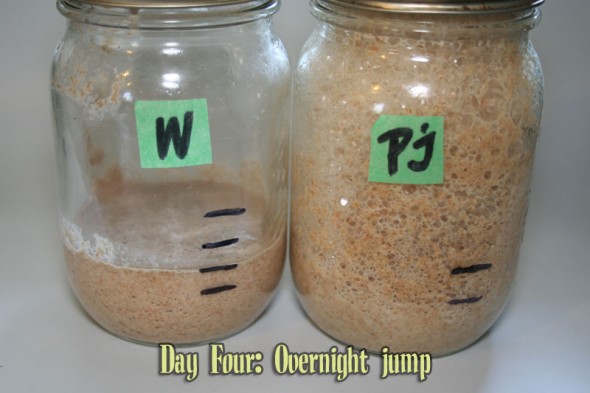 Yowza!! PJ has expanded a huge amount overnight!

When I pop open the lid, there is a distinct yeasty smell though still with a pineapple one. Wally , on the other hand, is still napping, doing what is needed to get the pH in his jar down. OK boys, time to wash up and get ready for your next phase.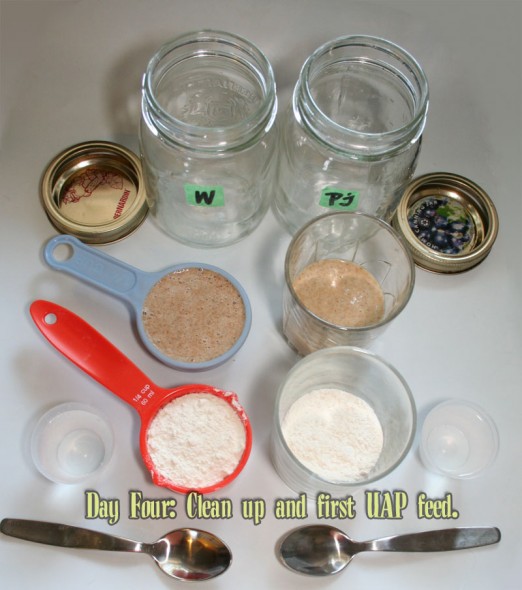 Here I've reduced the two starters to 1/4c  (2 oz or 58g) and put that in separate containers so I can wash out the jars and lids.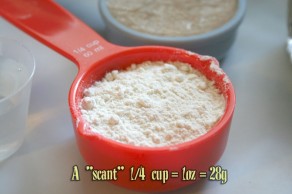 I've also measured out 2 Tbsp (28g) water for each jar and a "scant" 1/4 cup (28g)  of UAP flour. I'm using separate utensils for each to avoid cross contamination or interference between the two starter. As you can see, the water and flour weights are equal (28g/28g) so we're building a 100% hydration starter at this point.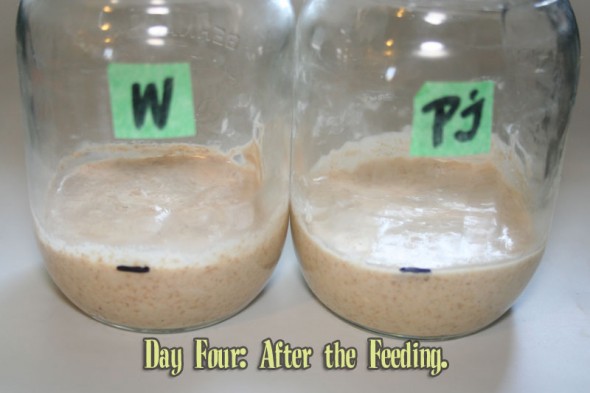 The two lots get mixed up and we then have our first UAP feed.
And yes, Wally still stinks, just a little less so now.
Because this is a process involving variable live cultures, I think it may be better to outline the phases of development, rather than to give a timetable. It's a natural succession that will progress at its own speed. You can influence it, but you can't control it — not an easy concept for a baker  🙂 "Relax. Be patient." You'll hear that a lot in regard to sourdough.
You don't have to taste the [pineapple] mixture if the thought really bothers you, but it will tell you a lot about the progress at times when there may be no other outward signs. Lactic acid doesn't really have an aroma, so you won't be able to gauge just how sour it is by smell. Taste the initial mixture to get a point of reference and pay attention to the sourness level as you go. Taste it before you feed and decide if it is more sour or the same as after you fed it 24 hours previous. Taste it again after feeding the next addition to compare in the next 24 hours.
Intro • Day 1 • Day 2 • Day 3 • [Day 4] • Day 5 • Day 6 • Day 7 • Final Thoughts • Day 15