Intro • Day 1 • Day 2 • Day 3 • Day 4 • Day 5 • [Day 6] • Day 7 • Final Thoughts • Day 15
Day 6:
After yesterday's feed. the starters both began to expand (up to the purple line) Wally had a pretty good rise this time, too; he seems to be catching up quite well. We may be just one or two feeds away from finishing the project. PJ is clearly well under way.
Both starters were pretty much done expanding within three or four hours before they started to collapse. This means they went for the remaining 20 or so hours "unfed". They had, in effect, chomped through whatever food they were going to in rather short order. You can even see in the photo a very slight layer of liquid on top of the starter. This is "hootch" and it's a normal byproduct of our friend the Lactobacillus sanfranciscensis when a starter is 'hungry'. The solution? Feed it.
Since the amount of fresh food the starter has been getting is at a ratio of 2:1:1, we know that this is a rather slim buffet. Once again, let's look at the weight to see what that means.
1/4 cup of 100% hydration starter is usually going to be approximately 60 grams. We were adding 28g of water and 28g of flour. For ease of calculation, let's call those 30g. So in effect, for each 2 grams of "old" starter, we were adding 1 gram water and 1 gram flour. Ergo, our ratio here is 2:1:1.
I decided to make a decision of the executive variety: This feed, we're changing the ratio to 1:1:1, so for each gram of old starter, I'll add 1 g of water and 1g of flour (or, to match the previous ratio, 2:2:2). This in effect doubles the amount of food the beasties will have to consume and populate.
So here's our new starter ratio. These two are done with a formula of 30g starter, 30g water and 30g flour, 1:1:1. We now have 90g total starter where previously we had 120g (60+30+30g); this is why the amount in the jar is reduced.
I'll try to get photos of the expansion in the next few hours. I expect Wally may give us a good rise this time around.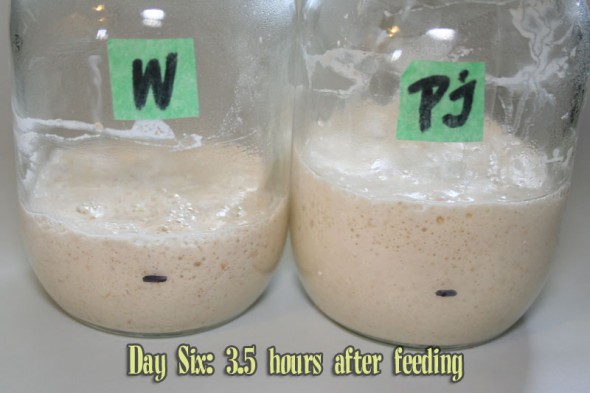 PJ has gone well past doubled, even Wally is nearly doubled.  Way to go, boys! I'll continue to keep an eye on them today. Wally, although showing decent activity still needs a few feed to "rinse out" any remaining stink from his early battle with nasty critters. He is smelling much better but it's not quite there yet. The increased feed ratio will help a lot in that department.
Here we are, six hours after the feed and Wally's gone and more than doubled, he's just peaked and showing signs of receding now. Meanwhile, PJ's nearly tripled but is out of fresh food. Looks like I'll need to feed them again – and I do. These are hungry boys! This is actually quite good; while PJ seems to simply be repeating, it gives Wally a chance to catch up and clear out his stink (still there, but much lighter).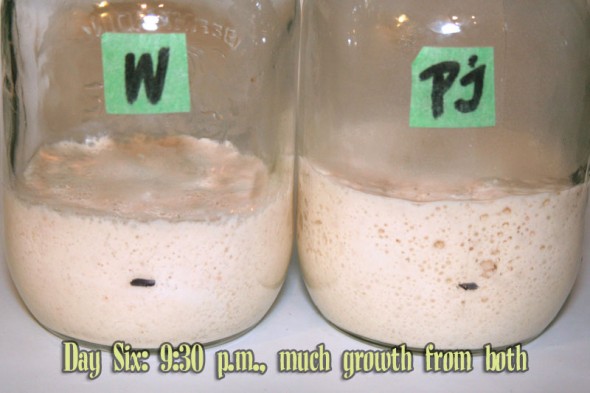 Here we are 3 hours after the second feed and we have doubled both starters. I think we can officially call Wally "under way" although we now have to take time working the last of the stink out of him. That alone is a good reason to head directly for the pineapple juice method, even if we have a "viable" starter at the 6 day mark with just water, it will take us several more feeds before he's clear of that odour, while we totally skipped over that ordeal with PJ. And PJ's been going well for a couple of days already, so it sped up the yeast activation stage as well.
I'll put a mark on where they're at now and check again in a couple of hours, see if they increase a bit more or if they've peaked already. If they look like they're receding, I'll give them another feed since they're at the most active and looking for more food, then leave them for the night. Tomorrow is day seven and it's certainly looking like they'll be set for the next stage, maturing.
Intro • Day 1 • Day 2 • Day 3 • Day 4 • Day 5 • [Day 6] • Day 7 • Final Thoughts • Day 15