Intro • Day 1 • Day 2 • Day 3 • Day 4 • Day 5 • Day 6 • [Day 7] • Final Thoughts • Day 15
Here we are at Day Seven, just a tad past 7 a.m., last day of the one week run (although we technically don't start day 7 until 3pm and we're therefore in the tail end of day 6) and our starters are hungry.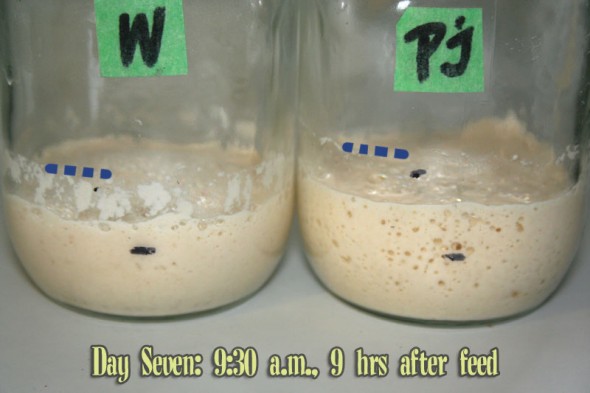 After getting fed late last night (1 a.m.) we see they both rose to nearly the same level (blue line) and a bit more than double. At this point they've begun to recede so we give them another 1:1:1 [S:W:F] ratio feeding.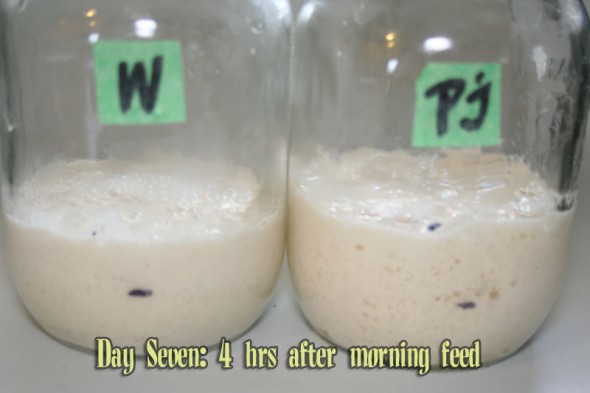 At this time, 4 hours past the morning feed, they've risen and are just on their way back down. It's hard to see in the photo but their high-water mark is just a little higher than the current dough level so they would have peaked in the last hour or so, probably.
So time for another executive decision:
The experiment is hereby declared concluded. Both starters are expanding well on a 1:1:1 ratio and doing so in 4 hrs or less. Their next feed, we'll bump up to a 1:2:2 [S:W:F] ratio so they have much more food to go through before running out. Specifically, we'll do 20g+40g+40g for a total of 100g of starter.
For the next week or two they'll be busy getting ready for real life (so this is starter college, basically), They will spend the next while being fed and allowed to mature, making sure the yeast and LAB are well established. They'll be kept out on the counter and fed twice daily to really get the cycle going.
Here are a couple of final shots, 3.5 hours after their first 1:2:2 ratio feed, they've both more than doubles, likely even tripled. Then 6 hours after where there is a HUGE increase. I dare say PJ has hit 4X original size. I think at this point, there's little question that they are both doing remarkably well.
Wally will need another feed or three to completely lose all remains of the Stink but he's smelling much better already. He has a definite sour to his scent with a clear yeast undertone. PJ, on the other hand, has a scent that is a bit smoother, a little sweet even, and not as tart although it looked, over the last few feeds, like he had a little more growing potential. That seems to not be the case now; Wally has caught up.
But the boys are good to go and so it's time to call this project officially finished.
Intro • Day 1 • Day 2 • Day 3 • Day 4 • Day 5 • Day 6 • [Day 7] • Final Thoughts • Day 15