As recently noted, I decided to give the two new starters, Wally and PJ, a little bit of a competition and threw my standard starter, Carl of Oregon (a purchased starter that originated in 1800's), into the mix to basically see which, if any, was the best of the lot. Just to explain, Carl, regardless of his 'roots' has been an active starter in my house for well over a year so has had plenty of time to become mature. So he's up against two "new kids".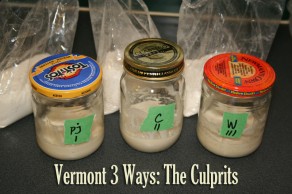 Now I didn't get into the usual step-by-step photo thing for this post because it was actually a little too hectic keeping track of everything. I basically had to mix three different batches of dough each with it's own starter. I also decided this would be a good time to work up the next BBA Challenge bread: Kaiser Rolls.
Yeah, pretty much nuts.
So last night I set up the levain build, as per Hamelman's instructions, but with a distinct change: I took the recipe and divided everything by three. So into each jar I made 1/3 of the levain ingredients but using PJ, Wally and Carl in each. Those got set aside for the night while I worked on the poolish for the Kaisers.
I did try and take a few shots of the process so here are some visuals for you:
After a night of building up the levain, I then followed the recipe, a noted, divided in thirds. The bags you see behing the starter jars are the pre-measured amounts of dry stuff. These went into the mixer bowl along with the required water and staer, mixed to a shaggy stage then allowed to autolyse for about 30 minutes. They are then mixed a bit longer, put into the tubs shown above and allowed to bulk ferment for 50 minutes then get a stretch and fold. Repeat after 50 minutes then a last 50 minute ferment. At that point, they're ready to shape, which is where that left side pic is at.
Once shaped, they're placed into the couche and allowed to proof for two.5 hours. In order to know what loaf is what starter, I poked a toothpick into the ends and put a mark on it, as shown at left.
Once the loaves had risen, they were slashed – the three are above, different slashes for each. That was probably a mistake. This caused the loaves to develop in the oven a little differently and now I won't know if the different expansion will be because of the starter or the slashing. Oh well, what's done is done. So in the above photo, we have Carl on the left, Wally in the center and PJ on the right.
Inot the 460º oven they went for, says the book, 40-45 minutes. They got steamed for the first bit as well.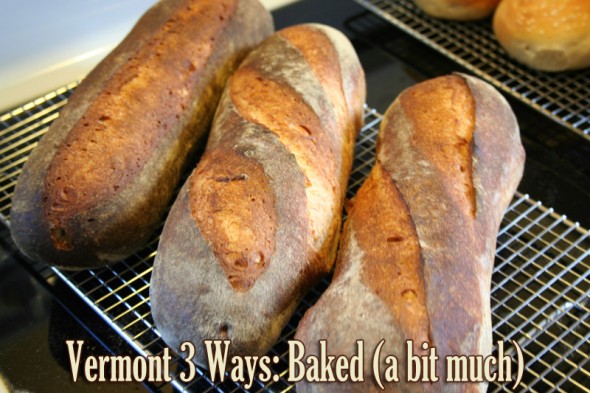 And there's the result. A little overdone; I had the convection on at the beginning, forgot to turn it off after preheating the oven. So the crust is a bit too dark and this, hopefully, won't affect the overall experiment too much. They're all too dark, after all.
Edit: Turns out it's mostly the end nubs that got really overdone. Once past that, the crust is OK although I would have liked it a little lighter.
Once these are cooled, I'll do a taste test and try to see if there's any difference between PJ and Wally, save for PJ having been an easier starter to get going. I expect neither PJ or Wally will be much different from each other, flavour or texture wise.
The bigger test will be how these two compare to Carl of Oregon, who's proven rather reliable for rising dough but not exactly a standout in the taste department. Just gotta wait for the bread to cool…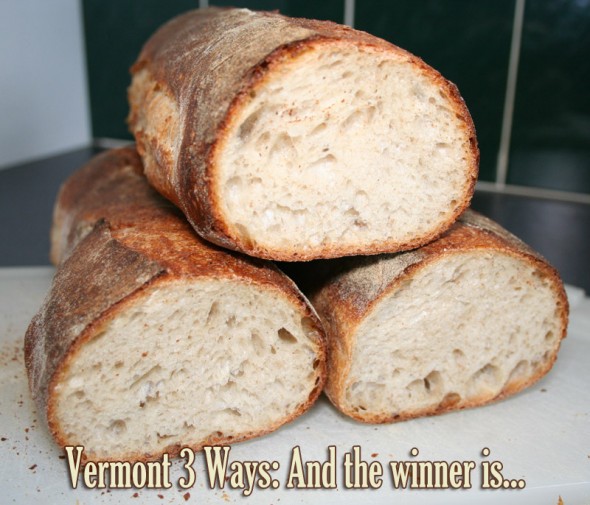 Cooled, sliced and tasted. Which one came out best?
Well, they all rose about the same, in other words "quite well". The crumb is similar for al three loaves. So it's down to flavour. The two new starters had a very slight edge over the old Carl, a little more distinct  aroma, not extreme at all but decidedly there. They are all about the same on the "sour" level, none displayed a more acid tone. All three are quite good. The fact the new guys manage to develop a bit more flavour puts them over Carl. Now granted they weren't retarded, I went with the 2.5 hour proof. I suspect that had I done the full development, that flavour would be a little more distinct.
The Final Verdict:
Keeping in mind the main purpose of this project was to see how easy it is to start a starter and that using pineapple juice bipasses a few days and potential "bad guy bateria"problems, this last test is really just for curiosity's sake than anything else. Still, I'm glad I did it because it does show thaere si now a better starter for me ot focus on.
Based on this Three Way challenge, here is the final result:
Carl gets beaten by the new twins by a slight flavour margin, while both the new starters are pretty much identical. If I was given a slice from both loaves, I'd be unable to say there's any discernible difference.
So the outcome is that the pineapple vs water starter difference is strictly in how easy it is to get the starter going without wading through The Stink and you shave a few days off the start-up process. And you get to drink the rest of the pineapple juice after you've fed your starter all it needs.
When I make this bread again, I'll go all the way and do the full 12-16 hr cold ferment and really try to pull that flavour out of the starter. But at this point, I'm going to reduce the starter collection to just one (I'll mix Wally and PJ together which means I'll have to give this new mix with a new name) and dry up Carl to save as back-up.
Now, I got some serious bread eatin' to do.