I'm a very big fan of rye breads and one of the primary reasons I got into bread making was to make this style of bread. Early on in my quests for good "deli" style rye, I came across a recipe that Mark from the Back Home Bakery  in Kalispell, Montana had posted on his website along with a few other recipes. He has at this point removed those recipes (I ran across them literally two days before the removal deadline) since he was moving his operation up in scale and set up a real live bakery in his house. If you want to see what a small artisan bakery is like, be sure to drop over to his site at TheBackHomeBakery.com. And if you're lucky enough to live near Kalispell, you can visit his booth at the Whitefish Farmer's market on weekends and get fresh (made that very morning!) baked goodness.
(NOTE: Mark has since closed the Back Home Bakery and moved his operations to the Bozeman, Montana area and set up his new "Sinclair's Bakery" workspace in a gorgeous, custom built bakery-mobile trailer, very impressively put together, drool-worthy in fact – if bakery set ups impress you. Be sure to check out Mark's online space on Facebook.)
[easyazon-image align="left" asin="1118132718″ locale="us" src="http://ecx.images-amazon.com/images/I/511D04HptFL._SL110_.jpg" width="130″ height="160″] Word from Mark is that the recipe he uses is one he modified from a recipe posted by a fellow TFLer, Eric (ehanner) who actually devised that recipe from a few different sources. After working his recipe for a while, Eric found what he'd come up with was pretty much the same as Jeffrey Hamelman's 40% Caraway Rye from his book [easyazon-link asin="1118132718″]Bread[/easyazon-link]. It all came around, as it were.
Eric posted his version of the recipe here, with more info on his process:
http://www.thefreshloaf.com/node/8450/40-rye-hamelman
It's not exactly the same recipe as the original but very close, so you'll be able to follow the steps outlined below pretty clearly. It also means you now have access to one of the original recipes in this interesting loop of 40% Rye breads.
Rye Sour
360 g Medium Rye Flour
360 g Water
20 g Sourdough Starter
Final Dough
545 g All Purpose Flour
260 g Water
740 g (all of the above) Rye Sour
1 Tsp. Instant Yeast
15 g Salt
15 g Caraway Seeds
Yield: 2 loaves of ~790g each.
The Night Before:
We mix together about 2 tablespoons of 100% hydration AP white starter (that's the little cup) with water and the rye four. Mix this together and you'll get a rather paste-like substance some people compare to wet cement. Rye has almost no gluten so it behaves a fair bit differently than does wheat flour. But in any case, this is going to sit for 12 to 16 hours as we basically just get our small amount of starter and simply feed it BIG TIME. This stays out on the counter until next day. As you can see, it's a rather simple step but it's where most of the bread's flavours  develop. Do try to time this to allow for the most fermentation while ending at a time that'll be convenient for you to carry on tomorrow.
I never use my actual "mother" starter in recipes because some day, it's guaranteed I'll forget to keep some back before mixing it all into dough and baking, then I'll have no starter at all. I always build my dough's starter from a feed's 'excess' and the mother goes safely back in the fridge. Since this recipe calls for just 20 g, this is easily taken from a normal 'discard'.
Baking Day: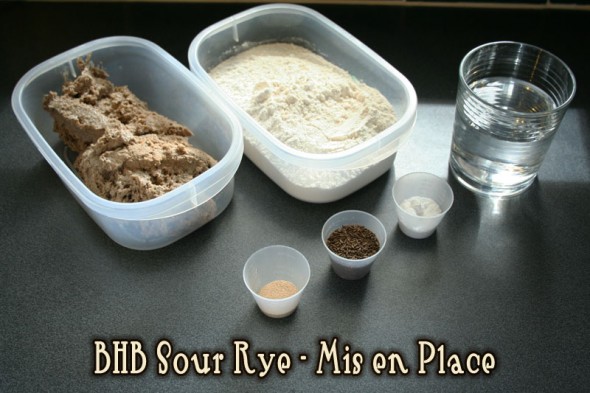 In the container on the left is last night's now very well inoculated rye starter (which smells wonderfully yeasty and sour).
Next we have unbleached All Purpose flour then yeast, caraway seeds, salt and water. Yep, there is both sourdough and instant yeast here. The built-up sourdough from last night will supply the well-developed flavours while the instant yeast will let us get this bread done today.
Everything but the caraway goes into the mixing bowl and mixed at low speed for a few minutes. The speed is then increased a little for a few more and we then add the caraway and mix again for just a minute at lowest speed to merge them in. If we'd added the seed earlier in the process, they'd possibly have gotten crushed. This way, they'll remain whole.
I gave the ball of dough a little hand kneading anyway because the seed did not mix in evenly throughout. This only took about a minute or two. Once I was happy with seed distribution, the dough went into a greased bowl to bulk ferment for two hours.
After ONE hour of that, the dough is turned out and given a Stretch and Fold, then returned to the bowl for its second hour of bulk ferment.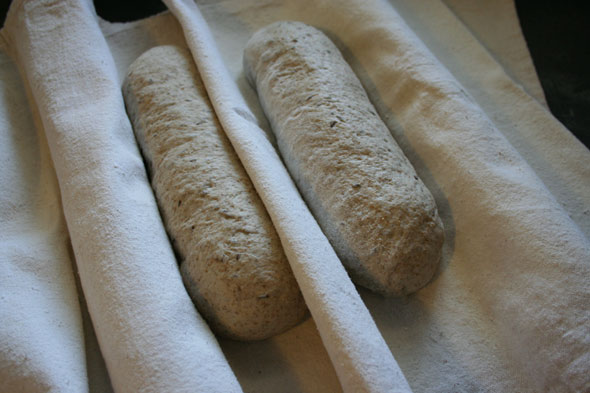 After it's two-hour ferment, the dough is split in two, shaped and placed on a well floured couche. It does a final proofing here for one hour. The loaves are covered with the couche and the whole tray is placed in a plastic bag to keep from drying. In a while I'll start and preheat the oven to 435ºF.
The proofed loaves are then transferred to a cornmeal-spriknled peel and glazed with a cornstarch wash (see instructions below) which will give the crust a nice shine. This cornstarch glaze is a departure of my own making from the BHB recipe which calls for poppy seeds. I didn't have any.
The loaves are then slashed (sorry, no pic) and go into the 435ºF (224°C) oven – 410ºF or 210ºC if using convection. Steam is added and the loaves are left to bake 35-40 minutes.
After a rotation halfway through to get heat evenly to all sides, the loaves come out.
Visually, these are some of the best looking loaves I've made so far. The scoring was cautiously and consciously done which resulted in the lovely design you see above. I even got a decent gringe going on them. The glaze added a really nice shine to the loaves.  I let them cool for about an hour before I checked the insides. Man, that is always so difficult to do.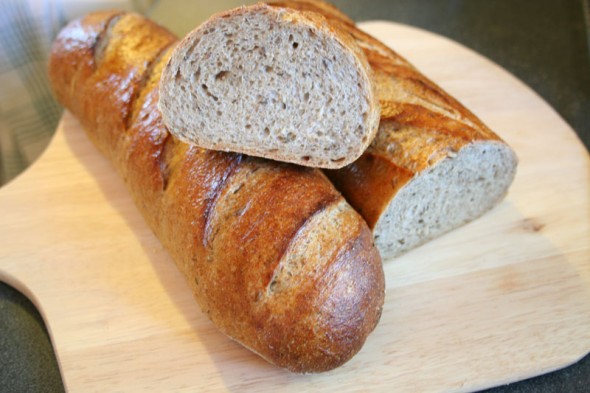 Cornstarch Glaze:
You can prepare this while the shaped loaves are doing their final proofing.
1 Tbsp cornstarch
2 Tbsp cool water
1/2 c boiling water (in pot)
In a small bowl or cup, mix the cornstarch and cool water together to get a smooth slurry. Add this to the 1/2 cup of boiling water on the stove and stir over medium heat until it begins to boil and is slightly thickened. Stir and allow to boil for a few more seconds to cook the starch. Remove from heat and set aside until needed. It will be fine if it cools down.
Addendum and comments from the principles:
I was wondering if the crumb was a bit too "tight" and popped a post on TheFreshLoaf.com to see how close I was. Here are a couple of the points bought up, among several others.
1) Mark pointed out that he does an egg wash on the loaf and sprinkles on loads of poppy seed.
2) Eric noted:
I also do a version using rehydrated onions and water from that process to flavor the bread.  This is a trick I learned from Norm Berg, (TFL member "NBI Computers"). If you haven't tried this yet, I recommend you stop whatever you are doing and get yourself some dry onions and try this bread. As someone said, it smells like Heaven or a Jewish Bakery (probably the same place). After the egg wash a liberal cover of my "everything seeds" plus garlic chips and salt, and you have a very flavorful rye. It's a long way from "Deli Rye" but delicious.