Here we are at [easyazon-link asin="1580082688″]The Bread Baker's Apprentice[/easyazon-link] Challenge recipe #18. Wow, we're almost half way! This time, were' making what is  expected to be a more typical sandwich bread, what your basic sliced white bread from the grocery store should be like. Except much tastier, of course and without all the chemical preservatives.
Personally, fluffy bread like this isn't my fave but it is the sort of bread Punkin likes so hopefully, this will be "the" home-made bread when something to replace the store-bought  "bailed fog" (his term, not mine!) is called for. We'll see.
Let's get our stuff in order.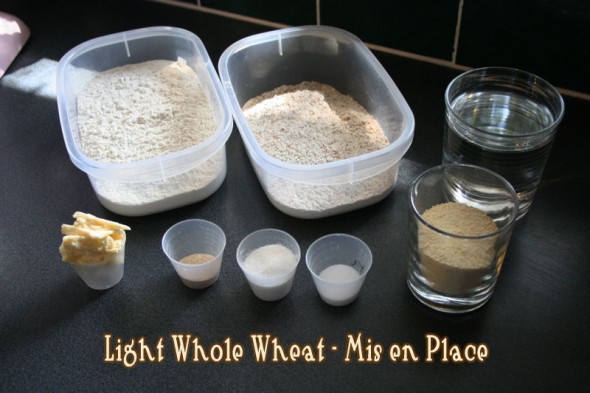 This "Light Wheat" uses both white high-gluten flour and whole wheat flour at about a 2:1 ratio. I don't have a high gluten flour so to the 325g of bread flour I added 8g of vital wheat gluten to bump up the gluten content.
This is an enriched bread with the addition of butter, powdered milk and sugar (or honey).There is also instant yeast, salt and water added, of course.
We add allt he dry ingredients to the bowl and stir together, then add all liquid ingredients.
This is mixed on low speed until it forms a rough ball which is then turned out onto a floured surface then kneaded about 10 minutes (6 minutes if kneaded by machine).
The kneaded dough is then placed into a lightly oiled container and flipped to oil all sides, then covered and allowed to do a bulk fermentation for 1.5 to 2 hours or until doubled in size. (You may have noticed the dough in the left hand photo is actually the rye bread photo from the previous post. I didn't get a pic of this step for the light wheat. But it's a pretty generic view so I'm really just recycling, which is good, right?)
At the 1.5 hour mark, the dough had much more than doubled. Yipes! Ah well, can't unrise it.
I turned out the risen dough and did a little shaping to get it ready for the pan. Hmmm… That looks like a pretty big loaf to go into the recommended 8.5″ X 4.5″ pan.
Forming the dough into a loaf, it really is looking pretty huge for the pan. So I get a slightly bigger 9″ x 5″ pan ready. However, I'm reminded of another bread loaf a few challenges back wher I placed a loaf that was supposed to go into a 8.4″ pan into the 9″ pan and the loaf just ended up too small once risen and baked. Better stick to instructions, I figure. Reinhart says 8.5″, then that's what I'll use.
So into the prescribed pan it goes, gets covered and allowed to rise  about 90 minute.
And of course, at about 70 minutes, I had a monster loaf as you can see. Shoulda put it into the bigger pan. Too late. At least there's be little worry that we'll have really fluffy bread!
So into the preheated 350º oven it goes. And 45 to 60 minutes later (once internal temp reached 190º) it comes out of the oven, quite a lovely colour. After being removed from the pan, it cools on the racks and here's what we had: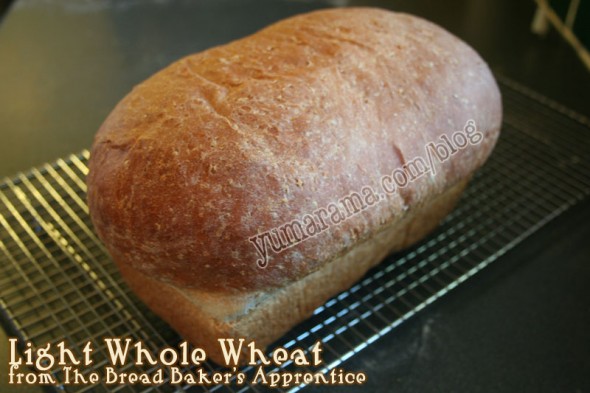 A rather gigantic loaf of bread! A coouple more shots to see it from different angles:
Yep, that's some titanic loaf, indeed! But in spite of it's huge size, it still came out quite a nice , light loaf with a very decent crumb, a thin, soft crust and great taste.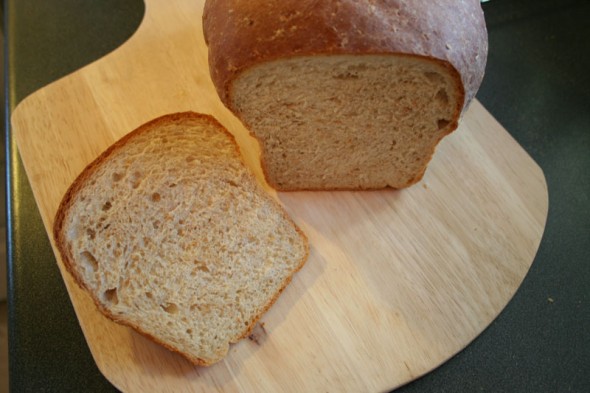 The bread gets 1 to 2 (preferably) hours to cool and we can finally slice it. The crumb is fine, soft and very evenly bubbled. You can tell there's whole wheat in here but it's a very light mix so it should be acceptable to most white bread lovers who don't like darker whole wheat varieties. Or so I hope.
And what of the Sliced White Bread Lover? Well, the bread was eaten up for a couple of days but, soon enough, a new bag of wonder-type white stuff was purchased (not by me) and that's been getting used while the last third of this (I thought tasty) light whole wheat remains untouched and going stale. I guess the birds will enjoy the rest.
I am going to admit defeat and simply accept that the "bailed fog" stuff will always win out over hand made bread even when it's  home made "fluffy sandwich bread". From here on, I'll just make the breads that I enjoy, let Punkin buy his sliced white fluff  and skip making bread that's obviously not liked by either of us; it just doesn't make sense to do so.
Next up in the challenge:
Recipe #19 is Marble Rye. Yea! Bread for me! Ooops! That's supposed to happen today (Sept 19). Oh well, looks like I get a reprieve because…
After that: Multigrain Bread Extraordinaire, another fluffy bread. I'll be skipping that one, and any other "fluffy sandwich breads" in the challenge from here on. Fortunately, it looks like there are only three sandwich breads left in the list.
Here's where we stand for the remaining recipes:
| | | | |
| --- | --- | --- | --- |
| No. | Recipe | Page | Due Date |
| 19 | Marbled Rye Bread | 183 | 19-Sep-09 |
| 20 | Multigrain Bread Extraordinaire | 187 | 26-Sep-09 |
| 21 | Pain à L'ancienne | 191 | 3-Oct-09 |
| 22 | Pain de Campagne | 195 | 10-Oct-09 |
| 23 | Pane Siciliano | 198 | 17-Oct-09 |
| 24 | Panettone | 202 | 24-Oct-09 |
| 25 | Pizza Napoletana | 207 | 31-Oct-09 |
| 26 | Poolish Baguettes | 213 | 7-Nov-09 |
| 27 | Portuguese Sweet Bread | 215 | 14-Nov-09 |
| 28 | Potato Rosemary Bread | 219 | 21-Nov-09 |
| 29 | Pugliese | 222 | 28-Nov-09 |
| 30 | SD: Basic Sourdough Bread | 233 | 5-Dec-09 |
| 31 | SD: New York Deli Rye | 236 | 12-Dec-09 |
| 32 | SD: 100% Sourdough Rye Bread | 239 | 19-Dec-09 |
| 33 | SD: Poilâne-style Miche | 242 | 26-Dec-09 |
| 34 | SD: Pumpernickle Bread | 246 | 2-Jan-10 |
| 35 | SD: Sunflower Seed Rye | 249 | 9-Jan-10 |
| 36 | Stollen | 252 | 16-Jan-10 |
| 37 | Sweedish Rye (Limpa) | 257 | 23-Jan-10 |
| 38 | Tuscan Bread | 259 | 30-Jan-10 |
| 39 | Vienna Bread | 261 | 6-Feb-10 |
| 40 | White Bread: Three vars. | 265 | 13-Feb-10 |
| 41 | Whole Wheat Bread | 270 | 20-Feb-10 |
| 42 | Potato, Cheddar & Chive Torpedoes | 278 | 27-Feb-10 |
| 43 | Roasted Onion and Asiago Miche | 281 | 6-Mar-10 |
Some of the other bakers blogging this bread:
Deb at Italian Food Forever wishes she'd made two loaves!
Oggi at I Can Do That made a very stylish loaf
Mags from Other Side of Fifty went with rolls for this recipe
Sally at Bewitching Kitchen has made this bread often before, it's a fav at her house.