This one was not so good. So I won't spend a lot of time on the details.  Suffice it to say there were enough problems with the finished product and the process that it's not a type of bread I'd be open to revisiting any tine soon.
So, as always, a quick look at the mis en place…
Ice water, flour, salt and yeast. Can't get much simpler than that.
Mixing the above ingredients, we're told it will be a soft dough, but I wasn't expecting THIS soft a dough.
The dough at the mixing stage looked fine, for wet dough. It still cleared the sides and stuck to the bottom while it was being kneaded in the mixer. When the kneading was done, however, it seemed live very droopy dough. But again, we're told to expect it to be a soft dough, somewhat like Ciabatta dough. OK, so we'll go with this.
The dough is poured (yes, decidedly "poured") into the greased bowl and placed in the fridge to retard overnight.
The next day, I take the dough out which has risen just a little, let it rest on the counter for a couple of hours until it has doubled in size. Once there, the dough is again "poured" onto a very liberally floured surface. A bit more flour is sprinkled on top…
The dough glob is then sort of coerced into a shape about 8″ X 6″ then split into two sections lengthwise.
Not all of the next few steps are pictured because it was enough of a battle to handle these very stretchy dough worms. I took one of the two halves and split that further along the length into three long chunks. It was like trying to corral soppy jell-o.
I transferred the very well floured ropes of dough to a rimless and floured cookie sheet and then slipped these off the cookie sheet onto the pre-heated baking stones at 500º. Add steam, spritz the inside three times every 30 seconds then bake for about 10 minutes until browned and 205º inside.
Of course, in the transfer process, a tiny bit of the wet dough stuck to the cookie tray and caused all manners of problems since the dough was so soft and  stretchy. So two of these small and thin loaves ended up on the stone in pretty twisted shape, after a fair bit of cursing and while the oven door stays open letting out a fair amount of heat. Good thing the oven stone's in there to hold on to a fair bit of heat.
Regardless, we carry on.
So while the first three loaves cook, I decide for this second half to not handle these next loaves so poorly and instead place them into their own baking tray and they'll go into the oven as such, tray right onto the baking stone.
Eventually, they all came out of the oven after the appropriate time where the internal temp had reached 205º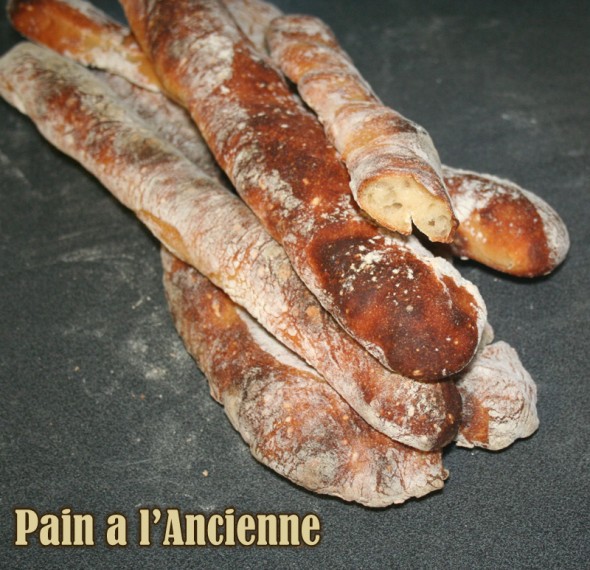 Although it is hard to tell in the above photo OR in Reinhart's The Bread Baker's Apprentice photo – there are no real reference points in their photo to judge scale – these came out to be very small baguettes or, more accurately, large grissini. The cut loaf in the above pic is about 1.5″ across.
The crust was very tough as was the crumb, in spite of having achieved a decidedly holey texture. The loaves could easily just be a "dinner roll" worth of bread. I think the best we'll be able to do is slice them very thing and crisp them up to make little bread crackers. The actual flavour was not bad, but the fact you had to build up your jaw muscles in order to chew these just doesn't make it worthwhile.
So on a five-loaf scale, this one's a 1.5 and goes into the "Won't do that again" pile. Maybe I'd make an effort if there weren't many better brads we've made, but alas there are. This one stands out as a fair bit of work for not very useful results.
The Italian Bread still beats the pants off this and most other breads so far.
Next up: Pain de Campagne.