For those who wonder how you can tell the difference between those two states of your dough, here's a simple explanation with visuals that should clarify the differences.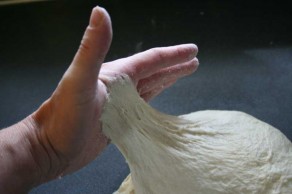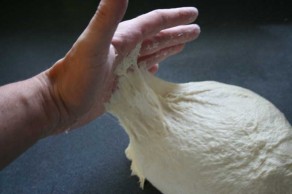 STICKY: Pressing your hand in the dough, it sticks and stretches. When it does release, your hand is still covered in a fair bit of dough. This would be acceptable for soft doughs like Ciabatta.
TACKY: Although pressing your hand on the dough is still causing it to stick, it easily releases without leaving much if any dough on your hand.
Be careful not to go too far, a little sticky is good, you do not usually want it to be completely non-sticky. That would mean your dough is too dry. Try to avoid the idea that you need to keep your hands "clean" of dough, this is bread making and it should generally be expected to be a little gummy. That's OK. If you're aiming for a clean dough, you'll have a tight, dense bread. This is fine if you're making bagels which you want to be a little dense but, generally, not the aim for most breads, some even want to be very soft and sticky to produce the right crumb.
So don't try for "neatness". There will be and should be a little mess. If this goes against your personal values… you'll need to fight that urge.
You may find that kneading on the counter, you constantly keep adding a little more flour to keep the dough from sticking to the surface but again, this can cause problems. I generally knead on the bare counter and, yes, it is sometimes sticky for the first few minutes. Using a scraper, I can collect the stuck dough and get it back into production and as I work, the gluten develops and the dough becomes less sticky without needing to add extra flour.
When in doubt, aim for wetter than dryer.