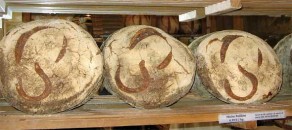 When is a Miche not a Miche? Or perhaps more to the point what is a Miche?
"Miche" basically, is the French term for a very large loaf of bread, somewhat rustic and typically shaped round and flat.
Probably one of the most famous miches around at this time is the Miche Poilâne which comes from the Poilâne bakery in Paris, the loaf weighing in at 2 kg or about 4.4 pounds. Although the bread is a long-keeping one (www.Poilane.fr says their miche lasts 5 days after baking, then suggest toasting thereafter) and the flavour improves over a few days, I knew pretty much immediately that this huge a loaf would not be feasible for our household of 1.5 bread eaters. So when this miche showed up on the MellowBakers.com list of May Breads, I had to decide how to make it.
This recipe is the Mixed-Flour Miche on page 166 and it  makes a 3 lb. 10 oz. (about 1.64 kg.) loaf, smaller than Poilâne's but still too huge, it would have gone stale long before I got to the end. I therefore chose to simply make two boules so about 820 grams each. I think some lucky friend or neighbour is about to get the spare loaf of bread, however because I still want to make other breads this month! The Corn Bread and Grissini on the bread list both look interesting.
NOTE: I had previously said this bread was (and happily thought I had made) the Miche Pointe-à-Callière on page 164 of the book. That was incorrect. While making the levain build, I had inadvertently flipped to the next page in the book and made the Mixed Flour Miche instead. So this is in fact the Mixed Flour Miche made from start to finish. I'll do the PaC version at some other point.
So will this miche no longer be a miche? Are these half-miches? Still plenty big but at least would fit in my new round banetons and would give me an opportunity to get fancy with some decorative slashing. Maybe; as I write this, the loaves are doing their final proof and I haven't got to the slashing part yet so we'll see how that works out when we get to it below.
So let's start this slightly unnervingly large bread.
This bread uses a sourdough build, so let's have a look at that first.
The recipe calls for "High Extraction Whole Wheat" but of course, there's no such thing in my neck of the woods so I improvise and sift the bran out of normal 100% Whole Wheat. . There's also whole Rye (got that) water and the salt for the whole loaf. Because this will stay on the counter for a bit longer than the required 12 hours, I added about 1/4 of the salt to slow down the sourdough yeasties. The rest will go in the main dough later.
This levain is left to mature for 12 hours, overnight and the next morning has grown to about double the size.
The full dough Mis en Place: the levain, sifted whole wheat, water, the remaining salt, bread flour and whole rye flour.
The different flours and water are combined and mixed very shortly until they basically come together as a "shaggy mass". The dough is then rested for a 20-60 minute autolyse to absorb the water better (I did 30 minutes), then the salt is sprinkled on top and the levain is divided and put on top of the dough.
The dough is then mixed for 2 to 2.5 minutes and transferred to a bowl to begin it's bulk ferment and Stretch & Fold process. We'll be doing three folds at 40 minutes apart. I can't help but note that this dough is really wet. 82% hydration, according to the recipe. Boy, I hope the S&Fs make this a little more workable because at the moment, it looks like plain goo.
After the first 40 minute bulk proof, I turn the dough out onto a very generously floured counter. I also have, off to the side, a large bowl of water for my hands and plastic scraper. With some difficulty, I manage to stretch out what seems like goo out into a large rectangle and do the required Stretch & Fold steps.
I finish up the third fold and feeling the dough is so unstructured, I give it a second quick S&F right away. It gets folded up once more and popped back into the bucket for 40 more minutes.
I didn't have photos of this because my hands were full of sticky dough and also because it will look pretty much just like the steps above, but at the second 40 minute mark, the dough had improved considerably. There was gluten development going on the the dough felt "whole" and not just a pile of wet flour. Another 40 minutes and the third and final stretch occurred and the dough felt even better this time around. I put the dough back in the bowl for the last of it's 40 minute rest before shaping.
The improvement in this 82% hydration dough was rather amazing.
In spite of the nice dough texture, shaping it was a bit difficult because it's still rather sticky dough so I didn't get photos with my gummy doughclaws.  But there are the two 840g or so boules, plopped into the floured brotforms. They are to sit out for 2 to 2.5 hours to proof. After about an hour, they had reached pretty close to the top of the baskets. Although it seemed to me they may have been OK, there was still one to one and a half hours left to proof, so I let them go further. I cranked the oven up to 440ºF and set my pseudo-baking stones in (unglazed porcelain tiles) and a pan for steaming.
At about the 2 hour mark, I checked the dough again and gave it a little of the poke test: if it bounces right back, it's underdone. If it stays fully indented, it's overproofed (too late!) and if it fills back about halfway in a few seconds, it's just right.
So I poked and the slight dome of the dough in the baskets begins to cave in slightly. Damn, over-proofed and the structure is giving up. Well, it is an especially hot day (27ºC or 80ºF) so the dough was probably ready a half hour before, but the stove wasn't. Well, no sense stopping at this point, so onto the peel it goes. Now I know this bread is supposed to be 'flat'  but it was very flat. I'm hoping at this point to get some oven spring so I don't have two really thick pita breads. To score or not to score, if I do, I might deflate what's left of the bubbly dough. Oh well, let's throw caution out the window. I make an attempt at pretty slashing but the dough is really soft. You'll see the results in a bit.
Into the 440ºF oven it goes. The book says a total of 75  minutes but these are so low profiled, I doubt it will take that long to cook up the middle. So I check at about the 30 minute mark (I didn't bother to reduce to 420º) and they had both reached 195ºF inside. Good enough. Out they came.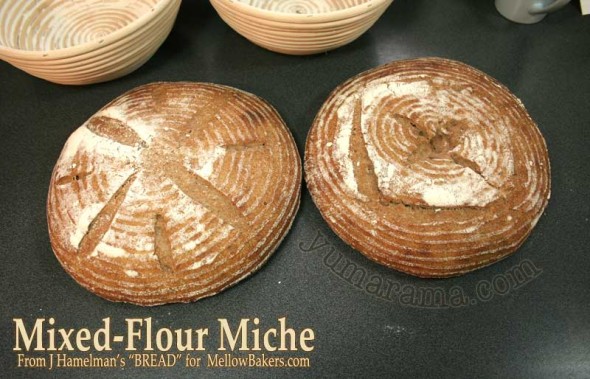 And there they are. How much oven spring? Just a little. But they looked a nice colour and smelled wonderful. The slashing didn't spread much because they dough didn't get to expand much at all. The pattern was "ok' at best because I didn't want to specifically cause total deflation. The bread is put on a rack to cool for 12 hours, says the book. HA! says I. One hour and they're at least still a bit warm.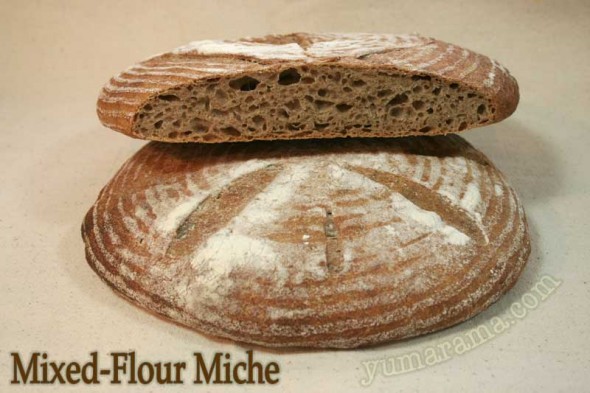 As you can see from the profile, this is a very "low slung" bread. However, the crumb is very holey which I didn't really expect since I thought the gluten structure would have totally collapsed. I was pleasantly surprised by that.
[easyazon-image-link asin="0471168572″ alt="Bread: A Baker's Book of Techniques and Recipes" src="http://ecx.images-amazon.com/images/I/51OV5EvTM6L._SL160_.jpg" align="right" width="130″ height="160″]Taste: Wow, nice! A lovely combination of flavours here, the crust is (this soon out of the oven and un-bagged) still somewhat crunchy but not too hard, and not thick. I quite like this bread. If not for the too-warm kitchen issue and over-proofing, this would have been a top marks bread for me. Everything else is really nice about it.
So this one needs to go into the "Do Overs" pile. And in spite of it's slight flatness, it's going to be YeastSpotted.
Next: Deciding on Corn Bread or Grissini for next weekend!
Want to join us as we bake all the breads in Hamelman's [easyazon-link asin="0471168572″]Bread: A Baker's Book of Techniques and Recipes[/easyazon-link]? Hop over to MellowBakers.com! Start in at any time, pick up where ever you want! We're mellow!