Well, it's been a bit since I posted. So let me catch up on what's happened.
As noted in the previous post, this Pastry section is divided into 6 parts, sandwiched between the intro of week one and the wrap up in week eight. During the last couple of weeks, I've gone through Cakes, Sous-Chef and just finishing Deserts (a sort of catch-all part).
During cake week, we made several large sheet cakes for the Vancouver Island University's 75th Anniversary celebration. Or at least got them started; the cakes were finished and decorated the following week. I also made a a batch of chocolate cupcakes and some cheesecakes. And we made a giant batch of Italian Meringue Buttercream early in the week.
I would point out that my camera battery died on me and I wasn't able to take many photos. The two of the cupcakes above are by Paul Conroy. Those are chocolate cupcakes with a cassis buttercream swirl. The cheesecake is a swirled plain and chocolate mixture, one of which overcooked somewhat.
Since the net Monday was to be Thanksgiving, there was a huge order of pumpkin pies come through the bakery for both single and large pies. Given the duty to create the marzipan pumpkin decoration were Paul C, Josie (seen below) and Ally, who were on Sous-Chef and Decorations duty. Hundreds of little teeny pumpkins were produced.
As well, we were shown how to make marzipan flowers by Chef Rita Gower who was stepping in for Chef Harper for a few days. During a theory demo, Chef taught us how to make marzipan roses.
Chef Gower then displayed her rose for us to admire and emulate. The three roses at the bottom of the last photo are my attempt. Not quite so masterful. But it's my first try; Chef said she's made thousands of these now.
And that was week two of the pastry section: Cakes.
Week three saw us tackling Sous-Chef duties.
Again, my camera was acting up so I have no photos, besides taking pictures was not a priority. Duties for this week included: making sure the dishes were getting done, putting out minor fires (not actual ones) fetching, mopping, and pulling all bakery orders for the two cafeterias each day.
During theory, we had another demo from Chef Gower: design piping with chocolate. A couple of shots of the work done by some people in class, courtesy Josie.
Fridays, since we come in early and the other class is not in, we also did any required baking. This meant pizzas. Required items this week were tempering and piping chocolate, a bit more marzipan exercises, shown to the left, piping buttercream borders. Basically, the stuff you'd be expected to do in a supermarket's cake department. Nothing fancy.
I did get some other people's photos so this post wouldn't be too bare. The following are all taken by Josie (a.k.a. Jose) who is pictured making mini pumpkins above and who's team was on Deserts this week – our team is right behind theirs.
Next, let's look at Sunday. Yes, Sunday. There's an event happening here in Nanaimo – and it seems in several cities as well, where restaurants and other eateries showcase their goods to the public all under one roof and in small bite-sized bits. The event here is called Bite of Nananimo. For this event, the Culinary Institute at Vancouver Island University has a booth and we needed a background for the space. Since the theme we chose is Paris, I volunteered to design the backdrop so i drew up the following:
A little running about Saturday for supplies – it's not easy doing this in a strange new city – and I was set. Came in to the bakery on Sunday (with Mr B attending) along with a few classmates and we whipped up a large version of the design. Came out pretty darn well, if I do say so! Thanks to the gals for a great paint job! And Mr B for a tasty breakfast.
OK, moving on: Week 4, Deserts!
This section covers items like puddings, mousses and bars. So imagine the photos you see above are representative of what our group made. And here's a couple random shots of my own items.
What I made: "Queen Mum" Chocolate Mousse (shown above before topping with whipped cream and a chocolate decor, a LOT prettier), Rice & Raisin Pudding, Lemon Pudding, Date Squares, also shown above in mid-schmearing, and Carob Squares.
This is also the week for Bite of Nanaimo so we were also producing about 1200 Fine French pastries on top of all the 'regular' stuff we needed to make. Well, "we" being the class in general, nothing required from the Deserts team. But things were a tad frantic in the ol' VIU Boulangerie.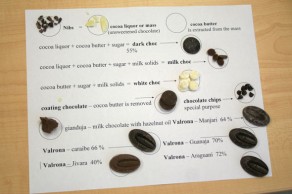 Our Demo this week was on different types and qualities of chocolates. Chef Harper set out different chocolates, nibs and cocoa butter and we had a bit of a tasting. The aim was to start defining the subtle and not so subtle differences in chocolates of differing cocoa and/or sugar levels, the taste a tiny difference like 2 % more or less cocoa mass makes… Quite a fascinating session, I thought.
The chocolate tasting was followed the next day by a visit from Derrick Tu Tan Pho, Master Chocolatier.
Chef Pho (pronounced f'oh) gave a lecture on the origins of chocolate, the plantations where the pods are grown, brief overview of the social side of sourcing from tropical locations. He then went into much more detail on the art of tempering and lastly, made a Jasmine Tea Ganache in all of 30 seconds. I think I would describe Chef Pho as a Humble Expert. The man knows chocolate like nobody's business, an expert's expert. Yet he doesn't come off the slightest bit haughty or pompous. And he's just plain fascinating to listen to. Wonderful event.
Finally, it's Friday and we finish up our required dishes. I then start to focus on getting everything in line for Bite. Much checking and double checking, helping out different teams as needed and, since I signed up for loading and unloading, some loading and unloading.
Once at the location (Beban Park), we got the backdrop taped up, tables covered, displays done and deserts plated. Wanna see?
The ever affable Paul C and Kevin,  zee very frennch Leah and Andrea in character, and Chef Gower explaining the set up to Sam and Ashley.
Chocolate dipped Palmiers, Crème-filled Lemon & Cardamom Beignets, White and dark chocolate truffles, Macarons (in spite of the typo on the card), Opera Slices and Chocolate covered Eclairs.
At this point, I said "Bon soir" to all and left so I don't know yet how it all went but I assume it worked out quite fantastically – we were the only desert place at the event. So after gnoching on much delicious savoury stuff, people would come to the VIU booth for a little something sweet. And these pastries were all really superb. We got to tastes the cast-offs and wow, were they good.
And that covers us for weeks 1 – 4 of the Pastry 101 section. Next week, Pies & Savoury (quiche, meat pies, etc.), then Pastry (tarts, coffee cakes, eclairs, etc.) and lastly Quick Breads (cookies, muffins, scones).
I'll try to get more posts in before too long. Until then: Merci bien de venir, a bientôt!