Another hectic couple of weeks in the VIU Pastry section get us into the Savoury Pies, Pastry and Quick Breads parts of the course and ending on the Round Up week.
For Savoury Pies Week, I made, strangely, savoury pies. Specifically, Chicken Pot Pies, Veggie Pies and Quiches, both Ham and Cheese as well as Veg. I made a LOT of these. Literally, dozens and dozens and dozens, in fact, closer to a hundred. That included making a big-ass pot of chicken filling, and pressing out hundreds of 5 inch pie shells as well as rolling out each individual shell top and applying them. And baking a fair number of them, freezing the rest for baking later that week and next.
Seems meat or veg pies are a popular lunch choice on campus and in fact, we make over 200 of them each week, plus 216 sausage rolls and dozens of Cornish pasties on top of that. (That's pronounced "past eaze", by the way, not "paste eaze" which are a whole 'nuther thing.)
I spent ALL WEEK doing flippin' meat pies. So as much fun as this was¹, I don't have photos. I was too busy cranking out savoury pies.
¹ Note: it was not, in the least. Did I mention I spent an ENTIRE WEEK doing these?
What I didn't get to that is mandatory for this week is making a Fruit Pie. I don't know why Fruit Pie is mandatory on Savoury Pies week, but it is. Alas, I didn't get to it; I was going to maybe do a nice Apple Pie. Oh well, add that to Week 8: Catch Up Week, along with Carrot Cake from Cakes Week I didn't get done.
Then we got to Week 6 which is VIU Pastry Week. OK, this is better. I got to make some butter tarts, some Portuguese Custard Tarts, a.k.a. "Pasteis de Nata". Here's a couple of shots of these.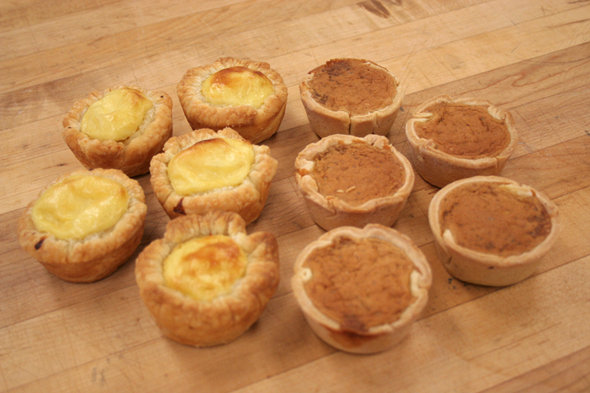 The Butter Tarts came out great, beautifully baked with a nice crust. Normally you would have a gooeyer centre. These however were just out of the fridge so the filling is currently stiffer.
The Custard Tarts, on the other hand, didn't fair as well. The baking instructions called for 15 – 20 minutes at high heat, 220°C in this case, and the tarts were pulled out a bit earlier as this type of tart usually gets baked until the tops actually get a bit black and nearly charred. It was assumed that feature wouldn't be a big seller here at VIU, so they got pulled just as they were getting a bit of golden brown.
Once sliced up, it was clear the custard had overcooked, even though they were pulled out a little early. The texture was a bit grainy from the egg proteins getting much too stiff. The puff pastry crust was beautiful, however.
Asking Mr B about it, he said that particular recipe was submitted to the VIU recipe collection by a student a few years back who had tried to make the tarts numerous times but never quite got them to work out right. Well, at least I was happy to hear it wasn't something I was doing; the recipe itself was suspect. Normally, this would be an opportunity to go do more research and bake them up again. Time is tight again this week as some of the available hours in the bakery are taken over by another class doing their Bakery section. So I have to pass on remaking this, at least for school, unless I get everything else done and want to give these another go. I may just do them at home.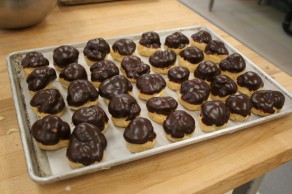 On I pressed with making Profiteroles (a.k.a. "Cream Puffs"). After a bit of a hiccup cooking the actual choux paste, the piping and baking of the little rounds went quite well. I mixed up some Diplomat Cream to fill them and once stuffed, coated them with chocolate (see photo). These were eventually finished up with a drizzle of white chocolate. These came out extremely well, baked up crispy with a very nice center.
A few of the other items I made this week:
Cardamom Spice Cake and (not Key) Lime Pie which counted to my fruit pie I didn't get to before. And a few dozen more butter tarts.
Lauren made these:
An apple coffee cake and coconut-ginger tarts.
Others in the class and at other stations also made…
Pies. And pies and pies and pies. And more pies.
Pies, pies, pies and pies, followed by pies and pies and more pies. Well, at least I got photos of someone's pies.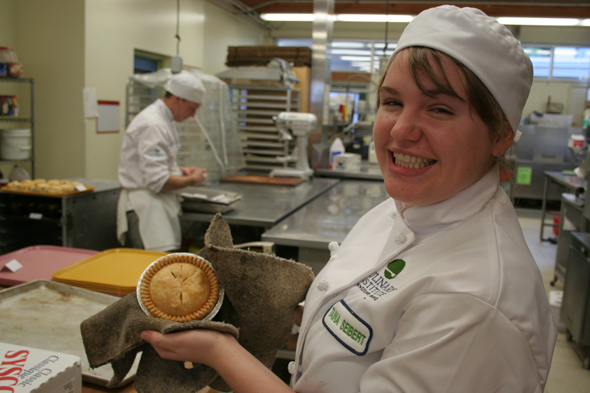 Taina displays a lovely chicken pot pie.
It's unanimous that the Savoury Pies section is the least favourite of all; you end up making hundreds of pies all week long. Or endless sausage rolls or Cornish pasties. Whatever you get to do, you're making them all week. It's like being a pie factory, except a factory would have a set up focused on mass pie production. Here, it's one of dozens of products we make and it all gets done by hand.
But we do get to do other stuff, as we'll see now.
Josie and Sara have a bit of a laff and Sara makes some Half-And-Half muffins.
article At some point an order snuck in for some birthday cakes which were handled by Chelsea and Alexis.
For VIU Pastry: Quick Bread week, I ended up making a few hundred scones, scooping dozens and dozens of muffins and using up the Ready To Use cookies since this was a holiday week and we were short one work day plus Lauren was not in one day.
And here's one last photo of a required bake for me, cookies. I chose to make Lionel Poilâne's "Punitions", based on the recipe republished here or here. Sadly, the original article on Dorie Greenspan's website has since been removed. There's also a video with, in part, Poilâne himself showing how he makes the cookies, starting at about the 1:00 mark:
I ended up with about 50 small cookies which I chose to dip in a little chocolate.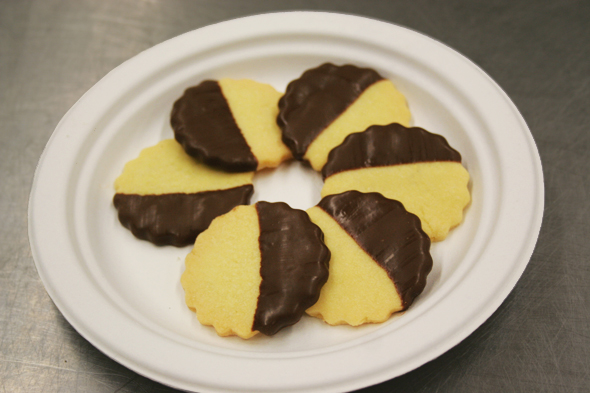 Also made but not pictured: Sour Cream Apple cake with Caramel Fudge Icing.
VIU PASTRY: A SIDE PROJECT
As well as doing our regular campus food baking plus required specialty baking, we're also aiming to create numerous individual Gingerbread Houses for the holidays and this is, in part, what we focused on while in class when the Culinary Students (a.k.a. "the Black Hats") were overtaking the bakery. These gingerbread houses are an annual event at VIU and they are displayed and auctioned off at three venues.
The general theme is noted as "Paris" – again – although we're not tied to that. I think some people will try to make a few Parisian icons (Eiffel Tower, Arche de Triomphe, etc.).
Me, I've had a particular building on my mind for a while. It is the Sopp and Truscott Bakery in Silver Plume, Colorado.
There are a few really cool things about this building and reasons to use it as the model for my gingerbread house.
First, it's a real building and there are a bunch of photos of it online all over the place.
Second, it's an actual bakery and that seems to tickle people in this course for some reason. 😉
Third, it's sort of a famous building in that's been used as a model for train enthusiasts. There is a company that recreated this very building in numerous hobby train scales and you can actually buy a kit for your train scenery: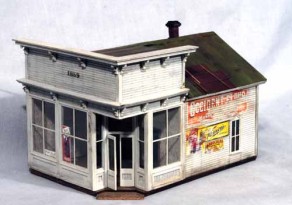 I'll make a separate post detailing the creating of the gingerbread house as it seems to call for it's own space.
FINAL VIU PASTRY WEEK
And so we entered into Round Up week of the VIU Pastry Level One course where we were supposed to, if needed, catch up on any of the mandatory baking we hadn't got around to or wanted to improve on. As well, the usual baking requirements (hundreds of pies, muffins etc.) still needed to be produced but we did have some space now to tackle what we needed to. This also let us work on the gingerbread houses. Unfortunately, we also cut a day out of the week due to a stat holiday so there wasn't really much time available.
The only item I had not done at this point was a carrot cake. And since everyone makes one during Cake week, it seems we had a surplus of them. I therefore made a small 6 inch version of the Abundance Carrot Cake I've made several times before at home. I'll try and make one up again with step-by-step photos as well as supplying the recipe for anyone who wants to make it. In the end, this was all the "extra" baking I was able to get done since we still needed that production stuff made and pumped out. But here's a photo of one I made a few years back, before I even began this blog: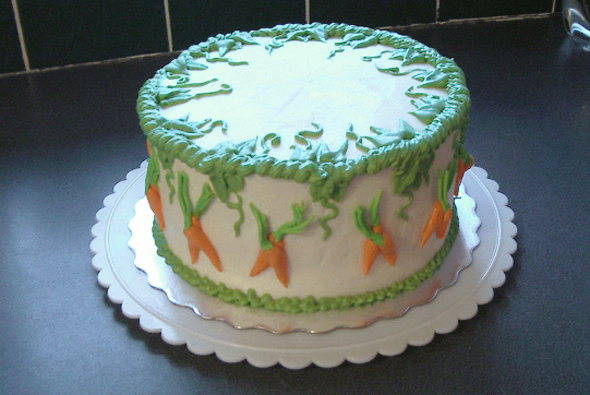 Just to round things out, a few more pics of people's work this last week:
A selection of cupcakes: Ally's Japanese inspired, Chelsea's Red Velvets and… not sure who's chocolate cupcakes (someone let me know).
Then we have Paul Conway working on his blueberry fruit pies, after we figured out how to use the fancy schmancy lattice-making gadget. In the background, Josie is working on her graham-flavoured stunning little cupcakes. At this stage, (click the photo to enlarge) she's just got them topped with the meringue and in a few more minutes, we have these amazing little cakes…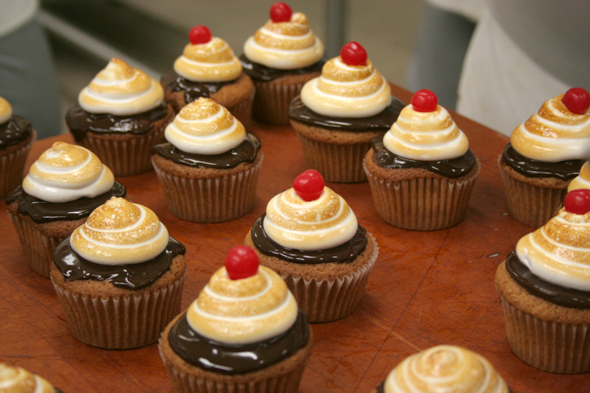 Chocolate frosting, flamed meringue and a cinnamon candy ball, soon to also get a cookie "straw" and we have a dozen really beautiful little works of art.
And that ends Pastry Level One class at VIU.
Next Monday, at 6 a.m. we're in the bakery and starting Bread Level One which will go for it's own eight week run. Somewhere in there will be the Christmas Break so that will take us through to about