And into the third week of the Bread Baking section here at VIU, we enter the Wood Fired Oven station. This is, undeniably, one of the stations I have most been looking forward to. I have it somewhere in my brainpan that when I get a bakery going, one thing it will have that helps differentiate it from most other bakeries, and most certainly from grocery store bakeries, is the use of a wood fired oven.
Although I doubt it would be wise to use this sort of oven exclusively because there will be many things that a bakery pumps out that will need a very regulated temp and it would be really unwise to forego the use of a more standard oven completely. Patisseries, for example, would be a lot more difficult to produce in a wood oven, needing to have the timing just right to catch the heat as it passes through the temp range pastries need. However, it could be a wise move to make use of a wood oven for a bulk of the bread baking.
So there we were, well before the crack of dawn, getting the oven started for the week.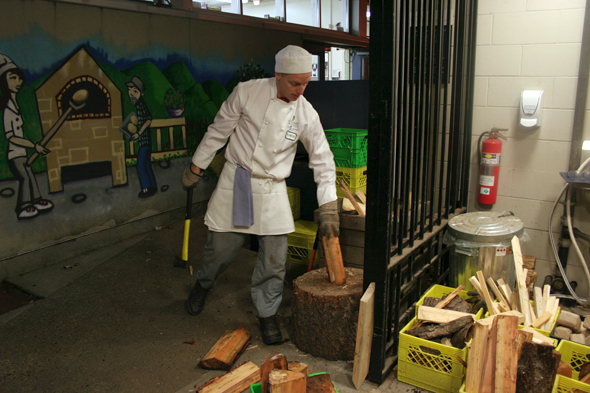 After beginning a small fire with some small scraps left over from the week before, Kevin tackles the chopping of the firewood. Over the next two days, he filled about 6 crates full of small kindling to fair sized pieces of wood, as seen in the two different crates in the bottom right of the photo.
Setting a pile of kindling alight, a few larger pieces were placed in the opening, near the fire, in order to help dry out the already seasoned but slightly damp wood before moving it onto the fire.
Not to long after this, several more pieces join the flames and the lot get pushed further back into the oven.
This, by the way, is a design based on the Allan Scott plans and it has a cavity of about 4 ft by 6 ft so there is a fair bit of space in there, needing a fair bit of heating up to get it up to temp. There are two probes in the base if the stove to indicate what the temperature is right under the fire and a few inches below this. A heat sensor gun give us info on the inside of the cavity. Eventually, we would get the heat on the ceiling to about 1000ºF while the flames were burning strongly, as in the photo at right.
After several hours and stoking with more firewood and sawdust briquettes, we had a large bed of hot coals keeping the ceiling temp near 700ºF with a floor at 500ºF. The probes, however, noted the insulation base was hovering in the mid 300 ºF range. It would take a fairly long time for the mass there to get very hot and maintain that heat.
On day one, we were able to get the wood oven hot enough to handle a batch of bagels wich the team of Taina, Andrea and Paul C produced. Kevin baked these off beautifully while I was prepping the veggies and other aspects of the lunchtime pizzas. These, however, would be done in the deck oven as we did not need to temp the baking gods and mess up dozens and dozens of pizzas.
And that, in effect, was basically our duties for the week: in the morning, fire up the oven for a couple of hours (for the next few days, already hot from the previous day), clean out the coals and ash, bake up bagels and whatever bread was headed to the wood oven, prep all pizzas for the 11 a.m. lunch crowd, including making the dough, dividing and rolling out 30+ small pizza shells, top said pizza shells with prepped veg and and bake. This would get us from 6 a.m. (or earlier) right through to noon when the class would head off for Theory and the pastry class took over the bakery.
I actually managed, with some help from Taina, to get a fair number of photos of the pizza making process. Wanna see? Of course you do.
Each day, we prepared all the condiments needed and made a selection of Meat Lovers (sauce, ham, salami, mushrooms, green onion, pineapple and cheese mix), Vegetarian (sauce, green onion, mushroom, olives, roasted red peppers, topped with feta , Parmesan and mix cheeses), pesto (pesto sauce, feta, mushroom, onion, black olives, chopped tomato) and a "special" which was up to us. We fire roasted some eggplant and later in the week, Mr B roasted some chickens so those were the main components of our "specials" this week.
Here, Kevin is ready to start loading the oven with some of the just prepared pizzas. Next, I am helping get a batch of baked pizzas into the pans.
Some of our pizzas baking in the oven. Although not at the highest possible temp, these pizzas bakes in about 5 to 6 minutes. In an oven that is dedicated to pizzas, you would keep a small fire going to one side and your temps would hover in the 900 to 1000 ºF range, where you could cook the pizzas in about 1 to 2 minutes.
Here we have brought the hot pizzas inside and are slicing, plating and about to deliver them to the lower caf (directly behind us) for the hungry folk waiting.
During this week, we also had a few catering orders come in (it's getting to holiday time now so I am guessing there are a few staff parties going on in the University) and we had to produce some 30 large size pizzas for different department. I am pleased to say that Mr B was told by the Dean that the pizzas Kevin and I made were excellent. I have to assume that this means we did a better than normal job to warrant a special note back from the Dean to say so.
I even bought one (pesto) myself. We do pretty darn good pizza!
We also had to produce some 120 par-baked pizza shells for another special order, dunno who needed that many. But that was an interesting experience on its own. The bakery isn't a mass production sort of place, most everything is done by hand with a little mechanical assistance, so pumping out that many shells, on top of what we are expected to make each day on TOP of the 30 special order large pizzas, was an interesting trip into high gear work.
Fortunately, we do have a big ol' machine that helps with the shaping of loaves, an Acme Molder. Although the one in the photo isn't ours, it is the same big-ass machine as ours. Connor and I spend a good couple of hours feeding dozens and dozens of little dough bals into it (Kevin was tending the oven outside and making bread). After just a dozen or so, we got the hang of it and were able to pump out nearly perfect sized round(ish) circles of dough. Connor is DA MAN!
That's about it for Wood Fired Oven week for Kevin and I. It went incredibly fast and, in fact, this Bread Section is wipping by at a crazy pace; we're already halfway through our stations! Next week, we do Ovens, meaning baking everything that needs baking in the deck and convection ovens, making sure the morning deliveries are ready to go out and all special orders are being attended to. It will be a little crazy because it's the last week before holidays so a lot of extra stuff will come in.
And speaking of other stations, here are some shots of the work done by the other teams.
Taina and Sandie work on braiding a few loaves. Happy braiders!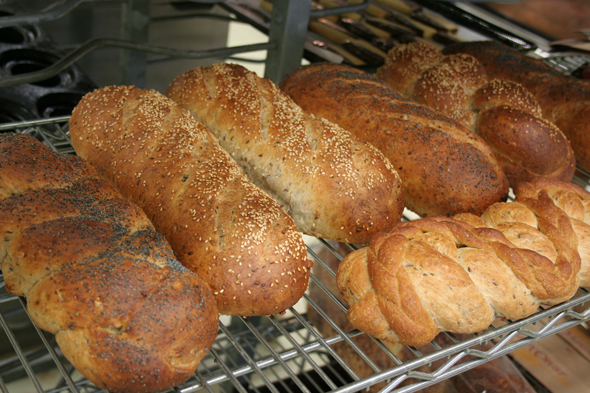 A few of the breads made by the yeast teams, including a braid-on-braid loaf (bottom right) from Andrea. I baked these in the wood oven myself; it only took about 20 minutes for them to get to 200 ºF inside!
You know how I noted that I didn't get any photos of our doughnuts in last week's post? Well, I'm going to vicariously enjoy these photos of doughnuts, produced by the Sara, Alexis and Ally team – and I think it's fair to say Ally is the mastermind in the doughnut department here. Hers are obviously very festive, something I had thought of doing but passed on last week, as we were still in November. Nice job, ladies! Enjoy Wood Oven next week! (They follow Kevin and me.)
Connor (Mr Dang Helpful Dude), helps with pizzas. Shay is part of the Oven team this week, along with Josie and Leah, and are the team Kevin and I follow.
I may have mentioned this before but Connor is always trying to avoid being caught on camera and here Paul is trying to help him get over his camera phobia. Not sure if it's really helping much.
Josie "eats the evidence" of a failed chocolate dipping while some decorated gingerbread cookies await packaging for another special order.
Paul C displays a nice Pullman loaf (a.k.a. Pain de Mie), heading soon for the slicing machine.
Lauren, Andrea and Sara help pump out more holiday treats for special orders, while Alexis and, way in the back, Ally make fondant decoration for some christmas cakes.
Part of the Holiday Treats brigade: Lauren, Sandy, Andrea, Sara and Josie.
Chocolate dipped shortbread cookies wrapped with a bow and candy canes, and chocolate truffles rolled in chocolate and white chocolate shavings (I think).
And that does it for this week's activities!
This weekend, Mr B has invited everyone to his house for a Sunday get-together before he heads out Tuesday for his vacation to Australia!!! Standing in for the remainder of the week will be Chef Gower. That will be our last week for 2011 and we'll return Tue January 3rd.
But I may well have a post or two in the meantime so don't go too far, hear?
Oh, and because someone (Taina) was saying I'm never in the pictures (being behind the camera seems to do that, doncha know) here's a shot Taina took of yours truly: