With the end of the first section in the CIVIU course, we begin this second half with Level 2 of Pastry where we'll be upgrading the products we put out. Finer quality items, more detail, a little more complex construction are expected. Likewise, when we get to Breads 2 a few weeks from now, we'll need to up the ante there as well. This first week in Pastry Level 2 finds me in the Cakes section.
And who's on the team for this section? Surprise! They didn't change the teams. So once again, it's Kevin and I, the only team of two, doing what the other teams of three are expected to pump out. This means bigger workload for us, since we won't have that third person to help produce all the regular production requirements (cakes, bars, pot pies all for the cafeteria). Fortunately, they've decided to cut back on the quantities we have to produce but that applies to teams of three as well. We're still out one person.  We'll see how that goes.
Some of the production stuff we needed to do for Cakes week included making a few sponge cakes and carrot cakes (iced), genaches, simple syrups, cheese cakes, simple buttercream and a giant load of Italian meringue buttercream. Since Kevin hadn't done buttercream when he was on cakes during the previous Pastry section, he got to do it this time. I made the carrot cake. Both of us made a sponge cake. Then we got on to the individual items. Oh, and a special order birthday cake for the end of the week came in… on Wednesday.
Since this meant we were swamped and would have had to either skip the birthday cake or be extremely behind on our mandatories, Chef Gower got one of the people on Ovens to help us out. Hooray! So Josie stepped in and built & decorated the birthday cake.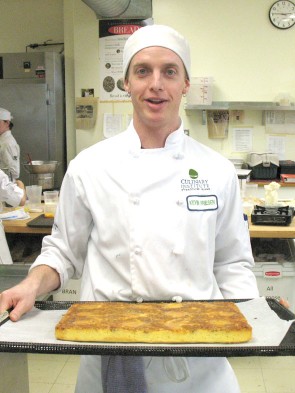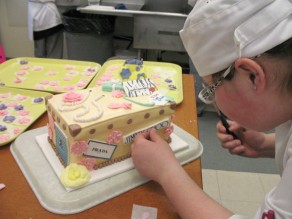 Above: Kevin creates a peach-topped cake, Josie works on the "shoe box" cake.
Aside from the carrot cake and cheese cakes, I selected Opera Cake as my Specialty Cake.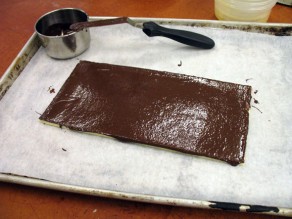 I made a thin sheet of Joconde cake which, once cooled, is sliced in three equal parts. On third is then coated in a simple melted chocolate sauce and allowed to harden. This is then flipped over and becomes the bottom layer of the finished cake.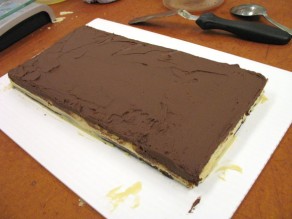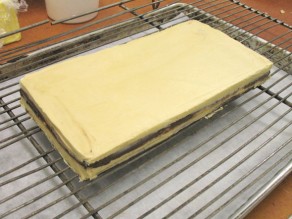 The first layer is then given a covering of coffee-flavoured buttercream and this is topped with the second layer of cake. This is then topped with a layer of chocolate ganache, adding the third cake layer and topping this with more coffee-flavoured buttercream.  The surface of this last layer need to be quite smooth and flat as it now gets coated with melted chocolate to form a semi-firm, shiny chocolate finish. (Sorry, no pics of that process; not enough hands, again.)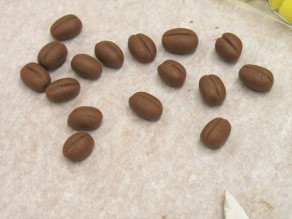 I made a bunch of marzipan "coffee beans", shaping little ovals and using the back of a paring knife to make the indentation. A bit of the coffee buttercream was used to pipe little florets on each slice and the bean added to complete the design.
Issues I had: the joconde cake itself was not perfectly level; you can see in the large photo above how it was a bit thin at the very corner then increased in height towards the right. The bottom layer was flat but somewhat thicker. This is all in that original joconde cake baking so it is important to make sure the batter is very well and evenly levelled before baking. Chef Gower also noted the piped floret was too small and would have looked better just a bit bigger.
It certainly tasted good though!
And there went Cake week for Pastry Level 2.  Week two will find us working the ovens so there is nothing to report or show for that section. We'll therefore be skiping ahead to week three next, where we land in the Bars & Squares section.