Here's a short preview of a project currently looking for some crowd funding.
I'll let their own description explain: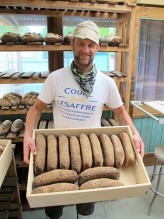 "This experimental documentary will explore the craft of baking what it takes to produce a high quality loaf of bread. It will also focus into the world of competitive baking and the process of what it takes to sustain an olympic mindset. As a part of the 2012 U.S. Baking Team, local craftsman baker, Mike Zakowski [the bejkr] competed in the Coupe Du Monde De La Boulangerie (World Cup of Baking). Now in an individual effort, Mike is headed to compete in the Masters de la Boulangerie representing USA in the bread category in Paris, France 2014. The story will be told through the use of innovative film technique and the documentation of the burgeoning localized slow food movement in Northern California. In contrast, it will focus on the fast paced competitive baking scene worldwide."
Here's a promo video for the project:
If you would like to help out with a small (or large!) contribution to see this film developed, hop over to the Bread and The Baker's Indogogo page and drop a few bucks, pounds or euros towards it. As little as $5 will help them out (and you'll get a nifty bread sticker!)
The crowdfunding effort runs Aug 8 to Oct 7, 2013.