Yumarama.com is happy to offer our readers a chance to score a copy of the book Baking By Hand:
[easyazon-link asin="1624140009″ locale="us"]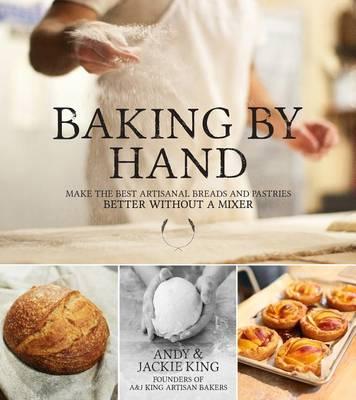 [/easyazon-link]
The authors, Andy and Jackie King, run a bakery, A&J King Artisan Bakers in Salem, Massachusetts, where they create a delicious and extensive line of hand-made breads and pastries.
Here a brief description of the book from Amazon:
Keep your mixer in the closet as Andy and Jackie King teach you long-forgotten methods that are the hallmarks of their exceptional bakery. In their book Baking By Hand, they'll take you through all of the steps of making amazing bread, from developing your own sourdough culture, to mixing by hand, traditional shaping techniques and straight on to the final bake. Most importantly, you'll learn the Four-Fold technique—the key to making the kind of bread at home that will simply be top tier in any setting.

[easyazon-link asin="1624140009″ locale="us"][/easyazon-link]
Want a chance to get a copy of Baking By Hand in your own hands?
Yumarama is giving away ONE BOOK to a lucky reader and getting your entry in is easy. Simply enter through the widget form below, and you'll have one entry! But wait, there's more! You have a chance for four extra entries, too. Answer the question posted for one extra entry, "like" A&J King Artisan Bakers on Facebook for one entry, Tweet about the giveaway for TWO entries! After the raffle closes at 12:01 a.m. on Nov. 25 2013, we'll randomly selected one entry from all valid entries and announce the winner here. Within 48 hours, we will contact them at the email address submitted to let them know they've won and get the required details to ship them their awesome new book.
FINE PRINT: For the complete Giveaway Terms & Conditions, see here.
Note that the draw is restricted (for reason of shipping costs) to US and Canadian readers only.
Also, on Tuesday Oct 29th, I'll be posting the recipe for Fougasse from the book (with permission, of course) right here on the blog for you to check out and try at home. I will also be trying out a recipe for Classic Apple Tart from the book as well as posting a review of the book itself.
And you can visit the official book's blog page here at http://bakingbyhand.wordpress.com/ where you can grab a couple more recipes!
Be sure to check out these new Yumarama posts in the next few weeks and sign up for the raffle! You could be getting your own copy of Baking By Hand soon!