Preamble:
I went searching for a specific photo to show someone a couple of days ago and realized I had not transferred the series of blog entries I had written from our class trip to Paris taken while I attended the Baking course at VIU. These entries, from around March of 2012, are a re-blogging of the posts I did for the VIU website which has revamped its pages and the blog has been lost somewhere (there are still links but they don't go anywhere). 
I therefore offer it here, again (with some minor editing for data corrections and a few typos) in order to both have my own version on this blog and hopefully, share the amazing experience and maybe inspire someone out there to consider baking as a serious hobby or profession.
Please enjoy and feel free to comment, even though this is actually a rather old series of blog posts.
Note: TONS of photos; they all can be seen larger (as most pics on the site) if you click on them.
Paris Blog: Intro
Originally Posted Feb 23, 2012
Hi, I'm Paul and I'm happy to be your tour guide for the Paris 2012 blog for the Vancouver Island University's Baking and Pastry Arts programme.
This is a journal of our Baking Course's class trip to Paris for the world famous 2012 Europain Exhibition, an event that happens every three years and draws to very top bakers and pastry makers from all around the world as well as exhibitors or food and equipment to the European baking trade.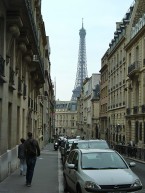 We're also scheduled to hop over to Brussels, Belgium to visit the Barry-Callebaut chocolate factory and the Puratos (bakery supplies) head office.
We will spend the better part of two weeks practically swimming in bread & pastry-related activities. I hope you find what I'll post of interest, even if you aren't necessarily a bread head yourself. I'll try to include a bit of our off time as we visit the sights of Paris and attempt to transport you, as best as a few blog entries can, to this jewel of a city.
So for now, please hop over to that About page and we'll see you when I post the first REAL entry from the other side of the puddle.
Until then, a bientôt!
Your humble blogger,
Paul
---
A Little Pre-Trip Schmoozing
Originally Posted Feb 28, 2012
A while back, we had a class meeting to discuss some of the points around our Professional Baking and Pastry Art's Field School trip to Paris. Attending this meeting were both Ralph Nilson, President of the University, and Fred MacDonald, Dean of Trades & Applied Technology, both mentioning how great an opportunity this will be and how proud they are that we'll be VIU representatives while over there.
We are nearly all meeting at the Duke Point Ferry on Thursday at 12:00 noon to get over to Vancouver Airport, then it's off to Paris at 8:30 p.m.. We will be landing at Paris' Charles De Gaulle Airport at about 5:30 PM Friday, a total flying time of just 10 hours, 25 minutes. True, it doesn't quite compute correctly until you account for the short layover at London's Heathrow for an hour plus the clocks going forward 8 hours. We'll be meeting up with a few people who chose to fly solo for various reasons and head off to our rooms at the St Christopher's Paris Hostel in the 19th arrondissement. I'll try to post a mini-review of this accommodation a little later in the trip. But from what I have read, it's a pretty decent place, rather new, clean and modern.
Then on Saturday, the fun starts with an orientation meeting in the morning and then we head into the amazing Europain exhibition and mingle with some of the world's top bakers and pastry artists.
But I'm jumping ahead of myself a bit here; I'm writing this two days before we actually take off, so I'll end here for now and fill in the details of the trip from VIU (or at least the ferry) onwards once we actually do it.
---
The Trip
Originally Posted March 3, 2012
Finally, arriving both very slowly and very quickly, March 1, 2012 showed up and we headed off to Departure Bay to catch the ferry from Nanaimo on Vancouver Island across to Vancouver. By a few minutes before noon, everyone who was coming with us had showed up.
Greetings and a small bit of organizational directions done, we head onto the ferry.
Once on land again, we zoom off to the airport in the limo-bus….
which seemed themed around a stripper bar. None the less, we reach YVR without any dancing whatsoever and toddle off inside.
We manage to regroup and get enough heads together to get most of a group shot in front of the "Jade Canoe". From here, we catch our British Airway flight to Heathrow Airport, about 9 hours of flight time with four hours of waiting beforehand. (We wanted to get plenty of booking in time.)
After many, many hours of sitting in place while flying a huge distance we finally got to stretch our legs the next morning at Heathrow airport, with only a few minutes to transfer from our flight to the connecting flight on to Paris. A serious game of "cram 30-somepeople through the customs process" occurred and after much dashing across this (very expansive) airport, the last little batch of people passed through customs and got on another bus (less entertaining than that first one) and drove to the airplane with barely more than a couple of minutes to spare.
Then we sat on the plane for 40 minutes waiting to clear for take off. A good example of "hurry up and wait" which I guess is better than "take your time but miss the plane", right?
After a short hop over the water (and maybe a little power snooze), we land in Charles de Gaule Airport and start to gather our luggage.
Until we heard our names over the loudspeaker asking 14 of us to meet the luggage department people. Seems they left half the suitcases back in London. A fair bit of juggling and trying to hold off the bus we had already scheduled to get us to the hostel, we were told the luggage would be delivered from the next flight in and dropped off right at the hostel a few hours later. "Hopefully" by 11 or 11:30 that night.
We trekked around the airport in search of the illusive bus and eventually finding it a fair distance and two terminals entrances away, we were finally off to our residence and got our rooms. We also met up with a few more folk who had travelled on their own. A few hours later, the missing baggage was indeed delivered and all was then well with the world.
And so went our trip from Nanaimo to Paris, over a span of about what seems like a day and a half, with time differences. Exhausting and at points frustrating, but none the less ending up just as expected.
We had made it to Paris!
Bonjour tout le monde!
---
Visiting Europain
Originally Posted March 8, 2012
One of the principal aims of our trip to Paris was to attend the Europain exhibition and watch the World Cup events for both Bakery and Confectionery Arts.
In both cases, teams from countries all around the world competed previously to be chosen from amongst their divisions as having attained that goal, these teams then compete against the other division winners to see who will be named The Best in the World for their field.
In the Bread Baking competition, teams from 12 countries made it to the finals:
France, Taiwan, Italy, and Peru baking on day one.
USA, Korea, Sweden, and Senegal baking on day two.
Japan, Netherlands, Poland, and Costa Rica round up the baking on day three.
The winners are announced on day four.
Here are just two of the showpieces created. Each team is judged in three categories: Baguettes & Specialty Breads, Artistic Design, and Viennoiserie (puff pastries, croissants and the like).
Above, Japan's showpiece while being worked on; USA's completed piece.
Below, some of the breads produced for the other categories and some of the judges from around the world, including one Canadian, who would end up choosing the winners.
In the end, Japan won the title of Best Bakers in the World for 2012, USA came in second and Taiwan won third place. This was the first time all three places were held by non-European teams.
Aside from the Coupe du Monde, we also had an opportunity to see hundreds of booths displaying everything from baking pans to wonderful chocolates to massive mixers to huge industrial machines that can process over 3 tonnes of dough a day. In contrast, there were also numerous milling companies and franchise outfits who had actual baking happening on location. They brought in countless expert bakers to man their ovens and produce on site some of the best breads I've had the pleasure to sample and, more important to me at least, watch them create and bake.
Below, a baker for a milling company was shaping baguettes headed for the oven. He made the actual shaping look completely effortless and was able to zoom through dozens of these in no time.
We also had an opportunity to meet with Mark Pennington (on day 3 of 4), the Western Canada representative from the Callebaut Chocolate company and were invited into the VIP area where Mark so graciously gave us the full royal treatment, including a wonderful tasting of different types of chocolates and a couple of amazing chocolate creations from the on-site chef. A mini-course of it's own, it was a truly fascinating time learning what makes each chocolate so special for different applications. Thanks again Mark!
Above left: Glenn, Julia, Chef Ken, Sandi and Andrea share a drink with Callebaut's Mark Pennington.
Right: a lovely and very tasty creation from a chocolate master was just one of the treats we enjoyed.
And just as a closer for this section of the trip… After the wonderful visit with the Callibaut, we decided to head back home so we could do it all again the next day.
When we walked over to the train station to get back to downtown Paris, we found out that "something" (still unknown to this day) had ocured at gare du Nord, one of the central hubs for many of the trains and subways. We had to stand around the (relatively nice) station for the better part of an hour before we were advised the trains were running again.
Getting on the next car, we moved on to the next of about 8 stations to our destination. Once at that second station, however, we sat still for a good 20 minutes before moving to the next one. At the third stop, same thing: no movement for about 20 minutes. At this rate, it would take several hours before we'd have lurched on to Gare du Nord so it was decided it may be faster to get off the train and walk the 1 or 2 km to a nearby subway the did not pass though Gare du Nord.
Thus we began a walking tour of the old suburbs of Paris, late at night and in the dark. If we were off individually, I would have said not a good move but as we were a group of some 14 people, it seemed plausible and turned out to be relatively uneventful. Although these were not ritzy neighbourhods, they seemd decent enough. The bigger problem was that it was rather cold and no one had dressed for a long, long walk in the cold and rain.
Above: Waiting in the station. Right: Heading out over the tracks and into the suburbs.
But after a good walk and only a little bit of muttering, we got to the desired Metro station and back home in just a couple of hours altogether. Turns out another group had left a little before us and were further down the line when the "something" happened and were stuck on the train for about three hours. They too survived the ordeal relatively painlessly.
One more "tell this to your grandkids" moment that added colour to our trip!
Next: We're off to Brussels to visit that Callebaut Chocolate factory for more education on the dark elixir.
---
 A Little Travelling
Originally Posted March 17th, 2012 by
At the end of week one, we got to go on a visit to the Barry Callebaut Chocolate Factory which is situated in the town of Wieze, just outside of Brussels, Belgium.
We originally had a trip to another company slated for Thursday but scheduling didn't work out properly so once we arrived by bus in the early afternoon, we had the remainder of the day to explore Brussels on our own.
The three hour bus ride sent us through the picturesque countryside between Paris to Brussels. Once landed, Paul, Rochelle and Julia pose in front of an old world statue backed by a modern apartment, an odd juxtaposition of classic and (relatively) modern styles.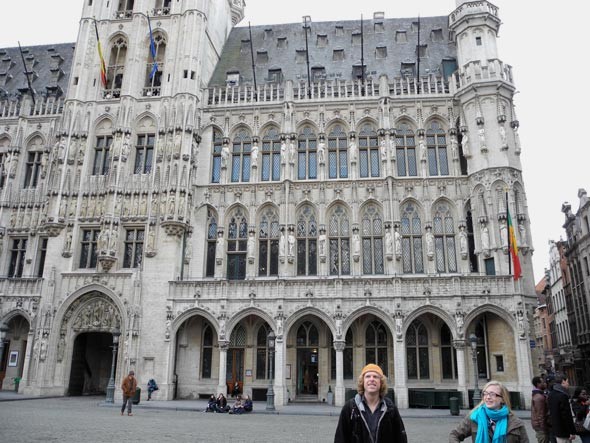 Paul and Julia stand in front of the Hotel de Ville (Town Hall) de Bruxelles, built in parts between 1401 to 1455, in the Grand Place. Other building nearby are generally dated at around the 1690's. (See a nifty 360º panorama here.)
Of course, being both tourists and in Belgium meant we had to sample some of their famed frittes and beer.
We had great fries with mayo and sautéed onion while walking about, then some of the gang ended up at Delirium, a bar noted for having over 600 (!!) different beers available.
The famed Belgian chocolate came the next day when we headed out to the Barry Callebaut Chocolate factory.
Barry Callebaut, should you wonder, isn't/wasn't a person but the merging in 1996 of the French company Cocoa Barry and Belgian company Callebaut which has been producing fine chocolate since 1911.
Bernard Callebaut, known here in Canada, is a person and a decendant of the Callebaut family but he works as a chocolatier, that is, someone who makes the fine chocolates one buys in a box and eats. Yes, many of us were a little confused as well.
Before the official tour, our guide hosted a little lunch for us. We then headed off to the factory to see the chocolate making process from beans to finished blocks. Sorry, photos are not allowed so I can't show you the exact process. I will say it is quite technical and mechanical. We are told the actual process is pretty standard.
Basically, the beans arrive by ship by the carload or in 75 kilo bags, graded and separated by quality and origin. Then the desired mixture of beans are crushed, the nibs then milled to a fine mass, the mass is conched and the now liquid product is formed into slabs or small pellets and cooled or is shipped in liquid form in large tanker trucks that maintain a 45ºC temperature and travel directly to its destination within Europe. It is primarily in the making of the conched mass that the specific secret details lie where a precise mixture of cocoa mass, cocoa butter, milk solids, sugar and lecithin, each of these of a select quality, are combined into the secret formula that make each manufacturer's chocolate distinctly theirs.
After the tour of the Barry Callebaut Institute, we were taken back to downtown Brussels where we had an opportunity to visit many different chocolatiers' shops. The main area to hit, should you ever need to surround yourself with the very best of the best Belgian chocolates, is the Place du Grand Sablon where you can pop into shops like Wittamer, Godiva, Pierre Marcoloni and other boutique chocolatiers.
Once everyone had sampled and purchased enough chocolates to keep a person's teeth buzzing for a few weeks, we headed back to Paris and a free weekend.
I happen to have a friend in nearby (!) Barcelona, Spain, who I had not seen in decades so I went off to visit Bruce.
While there, I had an opportunity to visit one of the good bakeries in Barcelona. Bruce explained that artisan bakeries are not all that numerous in this city or in Spain in general, certtainly not compared to Paris, where he and I lived for almost a year back in the 80's. Slowly in the last several years, however, the "foody" world has started to touch Spain and several new real bakeries had begun to pop up.
One such bakery is called BOPAN. They have four or five store fronts but the bread is all baked at the original location. We popped over to the Rambla Catolania location and looked over their breads. Very much an artisan style bakery, the bread is very good. They also have a café side and we enjoyed some 'flautas' or flutes – sandwiches made of tiny baguettes, filled with the iconic Spanish Iberica Jamon (amazingly delicious cured ham slices), which we enjoyed along with a few 'croquetas', little morsels of potato and ham or seafood, breaded and deep fried. A very tasty afternoon meal in a very lovely panadería.
After the weekend, we continued with various Paris bakery visits, which I will post about next.
---
 Bakery Visits and Some Conclusions
Originally Posted March 19th, 2012
In this final segment of the VIU blog, I will be sharing what can only be a small fraction of the adventure of visiting numerous boulangeries, patisseries and high-end boutiques throughout Paris over several days of our trip. As much of the experience is involved in the visual and the olfactory senses, I can't really share the amazing smells associated with popping into some of these little shops. I hope a visual tour will suffice.
This post will be rather photo heavy so I'll post the pictures in small thumbnail sizes. You can click on any you want to see more detailed to open it up into a larger picture.
On our first full day in Paris, we had an opportunity to wander about for the morning and get a feel of the neighbourhood in the 19th Arrondissement, specifically in the Rue Crimée and Ave. de Flandre area. One of the first places a few of us dropped into was a little artisan bakery on Rue Curial that we just happened upon. In the back, you can see the baker working, pulling baguettes as we came though. The very nice sales lady, hearing that we were VIU students visiting from Canada for Europain and in the Baking and Pastry Arts course, gave us a freshly baked multi-grain baguette which we soon broke into and enjoyed. Josie, Chelsea and Taina show us how that's done.
A little later in the week, some of us visited the Notre Dame Cathedral and afterwards went into the Latin Quarter where we visited a bakery called La Boulangerie a Papa. Here, Paul picks up the first of many Pain au Chocolat he'd sample on this trip, just as Julia enjoys a Nutella crêpe, also something she tested from several places over the two weeks. I made it my mission to compare the Chaussons aux Pommes (apple turnovers) as often as I could.
On our first "official" class bakery visits tour, our first stop was at the Boulangerie de Monge, a quite stylish, boutique like affair in the rather affluent Rue Saint-Honoré. Right next door is the famed Patisserie Stohrer, founded in 1730 by King Louis XV's baker, creator of the popular Baba au Rhum, a brioche cake soaked in rum syrup.
Next stop was a couple of bakery equipment suppliers and a wonderful little shop called G Detou, a play-on-words for j'ai de tout, meaning "I have everything". Packed to the gills with everything you might need from chocolate to spices to cake decorations to seeds and beans to… well…they have everything. We next wandered over to Boulangerie Julien, a mix of lunch deli and bakery where we all picked up a nice baguette sandwich.
We then hit a couple of the very high-brow shops, one – or rather two – being Fauchon. Strictly on a personal level, these places are just too high-brow for my taste. Yes, the products they sell are likely very very good and they cater to those who can afford 1,700€ for a container of caviar or a 6,000€ bottle of wine. Paul C did pick up a few chocolates here, however. He is a chocolate dude, as I'm a bread head. Above, Glenn is not so impressed with the extreme focus on the moneyed looks of everything in the store. He's a bread head too. We went from one expensive Fauchon store to the next, which was literally across the street. After this, we visited another boutique place, the Paul Hermé macaron boutique. Again, way too hoity-toity for my tastes, even if their product is really lovely.
Our next stop made up for that.
At last, after the nods to a fair number of patisseries and the elite shops above, we finally hit a bread head's dream stop, the world-renown Poilâne bakery. Much smaller than I expected, the little store front was packed full of wonderful breads and viennoiserie (that's your croissants, chaussons aux pomme and the like). We nabbed ourselves a half miche (French for "big-ass loaf of bread") and finally headed back to the hostel where Julia, Glenn and I, bread bakers at heart, enjoyed the loaf with some Brie and wine.
On our final Bakery Tours day, most of the pastry folk had decided to wander off on their own, having already had enough patisserie visits. So Glenn, Julia and I got to direct the tour Chef Harper took us on somewhat, dropping some of the patisseries and aimed for the boulangeries instead. On the way to a bakery that had won the 2011 "Best Baguette in Paris" title (which we had actually visited on our own the week before) we happened on several little bakeries that were not found online, where these tours had been researched before leaving VIU. One after the other, we ran into lovely little shops where the focus was bread, bread and more bread. Bread Head heaven! One such was the Delmontel boulangerie which happened to have won Best Baguette in 2007. I purchased a Chausson aux Pomme here with the plan to buy a few more as we went and then do a little taste test once we got back to our room.
We made our way to Le Grenier a Pain in the 18th, another well know bakery where we got an olive Fougasse and another Chauson aux Pomme. Once we had checked out their wares, we stepped back out to the street where there was a fairly active street market. We picked up some wonderful cheeses, marinated olives and artichoke hearts from the charming and friendly lady seen above.
Side note: The stereotypical idea that "the French are rude" simply isn't true. Yes, there were a few with attitude, primarily the folks at the high end shops who knew we were people well below their financial goals, and a touristy restaurant near the Louvres where they know they'll never again see 99.999% of the customers. But generally, everyone we met was perfectly fine if not outright friendly. It also helps if you actually make an effort to be pleasant back and realize you're the visitor here and don't deserve special handling. Trust me, I've seen that happen and could understand people getting annoyed at that.
Then we were off back southward to the Opera area where Chef Harper had an opportunity to visit another expensive boutique, Le Nôtre. Again, beautiful looking cakes, pastries, expensive chocolates and other high-class items. The help, however, made it rather clear we mere students weren't quite their preferred customers. Once we were out of there, there was one last place to get to, one that I had added to the list and I was very much looking forward to.
Du Pain et Des Idées is a boulangerie I had heard of a year or so back and the owner, Christophe Vasseur, has ideals I very much feel in tune with. Long, slow fermentation, great care and a focus on organic and local products got him "Best Baker in Paris" recognition in 2008. No pastries are found at his shop as he focusses strictly on bread and viennoiseries. I had hoped we would see him there but we had taken much of the day visiting other places and it was rather late when we got arrived, at least on baker's time. Most shelves were empty, having already been bought out by the morning and early rush. However, a fresh batch of baguettes was added to the shelf while we were there and we nabbed ourselves one.
Sitting ourselves outside the boulangeries at the table provided, we had a great lunch of our cheeses, olives and what I can easily say was the very best baguette I had come across during this trip where we did taste dozens and dozens of them, both at the individual shops and at the Europain expo. A great way to finish up our visits.
================
And with this, I close up the Paris 2012 VIU blog. I had been asked to get my fellow students' impressions of the trip and post videos of their responses here but alas, after this final day, things got just a little too hectic and there was no real way to set up a little impromptu recording studio. I'll therefore add my own comments.
WHAT DID YOU LEARN FROM THIS FIELD SCHOOL TRIP?
Among other things, I did learn that there was a much bigger focus on baking and bakers in Europe than in North America, although there is still an active artisan baking community here in Canada, even if sporadic.
WHAT DID YOU ENJOY?
The food, the social mindset of it's importance in quality, source and freshness, something lacking here when people are accustomed to buying everything from a grocery store, not individual bakers, cheese shops and butchers.
WHY DO YOU THINK ITS IMPORTANT TO GO ON A FIELD SCHOOL TRIP TO COMPLEMENT YOUR EDUCATION?
This field school trip has been invaluable in that it has exposed me (and I assume most of the classmates who went) to a very different set of customs and attitudes. Not only was the technical information we picked up at Europain a great addition to our education, but the exposure to the cultural differences, the attitude towards what is, in effect, my/our choice of career is immeasurably helpful and will definitely expand what I had previously assumed was the scope of baking. It has broadened my horizons immensely.
Plus I got to know some of my classmates a lot more than in class and made some really great friends who share my passions and beliefs.
===================
I hope people have found this (re)blog interesting and I hope to expand even more based on the things I learned and saw on this trip.
I leave you with a couple of pictures from Europain at the booth of an organic milling company called Minoterie SUIRE, whose head bakers Olivier and Michael produced gorgeous and inspiring breads, including one of the most beautifully constructed croissant I've ever seen. I hope it inspires a budding baker out there to aim for the very best.