Welcome back, dedicated followers, first timers and anyone else who's just stumbling on this little blog! Today's post is going to look at my first time try at Focaccia, [easyazon-link asin="1580082688″]The Bread Baker's Apprentice[/easyazon-link] Challenge recipe, where a whole whack of people are systematically going through each recipe in Peter Reinhart's book as a personal challenge and to try out lots of recipes they may not ever have attempted otherwise.
With summer being half over already, we're now at recipe #13 out of 43 total. Those who are keeping track of such things may note I've hopped over a couple of recipes in the list, particularly the last one which was English Muffins. The only reason I skipped that one is that I had a bunch of extra starter ("excess" starter I'd actually been feeding) and I wanted to use it up. I happen to come across Mike Avery's English Muffin Loaf recipe which uses Sourdough, so I made two loaves of that. Totally didn't click English Muffins was one of the next Challenges. They were similar, so I'll just assume my batch counts. You can read that officially non #BBA post here.
Anyway… enough of that, let's look at Focaccia. This is a very simple bread, based on number of ingredients:
A short list of ingredients for this one! It's a two-day bread when done the Reinhart way but even so, it's rather simple in steps as well; Mostly – as with all breads – the "time" it takes doesn't need you to pay attention for the most part, it's mostly proofing and rising. The second day is simply to let the dough sit in the fridge overnight.
So we'll toss the above ingredients (minus the herbed oil) into a bowl and mix us a shaggy dough. After 5 minutes, we switch to a dough hook and develop the gluten.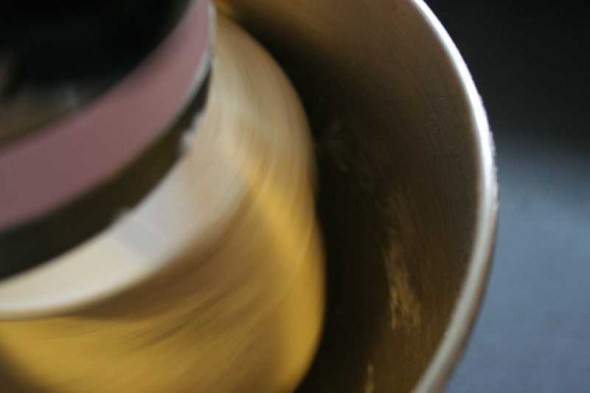 Because this is a rather soft dough, I needed to add (as directed) a total of about 4 extra tablespoons of flour to the dough in order to get the right consistency where the dough came away from the sides of the bowl while still sticking to the bottom. (If you use a mixer, you'll know what that means.) So we keep kneading the dough for about 7 minutes total.
With the dough well mixed, smooth, we dump the ball out onto a generously floured surface and, using the dough scraper, stretch it out to a rectangle. We then let it rest, covered, for 30 minutes.
After the first 30 minute rise, we do a stretch and fold, and then re-wrap for another rise, this time for 60 minutes. Then it's another stretch and fold. Since it looks pretty much exactly like these pics, I won't repeat them.
While the dough is rising, I very generously oiled a parchment covered baking tray. The timer goes off and our dough has finished rising. Gingerly, I transferred the dough onto the oiled tray, trying to keep it rectangular and not too deflated.
I poured about half the herbed oil onto the dough, which didn't quite make it over unscathed and, using the slickness, stretched the dough out to fill the tray or pretty close. Not visible here: there are some very thin spots in that dough.
For next time: transfer the dough right into the tray immediately after the last fold  so it won't cause stretching to the (otherwise) fragile dough.
Hopefully, with another proofing period about to happen, the dough will expand and even itself out. Next, the dough is covered with cling film and the whole thing goes for a nap in the fridge until tomorrow.
By the way, the herbs I used in the oil are rosemary, parsley and chives, all fresh snipped from the garden and a little garlic.
Good night little Focaccia!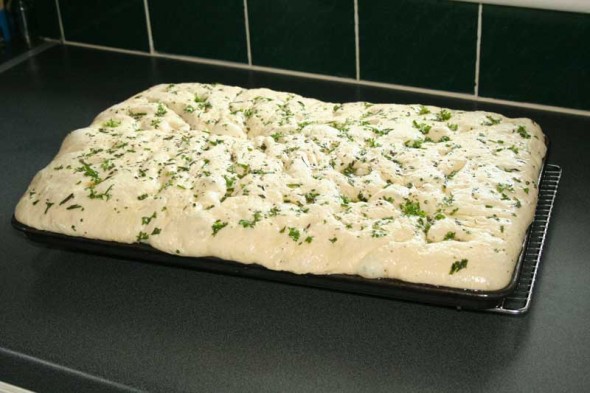 Next morning, the dough is taken out of the refrigerator and set on the counter to warm up and rise another three hours. The remainder of the herbed oil is spread on top. The oven is preheated to 500º then reduced to 450) when the dough goes in.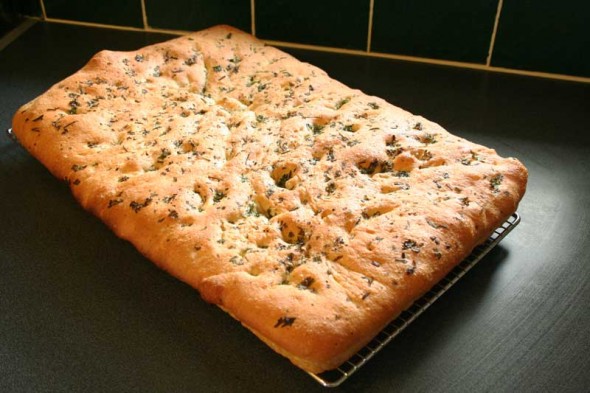 At ten minutes, the pan is turned 180º and the dough bakes an additional 10 minutes and voila (or whatever the Italian equivalent would be), hot, beautiful Focaccia. I must also point out the rosemary/parsley herbs added an incredible aroma while this was baking!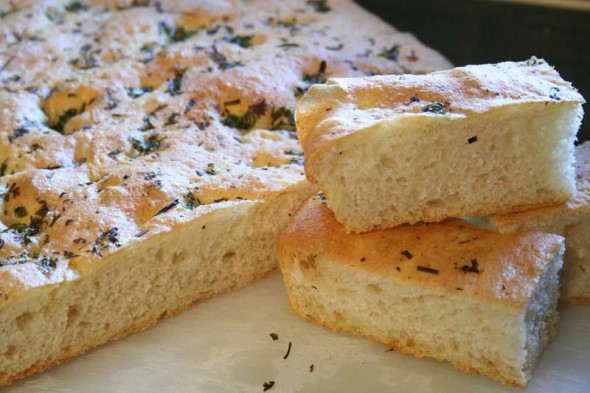 After another 20 interminable minutes for cool-down, I sliced the loaf and here's our crumb shot. It's a very light bread with a fine texture, not at all like a ciabatta with giant holes.
Taste: Excellent. I should have added a little coarse salt just before popping into the oven, it could use a bit of kick. Possibly a little sugar/sweetener (i.e., honey) would have been good too, several other recipes I've seen online include a little sweetness.
It's also a wee little bit obvious there's a fair amount of olive oil in this bread – don't drop a slice on your nice white cotton shirt. I'm just sayin'.
This was served with some home-made chili and I plated some up for the next pic… had to eat it pretty much as soon as the photos were done.
This is a very good bread indeed, relatively easy to make. Other than the small changes I noted above, the only hitch/problem in the process was getting the dough off the counter and into the pan. I think I'd go with moving the dough, after its last fold where it's being "manhandled" anyway, directly into the pan to do its final rise, then it can be gently spread out to fill the full sized sheet without over-stretching. But otherwise, no glitches or hiccups in the process. And because there are tons of potential toppings one could add to this bread (olives, different herbs, cheese, etc.) even if you made it again a few times in a row, it can be subtly or decidedly different.
So here's our final Glamour Shot. This is definitely one recipe I'd have no qualms repeating.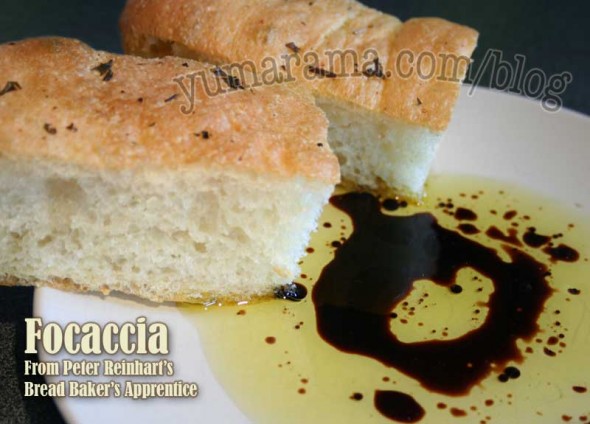 Make it and enjoy!
[easyazon-image-link asin="1580082688″ alt="The Bread Baker's Apprentice: Mastering the Art of Extraordinary Bread" src="http://ecx.images-amazon.com/images/I/51f8aSiQREL._SL160_.jpg" align="none" width="146″ height="160″]