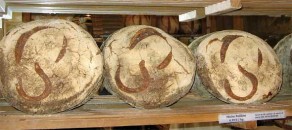 When is a Miche not a Miche? Or perhaps more to the point what is a Miche?
"Miche" basically, is the French term for a very large loaf of bread, somewhat rustic and typically shaped round and flat.
Probably one of the most famous miches around at this time is the Miche Poilâne which comes from the Poilâne bakery in Paris, the loaf weighing in at 2 kg or about 4.4 pounds. Although the bread is a long-keeping one (www.Poilane.fr says their miche lasts 5 days after baking, then suggest toasting thereafter) and the flavour improves over a few days, I knew pretty much immediately that this huge a loaf would not be feasible for our household of 1.5 bread eaters. So when this miche showed up on the MellowBakers.com list of May Breads, I had to decide how to make it.
This recipe is the Mixed-Flour Miche on page 166 and it  makes a 3 lb. 10 oz. (about 1.64 kg.) loaf, smaller than Poilâne's but still too huge, it would have gone stale long before I got to the end. I therefore chose to simply make two boules so about 820 grams each. I think some lucky friend or neighbour is about to get the spare loaf of bread, however because I still want to make other breads this month! The Corn Bread and Grissini on the bread list both look interesting.
NOTE: I had previously said this bread was (and happily thought I had made) the Miche Pointe-à-Callière on page 164 of the book. That was incorrect. While making the levain build, I had inadvertently flipped to the next page in the book and made the Mixed Flour Miche instead. So this is in fact the Mixed Flour Miche made from start to finish. I'll do the PaC version at some other point.
So will this miche no longer be a miche? Are these half-miches? Still plenty big but at least would fit in my new round banetons and would give me an opportunity to get fancy with some decorative slashing. Maybe; as I write this, the loaves are doing their final proof and I haven't got to the slashing part yet so we'll see how that works out when we get to it below.
So let's start this slightly unnervingly large bread.