As recently noted, I decided to give the two new starters, Wally and PJ, a little bit of a competition and threw my standard starter, Carl of Oregon (a purchased starter that originated in 1800's), into the mix to basically see which, if any, was the best of the lot. Just to explain, Carl, regardless of his 'roots' has been an active starter in my house for well over a year so has had plenty of time to become mature. So he's up against two "new kids".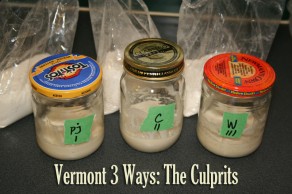 Now I didn't get into the usual step-by-step photo thing for this post because it was actually a little too hectic keeping track of everything. I basically had to mix three different batches of dough each with it's own starter. I also decided this would be a good time to work up the next BBA Challenge bread: Kaiser Rolls.
Yeah, pretty much nuts.
So last night I set up the levain build, as per Hamelman's instructions, but with a distinct change: I took the recipe and divided everything by three. So into each jar I made 1/3 of the levain ingredients but using PJ, Wally and Carl in each. Those got set aside for the night while I worked on the poolish for the Kaisers.