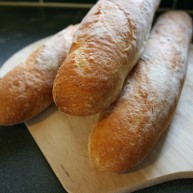 Bonjour et salut à tous! La recette d'aujourd'hui est un pain français du livre «The Bread Baker's Apprentice» par le boulanger célèbre, Monsieur Peter Reinhart.
And that's all the French I'll force you to suffer through for now. So yes, today is French Bread day in the BBA Challenge and dare I say, "it's about time!". Not because the other breads so far have been bad but because I've rather been looking forward to this one for a while.
Although my extended stay in Paris was a couple decades back, one of the very best things (although there were many) was being able to get up in the morning, go around the corner this way or down the street a bit that way, and hit a bakery to pick up a still warm fresh baguette, perhaps some almond croissants, then head back to the apartment and consume it with some strawberry jam and crème fraîche (yum!! Rather like Devonshire cream) along with a hot cup of coffee while looking out onto the bustle of Boulevard de Rochechouart.
This experience is simply not doable back here in North America as there aren't bakeries in almost any neigbourhood and even when there happens to be one, it's simply not a habit here to get bread for the meal and expect to go out again next time for the next loaf, warm off the shelf. No, we may pick up a loaf at the local grocery store that we don't expect to get into for hours if not days, the quality simply isn't the same in these factory-produced breads.
So getting to this particular loaf is giving me hope of getting a little bit of that 'plaisir' back, and maybe reliving a little bit of that Paris experience. You can probably tell I haven't made this yet (I write the blog up halfway while waiting for things to proof or bake) so I don't know how it will turn out.
Let's get going and see, non?