Preamble: None of the following is original to me in the least. Here I'm merely collecting the wisdom of much more experienced bread makers into one easy to find spot. And I'm not even saying this is "all there is", much more can be found on the web, from other people with different methods.
Stretch and Fold
This is a method of handling dough which pretty much replaces, in whole or in part, the more traditional "push and turn" method of kneading of the dough.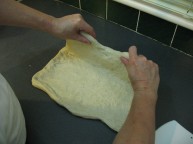 I've created a Step-By-Step photo illustration of the process in it's own post here: Stretch and Fold Again. Although, as with most anything, there are variations on how it's done, the basic principle is as follows:
Take your dough that has been resting and turn it out on the counter. The counter should be either very, very lightly floured for the first fold of regular dough, slightly dampened for first fold of wet dough or unfloured for 2nd and later folds of either.
Continue reading "Stretch and Fold: you don't need to knead"