Which type of starter will be most beneficial?
The question of stiff vs liquid starter has recently been bought up here on Yumarama and since it was discussed over on Mellow Bakers previously previously, I thought it wouldn't hurt to carry that conversation across to the blog as well.
[easyazon-link asin="1118132718″]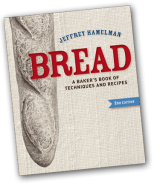 [/easyazon-link]Someone recently asked what the point was between using stiff and liquid levain, specifically in [easyazon-link asin="1118132718″]Jeffery Hamelman's book BREAD[/easyazon-link]. I pondered and, in effect, could not come up with a solid answer for myself, primarily because I haven't really dabbled with a stiff starter very much. But still, why DOES Jeffrey ask for a stiff starter here or a liquid (he prefers 125%) there? In other words, what are the benefits of each, in his view?
So I figured I'd go to the source and ask.
Hi Jeffrey,

Someone recently brought up a question I was a little confused about and figured I'd go to the source to see about an explanation.