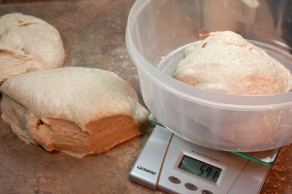 I've run into a few questions of late that involve the weighing of ingredients. Some of the writers mention that they don't have a scale and I wanted to point them to a good choice when they do decide to make the upgrade to weighing their doughs so they too can benefit from the multiple advantages of scaling.
I realized that although I've talked about weighing in passing in many posts, as well as a slight rant or two about the benefits of weight over volume measures, I've not put myself behind any specific scales people could consider when they do go out hunting for this most important baker's tool. I'm going to fix that here.
There will be two levels of bakers to look at here: the hobby home baker and the professional (or expert home baker), both these levels having slightly different requirements. Primarily, the home baker will need something simpler, dependable and can do with an inexpensive model while the pros will (hopefully) have a bit more of a budget for this tool they depend on for their trade. This aside, there are aspects that both ends are in need of and even if a scale is in the lower price area, you will want to hit some points so your purchase will not become a frustration.
Let's outline some of these "must haves", in no specific order.
Scale Shopping: The Power Source
Look for a scale that uses normal batteries, such as AA or 9 volt (the small, rectangular type with snap-on terminals). Avoid any scale that uses the flat disk lithium batteries as these are rather expensive and, as they also do not have a very long life, will begin to run up the bill over a short time. Although a lot of scales now use these small batteries because they allow for a "sleeker" design, it is really not a good trade-off. And the other batteries don't necessarily make for bulkier scales. Yet, they will give your scale power for a very long time. Continue reading "Digital Scales: Which Weigh To Go?"