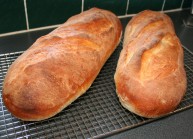 Here we are with Italian Bread, recipe #15 in [easyazon-link asin="1580082688″]The Bread Baker's Apprentice[/easyazon-link] Challenge. (And no, I won't butcher the Italian language for this one any more than I just did.)
This recipe was pretty much a repeat of the French bread I made two weeks back so the steps along the way are nearly identical. The most obvious difference is the shape – the French bread was a baguette and this is a batard. There's also sugar, malt and oil in the ingredient list where the French bread was strictly flour, salt yeast and water. The process itself, otherwise, was pretty much the same so as easy as the French bread was, so is this.
Let's have a look at that.