Here it is, the final bread in Peter Reinhart's [easyazon-link asin="1580082688″]The Bread Baker's Apprentice[/easyazon-link] and also the last bread in the BBA Challenge which began back in May of 2009. Is it really almost a year ago? Wow. Well, about 43 weeks in all since the idea was to make one bread every week and this is bread #43. Granted, I did NOT make every single recipe, a few were for certain not going to be enjoyed in our household and it was better to skip than to throw away a partially eaten loaf. Still, the bulk of them were done and we've found some nice breads as well as a couple of duds we'll not be getting back to.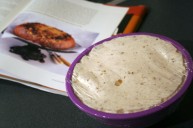 None the less, we're now looking at making another cheesy bread, this time a three day extravaganza, according to the book. Day one: mix the sourdough sponge and allow to proof for 8 hours. The mixing part took about 4 minutes so this isn't exactly a difficult or time consuming step. The sponge is basically just sourdough starter, water and flour. I made this up very early in the morning and had it proofed 8 hours later that day. Here the recipe says to chill it until tomorrow, then let it sit an hour to warm back up. I decided to skip that chilling part since the dough was going to again chill overnight in the final proof stage so flavour development would still occur while I shaved a day off the full run. Since this is a heavily cheesed and onioned loaf, I don't think the dough flavour will suffer.
So later that same day, I've got my ingredients ready and I'm heading into step two, mixing the dough and bulk proofing.
Day two is supposed to be preparing the roasted onions then mixing the dough and refrigerating overnight. Day three  is finishing the loaf's toppings, final proofing and baking in the hearth oven.