I like banana bread. Or banana cake. Not sure how you tell the difference. But in any case, I went looking for a new recipe (I have blogged a recipe from TheFreshLoaf previously) just to see what was out there and ran across this one from baker and author David Lebovitz that looked pretty darn good. So I gave it a go and really liked it. So I thought I'd share the process for those of you who want a quick, warm-from-the-oven treat. It's very simple and, I need to point out, really yummy.
Banana Bread,
from David Lebovitz
Makes one 9-inch (23 cm) cake, 12 servings
Be sure to use very ripe bananas: the skins should have black speckles on them and be soft to the touch.
Ingredients:
1½ cups (210 g) flour
1 teaspoon (4 g) baking powder
½ teaspoon (2 g) baking soda
½ teaspoon (3 g) salt
1 teaspoon (2 g) ground cinnamon
¾ cup (150 g) sugar
2 tablespoons (55 g) melted butter (salted or unsalted)
1 large (30 g) egg white
1 large (50 g) whole egg, at room temperature
1 cup (250 ml) banana puree, made from about 2 very ripe medium-sized bananas
½ cup (125 ml) sour cream, regular or low-fat
½ teaspoon (2 g) vanilla extract
1/3 cup (60 g) chocolate chips or 3 tablespoons (30 g) cocoa nibs (I passed on that this time)
Per serving: 169 calories with chocolate chips or 147 without.
I preheat the oven to 350º right away as the prep time here is actually quite short.
I used the handy dandy homemade pan release to grease the 9″ X 9″ (23cm X 23cm) square cake pan. I line the bottom with parchment and that gets a quick coat of pan release too. (You can use a loaf pan instead if you prefer.)
Next I mashed the very ripe bananas. Mash, mash, mash.
The flour, baking powder, baking soda, salt, and cinnamon are then sifted together into a large bowl, then the sugar is mixed into the bowl. The original recipe suggests adding "a shot of hyper-strong espresso" at this point. If I had some, I might do that, sounds like it could be an interesting flavour addition.
In another bowl, combine the remaining wet ingredients: melted butter, egg white, egg, banana puree, sour cream and vanilla.
Combine the wet ingredients into the dry. The original recipe said to "Make a well in the centre of the dry ingredients" but as you can see in the photo, that well was overflowing before even a quarter of the wet stuff was in. It sounds fancy but "make a well" isn't really needed. Just pour the wet stuff in.
Stir the wet ingredients into the dry carefully, just until the last bits of flour are combined. Stop when any traces of flour disappear. You don't want to overmix this.
If you were adding chocolate chips, you'd do that just before everything finally came together. I selected to not add any this time. I did last time I made this bread but this time wanted just a straight up banana bread. Both versions are good.
Pour your batter into the greased pan and put it into your 350º oven to bake for about 40 minutes. The centre should feel "lightly springy" and the cake be pulling away slightly from the sides. Cool on a baking rack or at least defend it until it just nice and "warm". If you're using a loaf pan, I don't have a time for that; you'll need to keep an eye on it and check with a toothpick that the centre is done.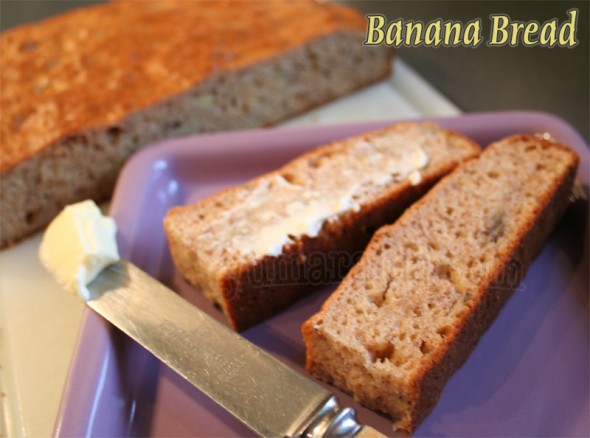 Slice and serve to your waiting audience. Unless they snuck in and ate a third of it already. In which case beat them back until you can get a couple of slices for yourself to take pictures of.
Storage: This cake will keep well for 3-4 days (ha! It didn't last much past after dinner), or can be frozen, wrapped well in plastic film, for a few months.
Do give this one a try, it's quite delicious. Just click the "Print Friendly" link right below. And it's really simple and quick – if you're not taking photos along the way.
This bread was submitted to YeastSpotting.