Pain de Mie is a very fancy French term for "plain white sandwich bread" – you know, the type you buy in the cello package at the grocery. It's a close relative to your basic Wonder bread. Translated, it means "Bread of Crumb" which indicates it's all about the white soft stuff inside and the crust is minimal and soft. For this recipe, we are using enriched ingredients such as butter, sugar and milk powder, all of which help to create the soft crust and creamy taste.
Is it just like "wonder" bread? Oh no, it's not. It's miles better.
The other name for this bread is "Pullman Bread" which is a reference to the Pullman Pan it is usually baked in. This is a straight sided, square and lidded pan that produces a square and soft crusted bread:
Because the bread is sealed into the pan on all sides, the crust doesn't get a chance to get thick or crispy in the oven's heat. This limited amount of crust, again, put the bread's focus primarily on the white crumb inside.
Not owning one of these babies myself (they run about $40 – $50, a bit pricey for me) I decided to make do with my normal loaf pans and see how thing would turn out.
This bread was part of the Mellow Baker's January Breads line up which I missed because we were still living in the trailer, having just moved across the country. Now that we've found a house to rent with a pretty nifty kitchen, I can get to some of these missed assignments and do a bit of cath up.
Getting my ingredients ready in the new kitchen, I set out my Mis en Place.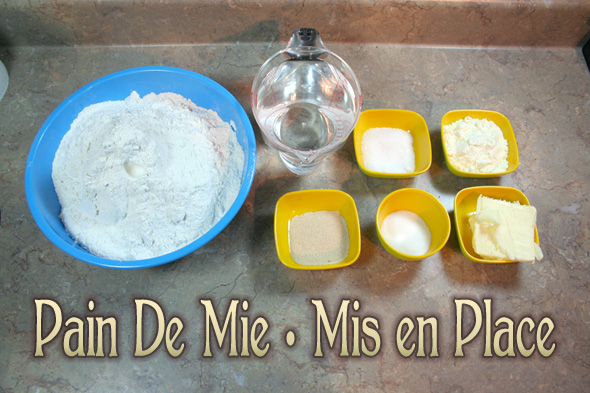 We have here: bread flour, water, salt, milk powder (whole, not skim) yeast, sugar and soft unsalted butter.
For the full recipe, look at Jeffery Hamelman's amazing book Bread: A Baker's Book of Techniques and Recipes. The Pullman Pan or Pain de Mie recipe is on page 243.
Let's mix this up!
Put all ingredients together into your mixing bowl and mix with the paddle attachment (or a spoon if you don't use a mixer) until the ingredients are a shaggy ball. This takes about 2 minutes at speed 1 then, when the flour won't explode everywhere, another couple of minutes at speed 2. Then we switch to the kneading hook and knead for another 5 minutes on speed 2 until we can pull a good windowpane from a bit of the dough. At the 8 minute point, my windowpane was almost there but not quite. I decided to pull the dough out anyway to avoid overheating the machine and the dough.
I turned the dough out on the unfloured and plain counter and kneaded by hand for about two or three minutes. At that point the elusive windowpane was finally reached and we had good gluten development. This is relatively soft dough, probably due to the milk and butter included, so that bit of extra hand kneading was easy to do.
Now that our dough is at the point we need, it is placed in a container and set aside, covered, to bulk proof for one hour. At that point it should have increased in size noticeably. It then gets a Stretch and Fold to further develop the gluten. It is then set to bulk proof a further hour.
At the two hour point and  with just one Stretch and Fold, the dough has now bulk proofed. Here I weighed the dough and then subtracted the weight of the bowl. I knew that I needed two 791 gram pieces of dough to make two equal loaves so slicing the dough I weighed out that amount, taking one small chunk from the other pice to reach precisely 791 grams (which was pure luck).
I then shaped the two dough pieces into logs and made sure there was decent tension on the outside skin.
The dough is then placed into the lightly oiled pans, seam side down and pretty side up. It is covered and left to final proof for 1.5 hours or until it is nearly doubled.
Once it had filled my pans it went into the pre-heated 400ºF oven. I don't have a stone for this oven and for these, it's not even really necessary. They went in with the timer set at 25 minutes. The recipe, using the closed up Pullman pans, required 40-45 minutes but since these are open loave, I wanted to watch them for the last several minutes. At the 25 minute point, I checked the internal temperature and it had not yet reached 180ºF so they went back in for about 5 – 6 minutes more. When they reached 185ºF, I pulled them out and put them on a cooling rack, taking them out of the pans immediately.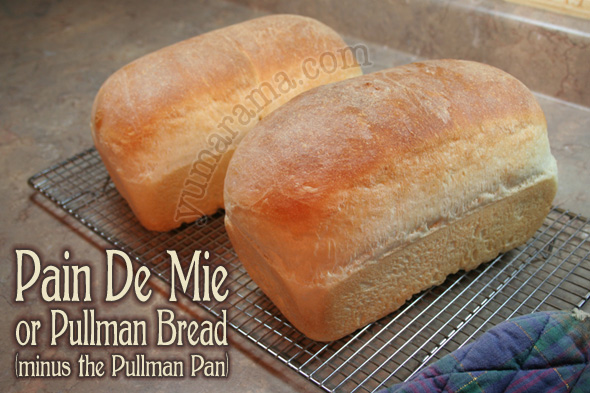 They are a little darker than they seem in the photo.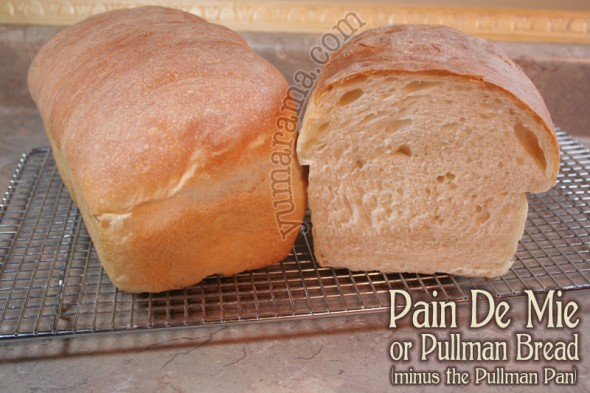 After about 30 minutes to cool , we were able to slice the bread, though still slightly warm.
We enjoyed this quite flavourful bread with Punkin's most delicious homemade Chicken Pot Pie.
As the house's Lover of Sliced White Store Bought Bread, Punkin very much approves of this batch. It's pretty straight forward to make and the flavour beats the mass produced stuff right out of the park.
Someday I may get a real Pullman Pan (unless one magically appears in the kitchen – hint hint!)  and make these fancy square loaves for Punkin; it's also called for in the making of dark rye breads so that's an even more tasty and realistic reason to get one. But until then, I know I can whip up this simple, soft crusted sandwich bread in my regular pans and still have awesome results.
This bread was submitted to YeastSpotting on the WildYeastBlog.com