I had a long weekend, being just before Easter, so I decided to try some of the breads in the Mellow Bakers Hamelman Challenge that I had passed over while moving across the country over the last few months. Looking thought the list of bread we had scheduled, I saw that Ciabatta was one of the breads from December; this would then be this weekend's bread. There were three varieties offered: Ciabatta with Stiff Biga, with Poolish or a with Olive Oil & Wheat Germ. Based on the descriptions in Hamelman's book  [easyazon-link asin="1118132718″]Bread: A Baker's Book of Techniques and Recipes[/easyazon-link], I chose the Poolish version as it hinted it would be the most flavourful because of the longer pre-ferment of the Poolish.
[easyazon-image align="left" asin="1118132718″ locale="us" height="110″ src="http://ecx.images-amazon.com/images/I/511D04HptFL._SL110_.jpg" width="89″]Ciabatta is one of the more popular Artisanal breads in North America, after the standards like French and Italian. According to Jeffrey Hamelman, it got its popularity boost when it won first place  in the prestigious bread competition in Paris, La Coupe du Pain (look this up) and has since been produced and enjoyed by bakers and bread fans alike in North America .
Its thin, crispy crust and soft, holey texture and milder, pleasant taste makes it a good accompaniment to many meals, allowing it to reach more tables than other exotic breads.
The fact it is a very wet dough may detract home bakers from attempting it but you should think of it as a small challenge and give it a go; it may  be on the opposite end of bagels and their very stiff dough but the results working with this 80% hydration dough is well worthwhile. And really, it's not all that much more challenging than most bread recipes you might do.
The Poolish
We start this bread making a Poolish the evening before as this needs a 12 – 16 hour preferment. A Poolish, as you may know, is a lightly yeasted batter made of equal parts by weight of flour and water plus a tiny bit of commercial yeast. Above are the ingredients, the mix at the beginning and at the 16 hour mark the next day. The long ferment allows the flavours of the wheat to develop  well.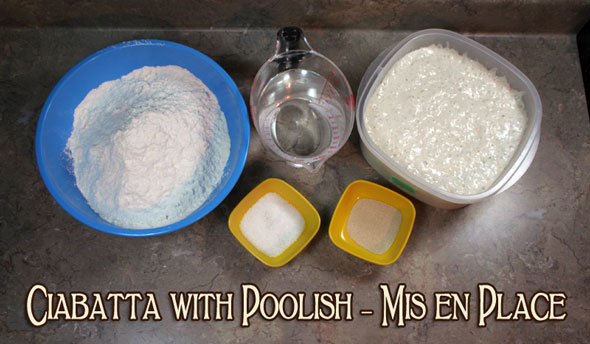 Now we're ready to start the bread.
The bread itself uses the same simple ingredients as the poolish, flour, water and yeast, plus a little salt.
All the ingredients, including the poolish, go into the mixing bowl and are incorporated using the paddle for about 3 minutes.
The dough hook is then switched in for the automated kneading until some good gluten development is observed.
I have to admit that at this point, i wasn't really certain if I had mixed the dough quite enough. Shown on the left is how the dough was when I thought it showed "enough" gluten development.
I guessed it might have been? Maybe? I did let it knead for a fair bit, maybe 4 minutes or more, as the very wet consistency seemed to take a fair bit of time to start showing signs of good gluten strands.
From here, it was allowed to bulk proof for 3 hours with two Stretch and Fold sessions at the 1 and 2 hour marks, specifically. And so it was.
While waiting for that third bulk proofing period, I had the brilliant idea to go hunting for video on YouTube to see if there were instructions I could watch for making Ciabatta buns since I thought I might go that route come time to divide and shape. Instead, I ran into this series of videos from the Culinary Institute of Virginia (CIV) where Chef Highfield demonstrates in a nine-part series the making of ciabatta. Here's the first part:
[youtube width="590″ height="393″]http://www.youtube.com/watch?v=WIqZlnxxzE0[/youtube]
As you can see, he let his dough get mixed to a point where the gluten completely took over, it was no longer a big wet blob. Too late for me, mine was already well proofed and stretched twice by the time I came across this helpful video. On I went regardless as there was nothing to be done at this point except hope it wouldn't be too terrible.
Once the bulk proof was done, it was time for cutting ans shaping.
First, however, the couche I'll be using and the counter get dusted liberally with flour. Not to worry, once finished, I'll use a fine sieve to sift out any dough bits from the excess and reuse it. The dough is then turned out onto the floured surface.
Next the dough ball is gently stretched to a rectangle and this is then cut into pieces that are transferred to the couche.
I will note here that, once baked, I realized I had made the mistake of stretching the rectangle too big and the dough ended up far too thin. A smaller rectangle would have given chunkier loaves. You'll see what I mean in a bit. None the less, the dough behaved well and this wasn't too difficult, even with very wet, soft dough. Lots of flour on the surfaces and on my hands and it was simple to handle.
After another hour and a half of final proof, the dough is ready to transfer from the couche to the lined pans. I followed the technique shown in the video for this: flip over so the well-floured bottom is now at the top, carefully place on sheets. The oven at this point was already pre-heated to 480ºF although the recipe calls for 460º but placing the dough in and steaming usually knock the temp down a lot. Until I can get my hands on oven stones, I have to mess with temps a fair bit.
The bread bakes for 34 – 38 minutes as per the recipe. I actually left it in about 32 minutes as there was a fair bit of smoke staring to come out of the oven due to the flour on the bread and the pans starting to brown and char.
Here are the loaves fresh out of the oven. Note the single loaf had some overly done flour on it. I took my stiff bristle scrub brush (used to brush flour out of the cane baskets) and gave all the loaves a quick scrub to knock off the excess flour.
Another issue I noticed, this time with the oven. In spite of being a fancy schmancy new one with lots of digital bits and glass top elements and hitting the desired temperature pretty much spot on (as long as I give it 15 minutes more when it "beeps" that it has reached the desired temp), once I toss the loaves in and get some steam going, it drops the oven temperature by 30 -50ºF and – this is the kicker – won't turn back on to get back to temp! I need to manually change the expected temp to 500º so it's off target enough to kick back in, then switch back to desired temp once my thermometer says it's finally back up. Then I need to watch it like a hawk and turn the bake function off and on to "restart" over and over. For whatever reason, it hits the desired temp spot on but decides it won't stay there.
A good oven stone would help prevent the original drop and supply enough heat to cover the needed degrees… but that's neither in the budget or readily available at this time.
At least I know it happens and don't come back 20 minutes later and see the actual temp is in the mid 300's when I was expecting mid 400's. Still, annoying.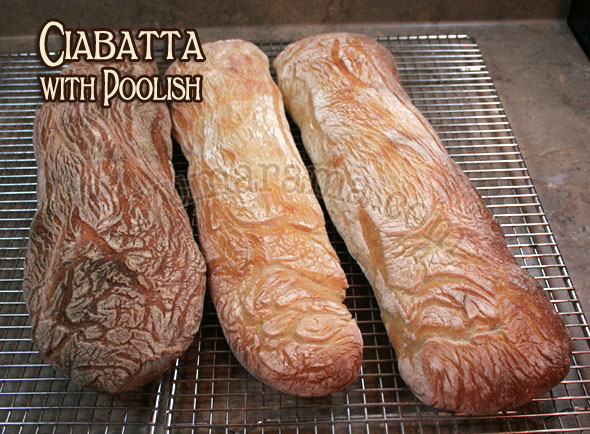 So there's the final product. The somewhat too flat dough had good oven spring for what we started with, keeping in mind Ciabatta is generaly not a tall loaf. The texture of the bread is indicative of the expansion it had even though there was no slashing of this very soft dough. What we ended up with was somewhere between a baguette and a loaf shape. Check video No. 9 of the series noted above to see how a real loaf should have come out.
These cooled for about 30 minutes before slicing.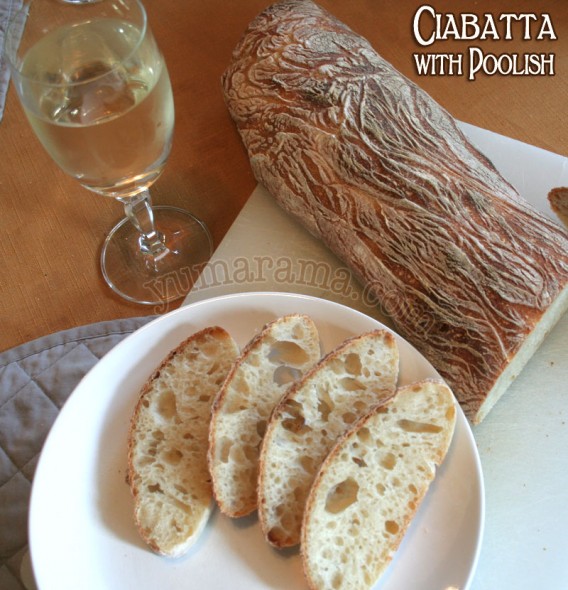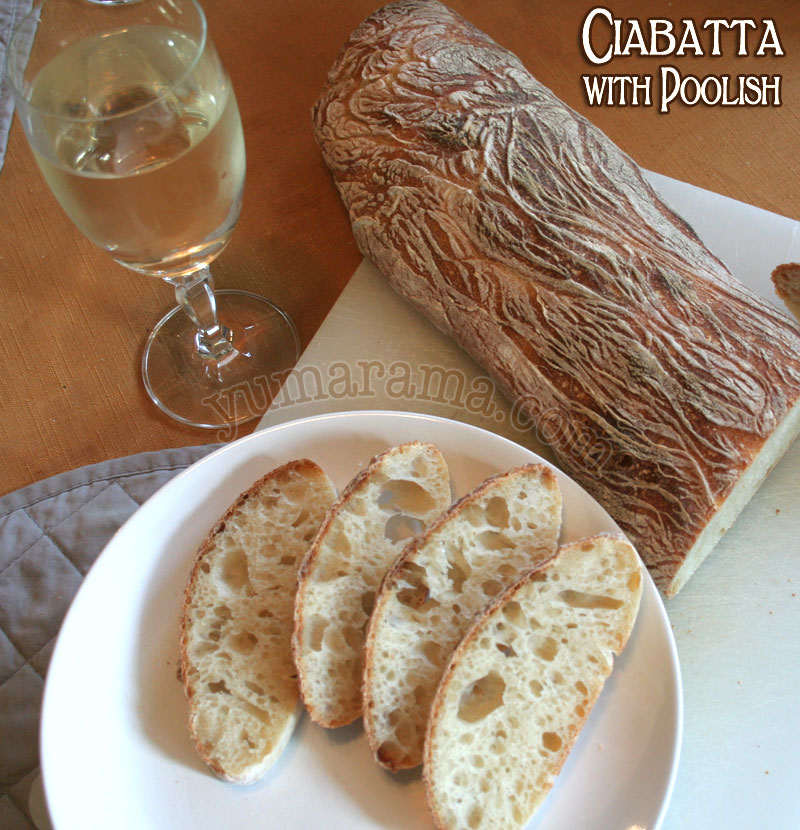 The verdict: Very yummy! Light but wheatty taste, very nice crust flavour, not too thick and lightly crispy. The crumb is soft and smooth flavoured without an excess 'yeasty' flavour. The only downside is the shape which can be fixed by keeping the rectangle of dough smaller and chunkier before cutting; less length, more bulk.
This bread was submitted to YeastSpotting on the WildYeastBlog.com
Fellow Mellow Bakers made one of the three ciabattas back in December: check out their pages.