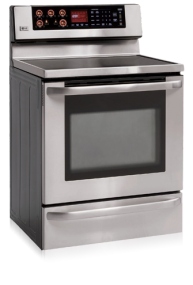 As those of you who pop into this blog now and again may know, we recently moved from Ontario to British Columbia and as such are now living in a new (to us) house with new (as in recently bought) appliances. One such major item is an LG oven with glass top and mutliple bells and whistles type add-ons like "proofer" (way too hot at 130ºF) and warming tray on the bottom. We had sold the old house along with the pretty awesome Whirlpool oven we had purchased a year or so prior since there was no point moving it 4000+ km across the country.
When I began using this fancy new LG all stainless steel, glass and digital buttons galore replete with convection, and a split 3rd shelf in the oven, I was quite pleased to see that when I set the oven temp to 450º, the oven actually got to 450º according to both the built in thermostat and my little oven thermometer. All is well with the world, I thought; a dependable oven is at hand!
Well, not so, it seems.
Yes, the oven undeniably hit its desired temp spot on when pre-heating. But that's where it stops. Literally. Once it has reached it's set temperature, it no longer heats up. That's right, it just quits heating, meaning that the instant you open the oven door to steam then again to get the bread in, you lose plenty of heat and the oven simply never kicks back on. And it dips down and down and down in temperature so that the bread is now is a merely warm oven.
Oven spring? Barely any. Browning of the crust? Hardly. What you start at 450º soon hits 350… 320… 300…
And I thought, at first, I was doing something wrong with the recipes. The I popped that thermometer back in midway through the bake and found out all the heat was vanishing.
So now I need to contact the house owner (we're renting her home) and have to see about getting this oven repaired. Hopefully, it is still under warranty but I really don't know when she bought it other than it's pretty new. But it is quite possibly past it's one year mark. We'll have to see if she's up to getting it fixed and if it's out of warantee, how long it will take.
In the meantime, we have to constantly turn the "bake" off and get the oven to "preheat" again to maintain the temp over a bake. Really annoying.
Until this issue can be fixed, I'm pretty much out of luck on the baking front.
Woe is me. <sad face icon here>
So when we get our own place, we'll want to pass over the LG ovens, methinks. Pretty and full of nifty bits and bobs, that's true, but if it cacks out mid-bake, that makes it quite useless.