Whether used for cakes or cookies, this Swiss Meringue Buttercream is light, not too sweet and pretty straight forward to make. Swiss Meringue differs from Italian Meringue by the fact the egg and sugar are heated up together (145ºF minimum) before whipping, where Italian Meringue cooks the beaten eggs whites by adding very hot (245ºF) sugar syrup. Both of these are used to make buttercream frosting. A third type, French Meringue, is simply egg whites beaten with sugar, what most cooks would put on their lemon pies then bake.
Swiss Meringue Buttercream basic recipe
| | | | | |
| --- | --- | --- | --- | --- |
| INGREDIENT | GRAMS | OUNCES | One Fifth | Baker's % |
| Eggs, room temp | 290g | 10.2 oz | 58g | 100.0% |
| Sugar | 290g | 10.2 oz | 58g | 100.00% |
| Salt * | 4g | 0.1 oz | 0.8g | 1.38% |
| Butter * (room temp, 2″ Cubes) | 910g | 32.1 oz | 182g | 313.79% |
| Vanilla extract | 4g | 0.1 oz | 0.8g | 1.38% |
| TOTALS | 1,498g | 53 oz | 300g | 516.6% |
* 4g is about 1/2 teaspoon. Only add salt if you use unsalted butter (recommended). If you use salted butter, leave the salt out.
You can use either fresh eggs or the pre-packaged carton stuff, both will work just fine.
Equipment: You will need a mixer (or whisk and strong arm) and a thermometer.
The full sized batch will give about 10 cups or 2.3 liters of buttercream. You can freeze any extra and use it later; just let it warm to room temp them re-whip it. For the Macaron recipe, the 300g, 1/5 size batch, which I made below, will be plenty for 40 cookies.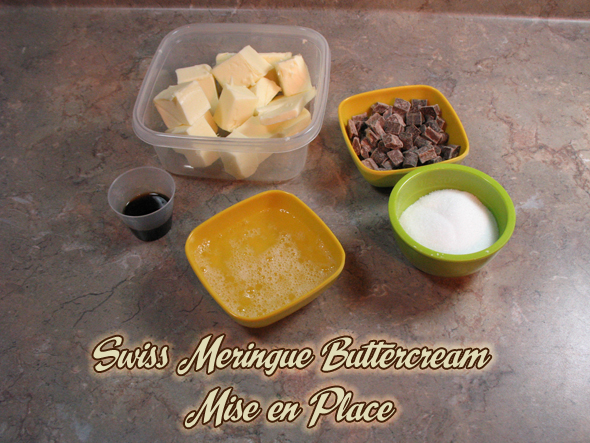 For the milk chocolate version (full size batch), cut the vanilla in half and use 225g milk chocolate chunks plus 140g dark chocolate chunks. For the 1/5 size shown above, I reduced these to 45g milk and 28g dark.
If you don't know what the baker's percentage means, simply ignore this column.
Swiss Meringue Buttercream Directions:
Prep: Get butter out early and cut it into 2 inch cubes and set aside to get to room temp. Measure out your egg whites as well so they get to room temp too. Clean your mixer's stainless steel bowl and whisk impeccably to get rid of any trace of grease or your meringue will fail; use a little vinegar on paper towel if needed.
Once you're ready to start, add the egg whites, sugar, salt (if needed) and vanilla (if needed) to the stainless steel bowl of your mixer. Give the mixture a little whisking. Place this on top of a pot with an inch or so of water, heated to just steaming. You do NOT want it boiling or even simmering or your eggs will cook. Nor do you want the bottom of the bowl in the hot water, merely over it.
Use your candy or instant-read thermometer to watch the mixture's temperature. Whisk a little every now and then. Your desired temperature is between 145ºF – 150ºF which is the safe temperature for egg whites. This will only take a minute or three so don't go anywhere. If you used eggs right from the fridge, it may take a minute or so more.
Once you have reached your desired temp, remove the bowl from the pot and place it on your mixer.
Whip the egg whites on medium-high until they are doubled and snowy white with a medium peak. This will take a few minutes. Then turn the speed down to low and mix until the temperature of the bowl/meringue is cool. Test the bowl with your hand, you want no trace of warmth. For this reason, you do not want to use a glass or ceramic bowl as they'll keep the heat and continue to cook the meringue.
Chocolate version: While the eggs are beating, put your chocolate chunks in a microwave safe bowl (I recommend a cup with a handle) and heat it in 30 second sessions. Stir the chunks with a spatula after each session until they are almost all melted. It only took me two full 30 second goes to almost melt my chocolate. The bowl I used got really hot; too hot to handle, ergo the cup recommendation. Note there are still a couple of small chunks left not fully melted. Stirring got these finished up nicely.
Next: don't do what I did. Instead, slowly add the softened butter to the meringue, a chunk or two at a time, mixing at med-low, until it is well incorporated. Scrape down the sides often, continue until all the butter is added. If you are making plain vanilla flavoured Swiss meringue buttercream, taste the meringue and, if needed, add a few drops more vanilla to taste. Then you're done at this point. If you are making other flavours of Swiss meringue buttercream, you would add this now, generally as follows:
Now you can add the chocolate (I added it before the butter – still worked out ok but..). The original recipe says to turn the mixer to low and add all the chocolate at once. You may want to stop the mixer and take the bowl off to add the chocolate (or other flavour component) directly into the meringue, avoiding it getting onto the cold bowl where it will seize. Use your spatula to get most of it incorporated, then pop it back on the mixer to whip it in well at med-low speed.
Once the chocolate is well mixed in, you are done! The 1/5 batch I made here gave about 2 cups.
And there you have it: Light, creamy Swiss meringue buttercream for your macarons or cakes!
Other flavour variations for Swiss meringue buttercream:
Dark Chocolate: Same amount as the milk chocolate version except the whole 365g  is dark chocolate (~75g for 1/5 batch).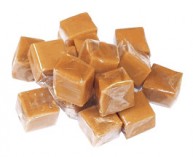 Caramel: Melt 20 oz caramel squares (4 oz for the 1/5 batch) before you start and let this cool to room temperature. After the butter is mixed in, whip at low speed while drizzling the caramel in. Whip until completely mixed in.
Peanut Butter: Measure out as much peanut butter as there is butter. Once all the butter is mixed in, add the peanut butter, a little at a time and whip in at med-low speed, until it is "to taste". You may well not use up all the peanut butter, depending on how deep its flavour is.
Look on the interwebs for other flavour possibilities.
STORING: Swiss Meringue Buttercream freezes well. Just be sure to thaw it out before use and give it another run in the mixer. It may look like it has "broken" at first but keep beating it and it will come together again nicely.
Want to Print this Recipe? Easy! Click the handy "Print friendly" button below to get a cleaned up version of the page, edit out superfluous yakking and get a tidy end product!
This recipe is based on the Swiss Meringue Buttercream from BraveTart.com
Next: Making Almond Flour
Then: Making Macarons