A little later…
UPDATE to the "New Stove" post of a few days back:
Well, I decided to give the oven a good bake, so I put the bird in the basement in a closed room with a window then went and cranked on the Self-Clean for two hours. Man it stunk!! But that seemed to do the trick. Two days later, the Whirlpool folks reply saying "let your oven go at 450º for 1 to 1.5 hours and that should do it".  Well, it was at about 800 for two hours, so that did it too.
Then I pop in a batch of cookies. No stink! The cookies were a "gift mix" from a friend, a jar full of cookie stuff I added an egg and water to. I even got the convection part going. Press "CONV" five times and it's set for cookies! Not sure what it's exactly doing on that semi-auto setting. But since I had fired up preheat then just plain CONVECTION already, I probably had two or three things going on so I dunno if any were in effect for real.
Cookies came out… fine, I guess. There was no problem with them overcooking or anything. I think the problem was too much "stuff" (choc chip, white choc chip, toffee chips and TONS of each) and not enough "cookie" to hold it all together. Still quite edible even if flattened and really not cookie shaped at all.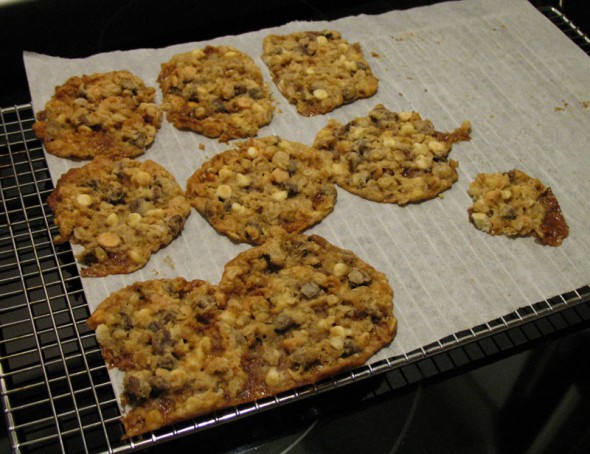 BUT we now have a stink-free oven and it's ready for some BREAD!
And so I will now start up on the The Bread Baker's Apprentice Challenge and put this sucker to the test! (See recent entry for details).
Onward ho!
Get your copy here.