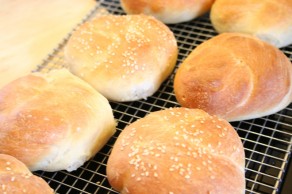 Today's blog post will be relatively quick. The main reason being that these Kaiser Rolls, recipe #16 in The Bread Baker's Apprentice Challenge, were made at the same time as I was baking the Vermont Three Ways which was, of it's own accord, a bit of a challenge. The end result being that there weren't a lot of photos taken, so we'll just have to do with a few sample shots.
Just realized: We've already done a third of the recipes in the challenge! 43 bread recipes means the Italian Bread was the 1/3 milestone. Wow, we'll be done in no time!
This bread requires a Pate Fermentée but the amount shown in the book makes twice as much as this recipe needs. So you can either find another recipe that will use half up, save the rest (it can keep for a few days in the fridge) or cut the amounts shown in half and get enough for these rolls.
I think the bigger challenge here, as far as "new steps" go, was primarily the shaping of these rolls. Reinhart suggests a knot-tying technique which will give the general effect of the more traditional Kaiser roll folding technique (You can see that being done here in a video clip by FreshLoaf member Norm. Such pounding!)
It took a couple of tries but I think I managed to get the hang of it pretty well.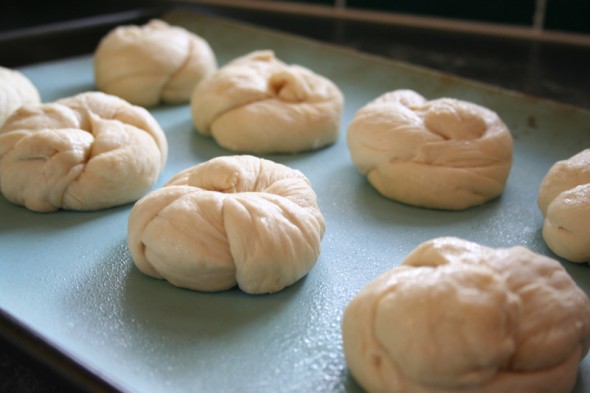 After their shaping, the were left to proof then baked in a 425ºF oven. I did half of them plain and half with sesame.
And here's the final shot: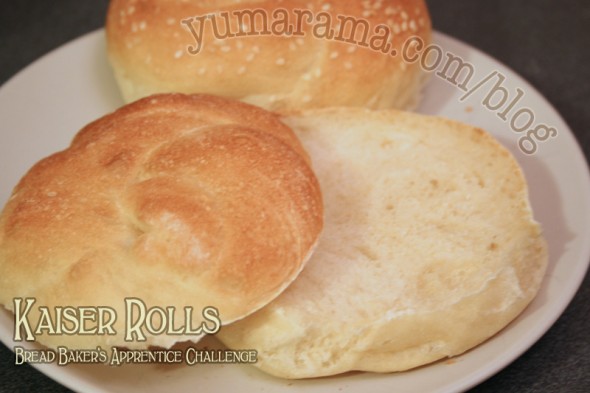 We had them that evening with dinner and the verdict was "Very good" although I found the crust a tad on the hefty side. I'd likely want ti figure out how to get it a little thinner and crisper. The crumb was quite nice, not too "holey" which is good for a bread that may well be slathered in condiments.
Because they are a little labour intensive, I'd probably want to bump up the quantity made in one batch to maybe 12 or 16 (I split the dough out into 8 rolls) so many can be produced at once in a bit of a production line.
If you'd like to peek at others baking Kaiser Rolls and see how their results were, check out the following blogs:
Carolyn of TwoSkinnyJenkins made her Kaiser Rolls while in the process of moving. Talk about dedication!
Oggi at ICanDoThat did both the knotted AND the folded versions.
Joelen at What's Cookin', Chicago gave each of her rolls a different style.
Sally of Bewitching Kitchen added black sesame seed for an extra classy touch
Pop your comments below, if you'd like!