Here we are at bread No. 34 in The Bread Baker's Apprentice, Sourdough Pumpernickel. The header image is the same as the prevous entry since it features both the lighter New York Deli and the Pumpernickel breads. These are what we should be hoping to see once we're done baking.
This was a pretty simple bread, all in all, nothing terribly tricky or fancy to do, the most unusual thing here is the use of cocoa powder to boost the dark colour of the bread. Otherwise, there's nothing in the process we haven't already done many times. So let's have a go at this 10th-to-last recipe in this BBA Challenge.
Oh, before we do, some of you following along may have noticed I didn't do #32, 100% Sourdough Rye and #33, the gigantic, 4 pound Poilâne-style Miche (pictured on the BBA cover).
I'm going to skip the 100% Sourdough Rye  because it's needing main ingredients I can't seem to get my hands on, specifically white rye flour and rye chops. I could do a substitution but then, it's no longer the bread in question. If I can ever get some of these items, I'll give it a whirl. Another reason I'm not jumping on it is that it's been getting poor reviews by several other BBA Challengers.
The Miche, on the other hand, I will try to get to, it's just that I don't have any Whole Wheat flour at this time so that's on the shopping list. Instead of not baking this weekend, I chose to hop ahead one and hit the pumpernickel, one of my fave kinds of bread. I do hope it turns out well.
On with the show.
This is a two-day bread, the first day is simply setting up our stiff rye starter. For that, I build up the standard white starter to 7 ounces.
With this now active and bubbly, I fire up the rye starter which is the whites starter (or 'barm' as Reinhart calls it) mixed with 4.25 oz rye flour and 6 oz room temp water. Mix, cover and let ferment for 4 to 5 hours for the flavours to develop and the sourdough yeasties to propagate throughout.
After this time, we have an active, bubbly wet starter , at about 130% hydration.
We're now ready to go ahead with our Mis: Bread flour, the rye starter, 1/4 cup of water (if needed) then, from left, brown sugar, cocoa powder, salt, yeast and veg oil.  Like I said, pretty simple stuff.
Missing from the ingredient list here: bread crumbs. Although it's noted as optional, the recipe asks for 4 oz of bread crumbs, preferably rye. Didn't have any of any type so it became optionally skipped. Not sure what the purpose of adding bread crumbs would be either, it's not noted anywhere in the recipe.
Next are the typical steps: stir together your dry ingredients, add the liquid ingredients and mix until a rough ball forms.
One thing to note here; sift that cocoa powder before adding it as cocoa tends to clump up. I had to scoop it out thewhole bowl of dry ingredients after taking that shot and sift it because there were a lot of small black cocoa nuggets that were just not breaking apart simply by whisking.
You'll likely notice a lack of KitchenAid Mixer here. I decided to do this one manually. No real reason, other than just to do so. Turned out to be quite an easy bread to mix.
I turned the dough ball out onto a very lightly floured counter and began to knead. This took about 6 minutes. The dough was not very sticky at all, quite easy to handle and hardly any gummy fingers or tacky counter top to worry about. After the six minutes, the dough was smooth and ready.
Note to self: Kneading and taking photos at the same time is a little tricky. Check to see if hiring an assistant is in the blogging budget.
It's time for our bulk proofing, so into an oiled bowl the ball o' dough went. I made sure to also oil the underside of the cover as the dough was pretty much filling the bowl half way already and would otherwise stick to the cover once it had doubled. A bigger container would have avoided this small step of course. After 90 minutes (Reinhart says 90 to 120) we had hit the double point so it was ready to go to the next stage.
Using a wet bench scraper, I simply split the turned out dough ball in two and with very light shaping, placed the two dough loaves into the lightly oiled pans. These are small bread pans, 8.5 X 4.5 X 2.5 inches tall.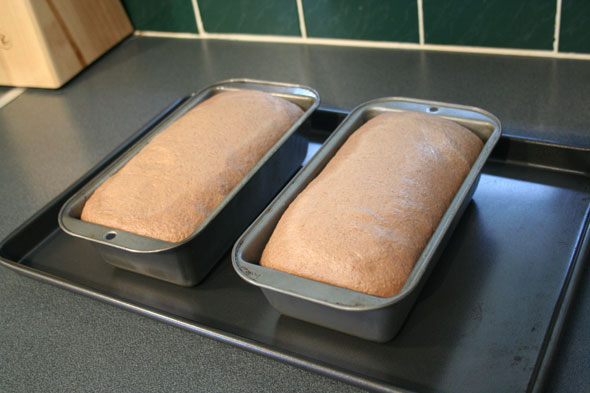 I let these do their final proof for another 90 minutes until the centers reached about an inch above the pan's edge. Since it was now 3 a.m., I popped them into the fridge to continue in the morning. They then sat on the counter for about 1 hour to warm up and maybe get a little bigger. However, they didn't increase at all while warming.
Meanwhile the oven was preheated to 350ºF. Once it had hit that and been left to even out for another 15 minutes, the bread went in as you see here, two bread pans on a baking sheet. They'll stay in for 20 minutes, get a 180º spin to bake evenly then another 20-30 minutes until they reach 185-195º inside.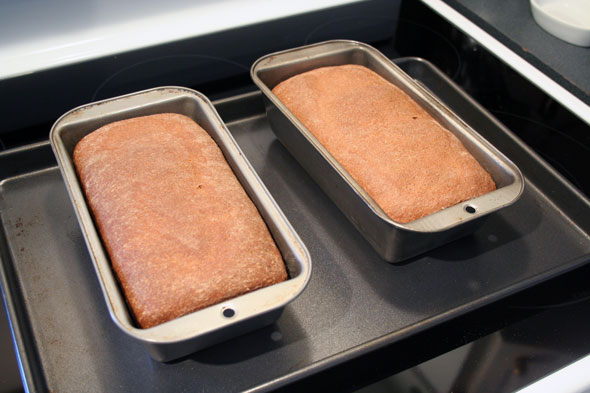 Here they are after a total of 40 minutes, they had already reached 200º internally. Note that they did not get any oven spring and in fact may have even shrunk a little. Perhaps I should have done a slash but I was a little concerned about the dough before putting it in the oven as I got the inkling they may have been at their proofing max. Slashing them at that point may have deflated them.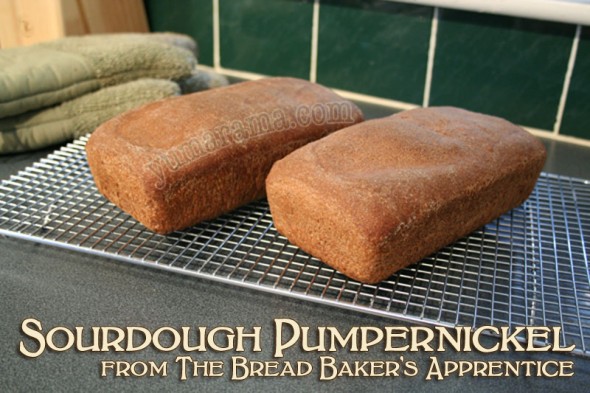 Here are the loaves, de-panned and cooling. They're rather light, at about 14 oz each. From this angle you can see where the tops were beginning to deflate a little. They smell great, though.
An hour of cooling later (Ok, I lie – this was about 35 minutes, couldn't wait any more) I cut a loaf and checked the crumb. Nice even distribution, small bubble structure, pretty close to the picture in the book and the header at top here.  Yes, these are definitely going to be small slices.
Flavour-wise, it's an interesting taste. You can pick up the cocoa, the salt is slightly noticeable but not bad, just definitely present. The rye flavour… Man, again it's pretty low. Not vanished but a little too subtle for my liking. But then I really like dense, dark, heavy rye and pumpernickel bread that don't feel ashamed to say that's what they are.
This is a nice bread, overall, even if not what I'd make a point of aiming at. It's still a little too subtle for me but that may be all that a lot of other people would even want in a pumpernickel. We're in the process of whipping up some egg salad to make tasty sammidges so I don't think we'll have any trouble getting through these two loaves in any case.
I just wish this had been a heartier bread. I suppose I'll have to hop over to the Hamelman book for "serious" pumpernickel.
Others blogging this bread:
Anne Marie at Rosemary & Garlic very much liked the results.
Sally at Bewitching Kitchen loooved it!
Oggies at I Can Do that! gave it a "Perfect 5" score.
Phyl at Cabbages and Kings found his version dense and "not what I was shooting for".
Seems this one's a bit all over the map too. If I was rating out of five, I'd give this 3.5: good, not awesome.
This bread was submitted to YeastSpotting,