I had mentioned in the last post of the the BBA Challenge, that I wanted to perhaps continue doing a bake-along with others, although not something as "big" again as the entire set of recipes in one book.
So far, a few of the BBA members have said that they might be interested in a similar venture. So I've spent the last couple of days working up a bit of space on this site to work as "home base' for such a group.
I've arbitrarily called it Mellow Bakers as this describes a somewhat more relaxed goal for the group.
So what's the deal?
In no particular order, these are some of the ideas I've been fiddling with in my head. I'm not particularly set on any of them and I'd even like some input from those interested so we can, as a group, come up with a workable set of guidelines and goals.
To start, I think we could use another book, this time Jeffrey Hamelman's Bread: A Baker's Book of Techniques and Recipes. One reason to go with this is that it's one of the more popular ones so a fair number of people would have it already or would be considering getting it. Another is that the appeal of the book is it's slightly deeper focus on the technical aspects of bread making. It is less focussed on the book's visual appeal – of the 400+ pages in the book, only 8 have photographs and more on the background, science and techniques of the art. And Hamelman is, from my experience, a highly regarded baker and teacher.
Next, instead of going through the entire book, I'd want to specifically pick particular recipes to try out. Some because the bread seems appealing, others perhaps because they introduce a interesting technique I haven't attempted or am not good at yet. But I also don't want to be doing bread after bread that basically repeats what was done last time.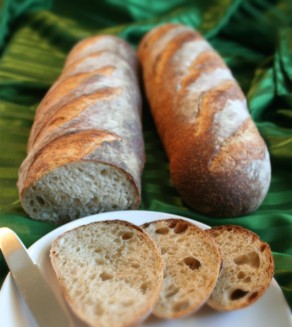 If we look at the Vermont Sourdough on p. 153, we see that following this is also a whole wheat version and an increased whole grain version. I wouldn't want to do all three although I think we would list all three as a choice.
Having said this, I would also want to expand the recipe sources to other books or web sites at some point down the road. Hamelman's book has 89 recipes (unless I miscounted) and I don't really want to tackle each and every one. At least not in one go, mellow or otherwise.
Schedule wise, I'm thinking about aiming for one or two recipes a month. I again don't want this effort to overtake what I make for the house, particularly, as some of you may have picked up on, there's only two of us so large productions of bread are not wise. Picking a couple of recipes to do over the months may be the way to go. Maybe we'd end up picking two recipes and letting people choose which they want to do that month, perhaps even both. But it still needs to be a casual or "mellow" schedule.
And "mellow" is important.
In fact I would like to see this as a journey people can join and leave and jump back on again at their leisure. Although most people may follow the 'schedule' and do a particular bread in the month it's selected, there would be no problem if someone jumped in later and did a bread from three months back and posted about it.
However, the main aim, above and beyond these other points, is to continue the "community baking" aspect. And for this, I've set up a new forum space where everything can be centralized. Discussions, choosing breads, posting results and having a space for those who don't have blogs to do so will make for an interesting venture. Sharing tips, comments and experiencing the baking of specific breads together, even if in different locations or even at different times, will bring a real sense of community and belonging.
So I'll now open it up to further discussion and repeat that my vision is not at all set in stone nor necessarily the best way to go. If you're up for this new but mellow challenge – even if you want to take a few weeks off once you complete the BBA, drop on in and see what the Mellow Bakers are up to and maybe join us for a few loaves. But you can always join up now and jump in on the bakes when you feel up to it. This is, I want to point out, NOT specifically aimed ONLY at folks doing the BBA Challenge. Anyone who wants to "bake along" in order to share and learn from others making the same bread should feel free to participate.
What's the next step then? Well, hop over to the new Mellow Bakers forum and let's work up the details a little more. The new forum is at
As of right now (Monday March 8th) not a whole lot is in there, just some sample posts and me rambling a bit. But don't let that put you off, jump in and have your say and help shape what this group as it's forming. We may have a nice small group ready to roll with the first group bake in a short while.
Update!
We've spent some time recently getting the group objectives and process set up. You can read the more detailed post over here:
So tell me about this Mellow Bakers stuff…
and we've officially begun our first full set of breads: Light Rye, Rustic Bread and Bagels. Hop over and join the fun!