My third bread in the MellowBakers.com group bake, the Rustic Bread from Jeffrey Hamelman's wonderful book Bread: A Baker's Book of Techniques and Recipes is a pre-fermented loaf and has a combination of white bread, rye and whole wheat flours. Although it takes about 22 hours from start to finish, the time actually spent doing anything besides 'waiting' is really not that different from other breads.
The pre-ferment is designed to allow a portion of the dough to ferment and age, bringing out a lot of the wheat's flavour without needing the whole batch of dough to sit about for 12-16 hours. I pretty much went from start to finish doing everything as expected, except for a little extra hand kneading after the first rough mix to add a small handful of flour as the dough was just a little too sticky.
As I noted, this bread used a pre-ferment so let's start with a look at this step.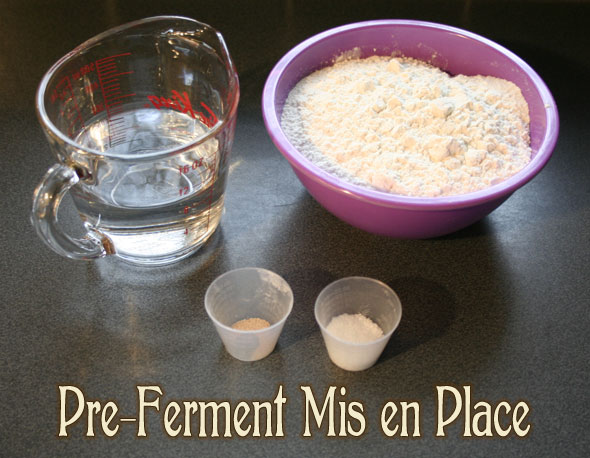 Our ingredients here are simply 272g of water, 452g of  bread flour, 1/2 T of salt and a tiny amount, 1/8 tsp of yeast. Pay attention kids, there will be a test.
The yeast is added to the water and 'dispersed' then the flour and salt are mixed in until incorporated.
As this makes a somewhat rough dough at 60% hydration, I turned it out onto the bare counter and kneaded it for a minute or so until it was smooth then placed it into an oiled bowl and kept it covered on the counter until the next morning, when it had expanded enough to completely fill the bowl. This was a full 16 hour pre-ferment.
And now, your Pop Quiz (what, you thought I was joking?)
There are two very specific clues in the above description that will give you the answer to the test question:
Is this pre-ferment a:
A) Biga
B) Pâte Fermentée
C) Poolish
D) Sourdough Starter
E) None of the above
Choose your answer and we'll see which is correct a little further on.
So the next morning, we get to start making the bread. Sure, it's been 16 hours but we only put in about 15 minutes of work in there. But when you tell people, you can go ahead and impress them with how much dedication you have making a 22 hour bread.
Next, our actual Rustic Mis en Place.
Hmm, still not that tricky. Water, bread, rye and whole wheat flours, salt, yeast and our pre-ferment.
Toss the dry ingredients into the bowl and add the water, mix for about 3 minutes at speed 1.
Chunk up your pre-ferment and drop it into the mixer a bit at a time while it mixes. Mix at speed 2 for another 2.5 minutes (I switched to the dough hook at this point).
I turned the dough out onto the counter and added just a small handful of flour, maybe two or three tablespoons, as the dough was just a little too sticky. This bit of kneading only took about 2 minutes tops. The center photo shows the dough a little smoother. It now goes into an oiled bowl to bulk proof for 2.5 hours, with a couple of folds, one after every 50 minutes.
While nearing the end of the bulk proof, I prepped my couche with plenty of rice-and-bread flour. The dough ball is then turned out of the bowl and split into two relatively even pieces. These are then lightly shaped into rounds, covered and allowed to rest for 15-20 minutes.
The rounds, after their rest, are shaped into ovals (sort of) and allowed to proof in the couche for 1.25 to 1.5 hours at which point they had about doubled.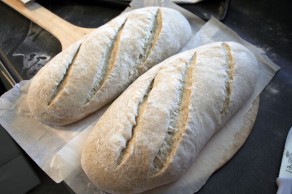 During this final proof, the oven was preheated to 450ºF with a stone. Once the loaves have proofed, they're transferred from the couche (gently) to an oven peel and slashed. The loaves were a bit fast to open up and flatten a little, so I was worried the dough was too soft. But at this point, there's naught to do but move ahead anyway.
Into the 450ºF oven they go onto a pre-heated stone. I did not spray the interior of the oven or toss a cup of water into a waiting, scalding hot fry pan.
Instead, I covered these loaves with a large aluminium turkey roasting pan to work as a "cloche", trapping the inherent humidity of the bread itself to "steam" the loaves and keep the outside supple while they do their oven spring. This allows for much expansion before the crust seizes.
Want so see the result?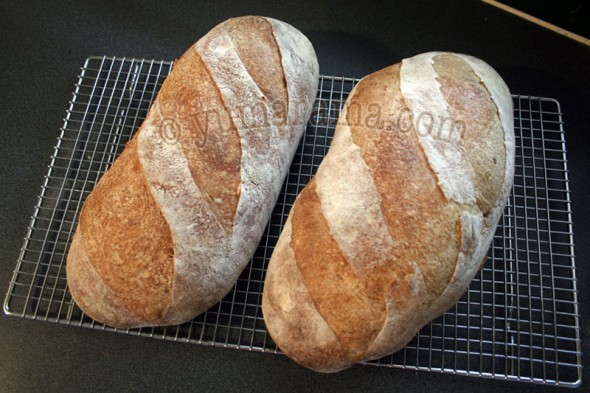 Two quite huge loaves with (pretty mediocre) diagonal slashing. The internal temp, after the minimal 35 (of 35 to 38) minutes Hamelman recommends was 206º so perhaps the loaves should have come out sooner. The bottom is a tad overdone though not burnt. Next time, check the loaves at 30 minutes. Add an extra slash so the space between is smaller and there's more places for the bread to expand. Perhaps a somewhat more parallel angle, not so diagonal, will avoid the "break"
And finally, the Glam or crumb shot.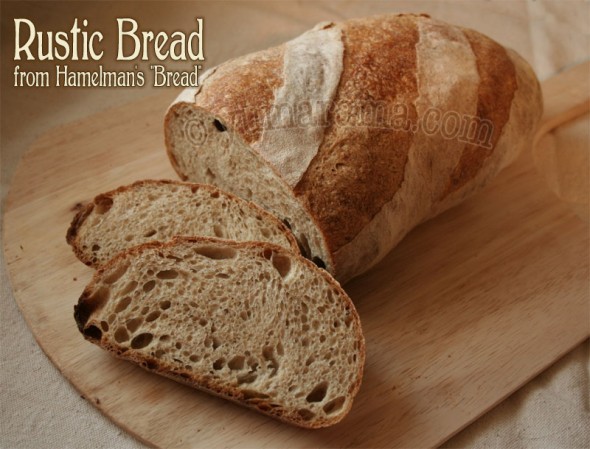 A lovely, slightly nutty bread with somewhat open crumb. Relatively fresh out of the oven, it's got a nice light crunch to the crust. Definitely one to bake on a regular basis. We'll see how it fares on day two after being in a plastic bag for a while, it may get even closer to "sliced bread" in crust texture (no, not for me).
And now, the answer to the Pre-Ferment Pop Quiz:
The answer to the above Pop Quiz is B, this a Pâte Fermentée. We know this because:
It contains salt, which Poolish and Biga do not
It is at 60% hydration, Poolish is 100% (Biga can be 50-60%)
"Starter" refers to wild-yeast sourdough, where this is a commercial yeast based pre-ferment.
Others Baking This Bread
Check out the folks beaking this bread over at MellowBakers.com,
Coming up next: Light Rye!
This bread was submitted to YeastSpotting