The very first loaf in The Bread Baker's Apprentice Challenge, (a.k.a. BBAC) the very first loaf in the book (alphabetically) and the very first loaf out of the new oven. How's that for a pantload of firsts?
So let's recap what we have.
"The Bread Baker's Apprentice Challenge", which you can read in more detail about in the linked post above, is basically a whole whack of people doing all the bread recipes in The Bread Baker's Apprentice book by Peter Reinhart, all in order of appearance and on a weekly schedule (mostly).  It's more of a personal challenge, I think; there are no prizes or penalties (that I know of!) for doing every single recipe or skipping a couple but we're all aiming to cover all 43 recipes at a pace of about one per week. So we'll still be at this come February 2010, maybe a little later given there will likely be breaks for holiday baking and such.
If you want to "formally" get in on this group, the roster is set to close this coming Sunday May 10. 2009 as there's already over 100 people signed up. So hop over to the PinchMySalt.com page and join up quick! However, you can also just follow along and even bake alongside without formally joining. Check the BBAC page  to see who's playing, our blogs are listed as are the Twitter names so you can keep track of everyone easily.
Very first loaf in the book: well, it's on page 110 so it's not exactly at the beginning of the book. The previous hundred or so pages go through a lot of preliminary info and instructions in order to get you to understand bread, bread baking and a few discussions on the science and art involved. All done in Peter's smooth, casual style so you won't feel totally overwhelmed with facts and figures.. If you are into breads and don't have it yet, please consider getting a copy. If you want to do the challenge (group or solo) you'll obviously need it. A great addition, either way.
First bread out of the oven: After the previously blogged "cookies", this is now the first loaf to go in and come out. I think I'm loving the new oven. Amazing what going up a quality level can do. It heated up in no time (Rapid PreHeat), the temp was steady and no surprise burning. I didn't use the convection aspect today, still not sure what I'd need to adjust as compensation for a regular oven temp & time.
OK, now to the loaf itself.
As complexity goes, this one was rather straight forward and simple. Soak some coarse (polenta) cornmeal to soften for 12 hours, then mix in with standard dough ingredients, add a little molasses, knead. Rise, shape and proof, then into the oven. Yeah, not complex.
The dough was on the soft side, easy to handle. I kneaded in the mixer at first but ended up kneading by hand a few more minutes anyway. The only unusual aspect to it was the cornmeal and molasses and the texture the cornmeal gives the dough. Otherwise though, it handled really nicely, very simple process throughout. Popped into a loaf pan – the recipe makes two loaves but I cut it in half since there's only two of us and I didn't want to start filling the rather limited freezer space, especially since we'll be ding a lot more breads down the road.
I haven't cut into the loaf yet and I don't know if it will look quite like the one in the book, Peter says to use "light" molasses but all I had on hand was "cooking" molasses, which is pretty darn dark. So I only put in half the required amount and topped up the remainder with light brown sugar. Refined brown sugar is, according to Rose Levy Beranbaum's excellent article on sugar, just regular sugar that's had molasses added to it. Depending how well this loaf goes over once we  get at it, I would likely make a point of buying light molasses if it seems good but too "strongly" flavoured.
Well, I'll update the post with a little more of a review when I can cut into the loaf and get feed back. But from the outside and the wonderful aroma in the house, it's looking very promising.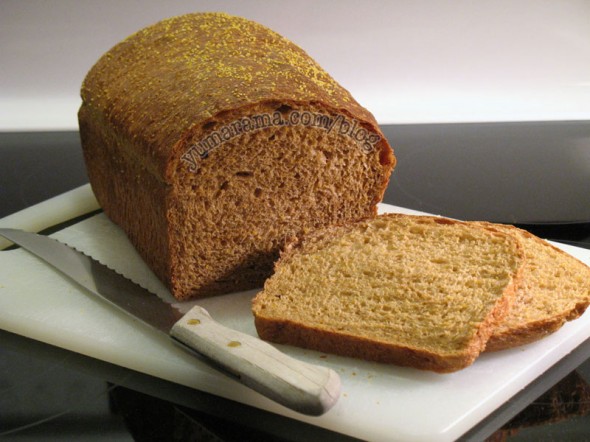 Update: Sliced! thin soft crust, as expected, very much in the "sandwich bread" category but with an interesting texture due to the coarse cornmeal. A bit of "crunch". The molasses adds an interesting layer of sweet although it would have, after all, been better to use lighter molasses. It's not overbearing as is but would likely be nicer with that flavour pulled back a little.  Not something you'd want for your Genoa Salami (heh, or maybe it is!) but would be good toasted and with jam or perhaps a cream cheese.
I like it. Next time, two loaves.
Next challenge on the list: ARTOS: Greek Celebration Breads in three varieties.
PS: I'm also uploading photos in my brand new Flickr account here. If I have a series of bread pics, I will likely use just one here, the rest will be put there.  And I seriously need to get better lighting in the kitchen since I'm almost always taking photos at night.
PPS: And of course, as always, comments are welcome.