In a continuation of the "How To" on drying an active starter previously posted here, we'll look at the steps to revive that starter. A few people have asked how this is done or how long it takes to get a dried starter back to active duty.
So let's get going and you'll see it its actually pretty fast and easy.
Our Mis en Place here is very simple: your starter flakes and some water. Here is the bag of dried starter I made from my 'from scratch' starter PJ in the other thread some 7 months ago. It has been kept in the freezer for most of that time. You may be using your own dried starter or a bit you got from a friend, a commercial one like Carl's or King Arthur or specialty source starter from Sourdo.com… the specific source won't make any difference, the reviving process is the same.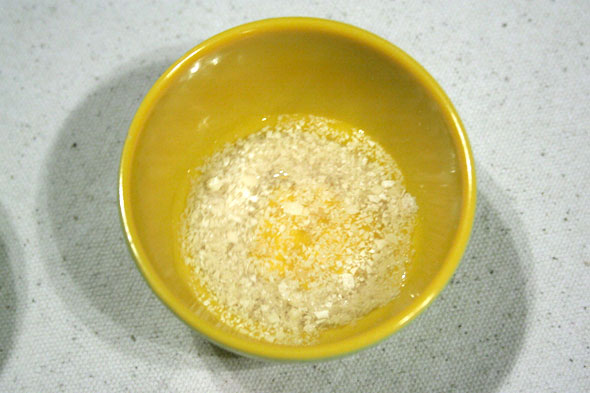 The first step is to take about one teaspoon or 5 ml of your dried, flaked starter and add it to about a tablespoon or so of water – eyeballing either amount is fine at this point, just don't add too much water. Stir and let sit for a few hours until most of the flakes dissolve or soften.
A few hours later, the flakes will have disolved and turned the water milky when you give it a bit of a stir. It's ok if the granules aren't all disolved completely; a few errant lumpy granules won't be a problem. We're now ready for step 2.
We can now add a tablespoon (15 ml) or so of flour, enough to make the usual "pancake batter" consistency, using whatever type of flour you normally use in your starter. Here I used All Purpose flour; if I wanted to build a rye or whole wheat starter, I'd use that type of flour instead. Then I put cling film (or a lid if you did this in a little jar) on top and let the mix sit out on the counter for a day. Just as you would with your normal starter, you want it in a comfortably warm location, about 20ºC – 24ºC.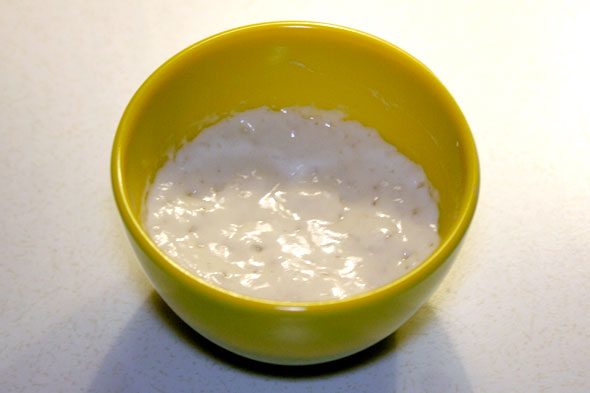 Next morning, we see that the starter has already begun bubbling a little. It probably did not rise much if at all but is certainly showing activity.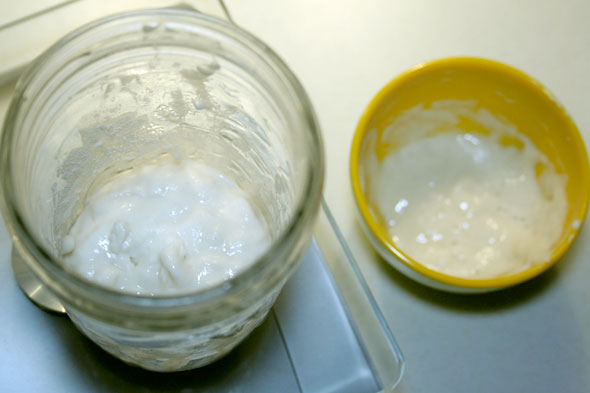 I then weighed out my normal starter amounts (yours may be different) of 10g of our newly revived starter, added 20g water and 20g flour. Next, I put a lid (loosely) on the jar and leave this on the counter for the next day or three, feeding as I normally would when the starter has doubled or better.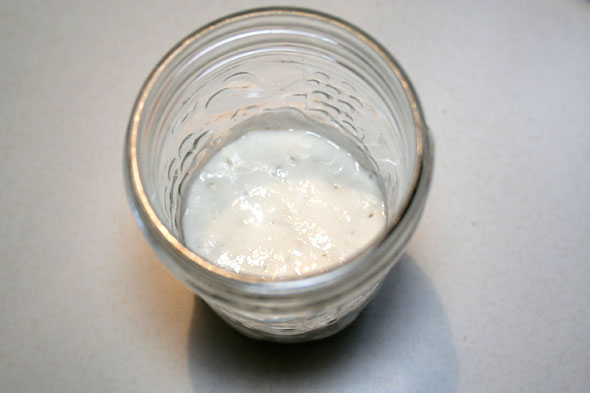 Here is our revived starter doubled just a few hours later, doubled in volume and bubbly. Success!
Total time from soaking to active starter: you could see a full revival in less than two days if your kitchen is a moderate temperature. If it's winter and quite cool, you may need three days or so. Compared to the two or three week development with a "from scratch" starter PLUS the month or three more from there to develop a brand new starter's character and flavour, this is a huge time saver AND I've successfully revived a starter I know was active and dependable back when I originally dried it up. I have, in effect, gone back in time and grabbed my starter from the past.
How cool is that?
I'll give PJ a couple more days of normal feeds & discards just to make sure he's back to his old self before using him in a recipe –  I'm sure getting all dried up and reconstituted will probably have been a bit stressful so I may as well give it a bit more time, just as I would a starter forgotten in the fridge for numerous weeks. The next step after this little mini vacation will be to start making more sourdough bread!
And there you go: you've seen PJ develop from just flour and juice in the Step by Step Starter section, seen him in action in a few loaves, watched how some excess starter was dried for back-up and prosperity and now seen how simple it is to revive from the flakes.
I hope the process has been shown to be relatively simple and that it encourages you, if you haven't done so yet and feel a little intimidated, to give it a go of your own. Remember, it's not rocket science, people have been building and keeping starters for thousands of years, long before thermometers, refrigerators and kitchen scales came into existence. If they could do it when the most advanced tools they had in the kitchen was a bowl and spoon, you certainly can do it too when you have modern technology to help you out.
Have questions? PLEASE feel free to add them in the comment section bellow. Share your experiences, report how your drying and reviving efforts went and help show others it's really easy.