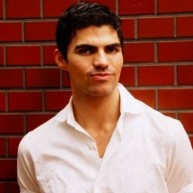 Good friend Steven, over on Made By You And I – that's his handsome mug there – decided to toss out a challenge to me a while back to do a recipe for Baumkuchen. Baum is German for tree ("O Tannenbaum, O Tannenbaum…") and Kuchen is cake. Tree Cake. He had seen this post over on The Daring Kitchen, a site where a selected member picks a recipe once a month and the DK members all give it a shot then post the results. There are two sides: a cooking (i.e. chicken, veggies, etc.) and a baking side (cakes, breads, etc.). I checked the Daring Kitchen challenge out and decided to go for it. And that's how I came to give this interesting cake a try.
The full recipe is published at the DK site and you can nab a PDF of it if you wish (link a bit further down). Although much more detail is given on that site and on Wikipedia, here are the basics:
A Baumkuchen is basically cake baked in very, very thin layers, built up until you get a cake that, when sliced, looks like the rings of a tree, ergo its name.
Traditionally and in a commercial bakery, it is made by baking a white or almond-flavoured batter as it is poured onto a rotating large pole set in front of a special broiler. As each layer is poured on top of the previous one, a slight browning occurs and these result in the distinctive "rings" seen in the finished cake. The undulations you see in the 2nd and 3rd photo above are made by simply pressing the still uncooked batter while adding the very last few layers bake. This gives the cake a distinct look and allows it to be cut into clear portions, if desired: some Baumkuchen are simply left flat, as shown in the first photo. It is usually finished with chocolate coating although some types are covered in other flavours.
Another version of this cake is called "Spekkoek" in Dutch (and if made with spices like cinnamon, cloves, etc., "Lapis Legit" in Indonesian), which is in reality what we will be making. This is the same sort of process as Baumkuchen, except you don't need a special machine; it is the simple layering of the batter into a pan and baking each layer in your home oven. The result is then a flat version of the round cake above. But as this cake is more widely known in its round form, we'll just call it Baumkuchen anyway.
Here is the recipe, as provided by DK member Farncijn, in downloadable PDF format. There are other version one can find on the web, so if this one doesn't rock your boat feel free to use another. The layering process – what makes this a "tree cake" – will generally be the same, the main difference would just be how you make the batter.
Ready? Here we go…
Baumkuchen Ingredients:
Batter:
6 large eggs (room temperature)
pinch of salt
1/2 cup plus 2 tablespoons (150 ml) (4-1/4 oz) (120 gm) granulated sugar
2/3 cup (160 ml) (5-1/3 oz) (150 gm) marzipan
1 cup minus 2 tablespoons (1-3/4 sticks) (7 oz) (200 gm) softened unsalted butter
3/4 cup (180 ml) (3-1/2 oz) (100 gm) confectioner's (icing) sugar
2 teaspoons (10 ml) (1 package) (8 grams) vanilla sugar
2/3 cup (160 ml) (3-1/2 oz) (100 gm) all-purpose (plain) flour (sifted)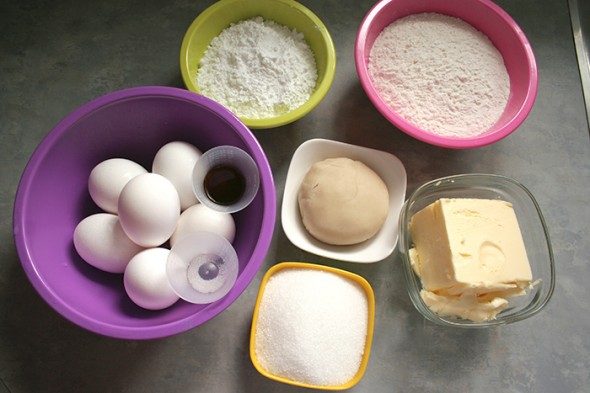 Note: Be sure to get your eggs out first and, if fresh from the fridge, put them in a bowl of very warm water as you measure out the rest of your ingredients. They will be at room temp by the time you need them.
Butter: if cold, cut into pieces and nuke for 15-20 seconds.
As I don't have "vanilla sugar" I just used 4 gm (a short capful) of vanilla extract instead.
Crumb Coat
1/3 cup (80 ml) (3½ oz) (100 gm) apricot jam
2 tablespoons (30 ml) orange liqueur (optional)
Chocolate Glaze
1 cup (240 ml) (7 oz) (200 gm) dark chocolate couverture chunks
1 tablespoon (15 ml) pure coconut oil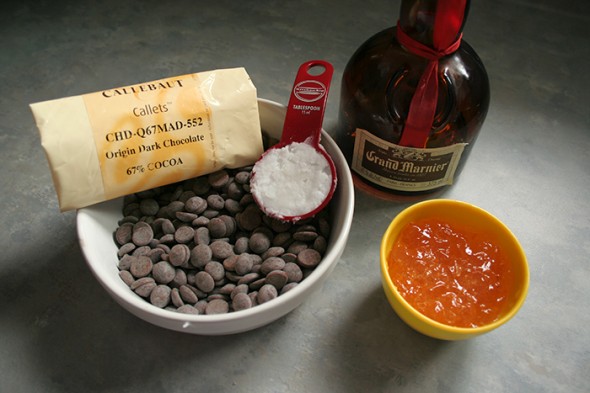 Here is a printable table of ingredients: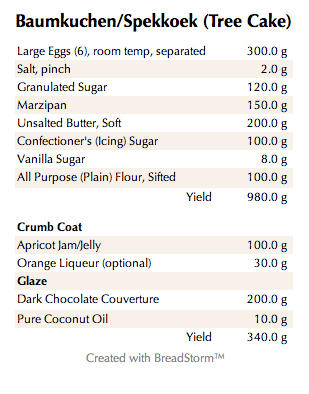 Equipment You will need
A 10″ (25 cm) springform pan or cake pan or a 8 X 10 (20 X 25 cm) rectangle pan
Parchment Paper (wax paper will NOT work)
Oil or Butter to coat the pan & parchment
A minute timer
The Process:
Preheat your oven to 450ºF (230ºC). Place a rack in the center of the oven.
NOTE: As I read when researching other Baumkuchen recipes and blog posts, you can also use your oven's broiler, as I did here. In that case be sure there are no racks above that centre position.
Line your chosen cake pan with parchment paper cut to fit the bottom. Oil/butter the pan and the paper.
Separate the egg yolks and egg whites, placing the whites in a very clean mixer bowl. Add the pinch of salt to the whites and whisk until soft peaks form. Add the granulated sugar and whisk until you achieve glossy, stiff peaks. Transfer this to a second bowl if you need the mixing bowl for your machine.
Crumble the marzipan into the mixer bowl (no need to wash it). If your marzipan is cold or even cool, you may want to warm it up in the microwave for a few seconds so it will dissolve in the batter better. Add the soft butter, confectioner's sugar and vanilla and mix (use the paddle if using a KitchenAid type mixer) until nicely combined.
Add the egg yolks, one by one, mixing between each addition until they are incorporated before adding the next.
Add the whipped egg whites and the All Purpose flour and, with a spatula, very gently combine into the batter until all is very well mixed. Be gentle here, go slow and methodical as you want to avoid losing all the air from the egg whites: using your spatula, gently scoop to the bottom of the bowl and lift the batter up to the top, giving the spatula one turn as you do so. Give the bowl a small rotation and repeat until all the meringue and flour are mixed in.
That's it for mixing the batter.
Panning and Baking:
Dividing the expected batter weight (980 g) by 10, I got roughly 100 grams per layer, give or take a bit. This turned out to be about a ½ cup measure full.
Put your batter portion into the lined cake pan and, using an offset spatula, plastic bowl scraper or whatever tool best works for you, spread the batter evenly over the entire bottom of the pan. It will be very thin.
Pop this puppy into your oven either preheated at 450ºF or on broil. Bake for 4 minutes or until it starts to brown a little if you are baking. For broiling, I found 3 minutes to be ideal.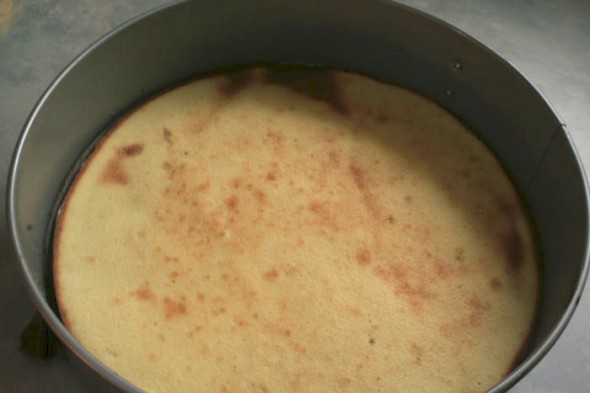 In this first layer, I found the batter was spotty in colour since it was so thin and the heat from the preheated oven baked it from the bottom while the broiler baked from the top. This caused the layer to shrink from the sides considerably. As I built up the next two layers, they cooked much more evenly with no shrinking. I also didn't want this first layer to get much darker since it would be returning into the oven for a good number of bakes and could therefore get overdone.
I spread a second layer of batter and immediately noticed this one melted somewhat since it was going onto a hot cake. Although I worried about losing the "fluffiness" of the batter, it seemed to not be much of an issue. Back in the oven for its allotted time, this second layer baked up much better than layer #1.
Here we are at about layer #5. Note the surface is nicely and evenly browned. This will give us a good "tree ring" definition in the final cake.
As you may have guessed, this is a cake that takes a fair bit of attention; you can't pop it in and come back 20 minutes later so if you ever do decide to give this a try be sure you haven't got other stuff to attend to during the baking. At three to five minutes per layer (spreading, returning to oven, baking) this 10 layer cake took about 40 minutes of hands-on baking. It wasn't difficult, by any means, it just required consistent attention.
Once the final layer was baked, the pan is set aside to cool for a while. Then the cake ring is removed (or the cake turned out from a regular pan) and allowed to cool on a wire rack.
Once cooled, you can trim away the outside edges of the cake which would be a little too dry to leave on. If you are doing a square/rectangular cake, you may prefer to simply slice the outside edges away and only cover the very top of the cake, letting the layers show. For my cake, I decided to coat the whole thing but still wanted a nice clean edge.
I hunted through the kitchen and found a regular cake pan that was a mere fraction smaller than the cake itself so I used this as a template to remove the crunchy edge without losing much cake at all. With a small knife, I scored lightly into the top layer and, removing the cake pan, had a clear line to follow for trimming. A bit of careful surgery plus a final detailed trimming and presto, a nice squared edged layered cake! (The bits I took off tasted yummy; perk of being the baker!)
The Crumb Coat: I brushed off any stray crumbs from the cake and plate then I gently heated up the apricot jam and strained it through a sieve to get a relatively clear end product. I added a little of the optional orange liqueur for a bit of added zing. This was then brushed onto the cake, seen here placed on a flat plate with some parchment strips under the edge. This keeps the plate clean while you are coating the cake.
Meanwhile, I had put on a small pot of water to simmer with the chocolate and tablespoon of coconut oil (a tablespoon of butter would have done in a pinch instead). The coconut oil helps to make the chocolate less brittle so it doesn't all crack when you slice the cake.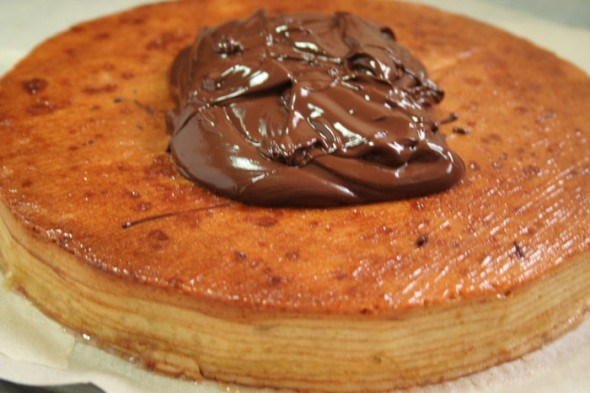 The melted chocolate covering is then placed onto the cake and spread. I let this cool just a tad too long; it would have been a nice, very smooth and glossy covering if I had coated the cake when it was a bit more liquid. Still, it worked out pretty nice, I think. Unfortunately, I had my hands coated in chocolate while doing this stage and had to work relatively fast so there are no pictures of the process.
Here is the finished product: Baumkuchen!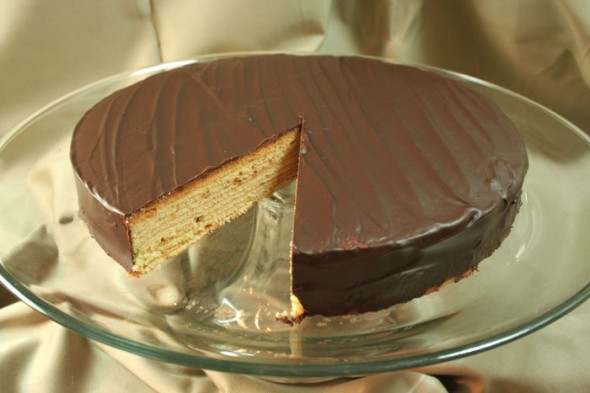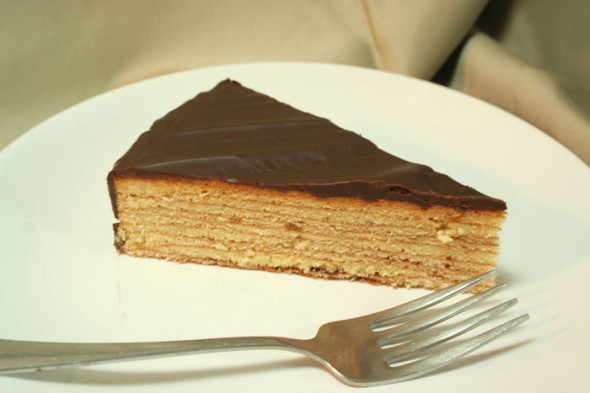 I forgot to add almond bits I had bought just for this when I had finished coating the cake. I would have sprinkled them on the outside edge of the top to make a bit of a border. But I think the final result is still nice looking. The texture of the chocolate looked pretty nice.
As you can see, there are 10 very distinct layers in the cake so the process was successful. The flavour of the cake was nice, although I didn't find the marzipan terribly noticeable. I might add some almond liqueur to the batter to kick that up a little next time; alternatively almond extract would work too (please avoid the artificial stuff, go for the real extract). Another point I found was that the cake is a bit dry. I expect this is due to the layers being so thin and, with each one drying as they are being baked, it lost a fair bit of moisture. Perhaps brushing on some simple syrup (half-and-half sugar and water, by weight, simmered just until the sugar dissolves) to coat each or every second layer as the cake is being built would help in this case. Or maybe make eight slightly thicker layers so they aren't as quick to dry…
But none-the-less, a successful bake! Relatively easy to do, just needs some patience and a set aside block of time.
A final note:
Marzipan: This wasn't a cheap ingredient! It was $8 for 300 g at the local grocery store, so $4 went into the cake; I would have hoped the almond taste would have been more notable. I'll have to hunt up a recipe for making it from scratch since getting almonds is a fair bit cheaper at the moment. This may change drastically in the next while as the almond crops have taken a massive beating this winter and prices are going to go through the roof. But then marzipan will get even MORE pricey. Perhaps a better plan will be to switch to one of the spiced batter versions instead.
Another possible choice: a mix of plain vanilla batter layered with chocolate batter, or coffee, raspberry, passionfruit… Oh, the potential combinations are sounding very tasty!
Well, I'm off to eat another slice now, with a side scoop of ice cream this time. Post questions or comments below if you wish, love to hear from the readers!
Alright Steven, I'm now looking for your go at it! (Complete with GORGEOUS pics now that you have that awesome new camera!)