Since man cannot live by bread alone (unfortunately), I though I'd add a recipe for an incredibly tasty soup so that you'd have a good reason to have MORE bread.
This recipe specifically lists butternut squash, ergo it's name, "Spicy Butternut Squash Bisque". But since that doesn't happen to be what we grew in the garden this year, I used our acorn squash instead. And really, I would bet you could use just about any squash that is available in the produce section.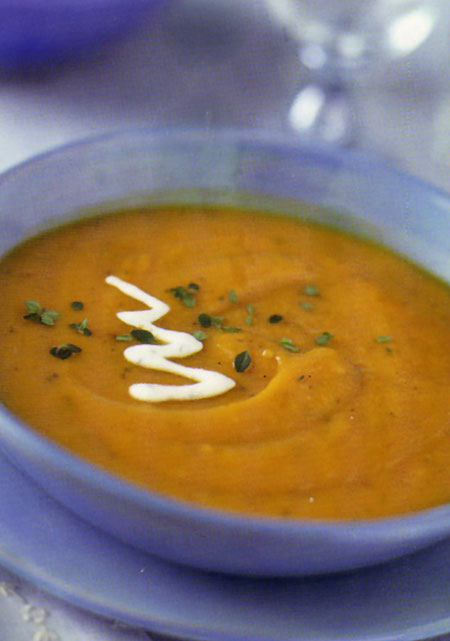 Spicy Squash Bisque
Now I just happen to run into a video clip on Cooks Illustrated where they showed how to cut and prepare a butternut squash as well as recommending getting smaller squash rather than larger ones (watery and fibrous). That was handy! (Note the video is no longer free to access but you can sign up for a free 14 day trial and see it and everything else on the site.)
OK, so here's the recipe which comes from a produce promo card I found at the local grocery store. Once you've got the steps down, it's actually quite easy to make. I highly recommend prepping and measuring all your ingredients before you start the actual cooking ("mise en place"), then it's just a matter of adding this and that and watching your time.
This soup is great served either hot or cool.
SPICY BUTTERNUT SQUASH BISQUE
Prep time: 15-20 min  Cook time: 40 min.
(Note: Magic Converter! Hover your mouse over underlined measurements to get converted amounts)
INGREDIENTS:
Step #1:
15 mL (1 tbsp) olive oil
1 med sized onion, coarsely chopped
30 mL (2 tbsp) chopped fresh ginger root
1 jalapeño pepper, seeded and chopped (adjust to taste)
Step #2:
1 medium butternut squash, peeled and cubed
415 mL chicken stock
Step #3:
354 mL evaporated milk
118 mL  coconut milk
20 g – 30 g (2-3 tbsp) sugar
1/4 tsp salt
1/4 tsp ground red pepper (i.e. paprika)
Sour cream and chopped fresh thyme (optional garnish)
METHOD
Heat oil in a large, heavy bottomed pot or dutch oven over medium high heat. Add onions, ginger and jalapeño and sauté 5-7 minutes or until the onions are tender. Your kitchen will smell heavenly at this point.
Stir in squash and broth. Bring to boiling.
Reduce heat and simmer for 30 minutes or until squash is tender. Add evaporated milk, coconut milk, salt, sugar and paprika; cook 5 more minutes.
With a hand blender or food processor, blend the mixture until smooth, scraping down the sides as needed. Serve warm and garnish with sour cream and thyme if desired.
Serves 6.
Couple of quick points:
I don't know how big a "medium" butternut squash should be but Cooks Illustrated says not to get one more than 2.5 lbs so I'll assume it's about 1.5 lb to 2 lbs.
Wear disposable gloves when chopping/handling the jalapeño; Don't touch your eyes while chopping; Removing seeds cuts down the heat
I use 3/4 of a fresh pepper as I found a whole one was too spicy (and I like heat) and distracted from the flavour.
Coconut milk can be found with asian food in your grocery store.
Since you're not likely to use the coconut milk regularly, split the remainder into 1/2 cups in baggies and freeze until you need it again. You can make the soup without but it adds a nice smooth undertone to the soup.
A "bisque" is a thick, creamy soup made from puréed seafood or vegetables… in case you wanted to know.