Intro • [Day 1] • Day 2 • Day 3 • Day 4 • Day 5 • Day 6 • Day 7 • Final Thoughts • Day 15
We'll start our brand new Starter adventure with quoting from Debra Wink's article (quoted article is always in red) and follow along with photos and commentary.
"Basic Procedure for Making Sourdough Starter
by Debra Wink
If you are the curious, investigative type (or a sourdough purist 🙂 ), this can be done with just water in place of the juice throughout. But for many (not all), a vigorous gas-producing bacterium will grow on day 2 and quit growing on day 3 or 4, followed by a few days or more of agonizing stillness. The fruit juice or cider should keep this bacteria (and a few others that are smelly) from growing and delaying the process. Either way, the end result will be the same sourdough starter."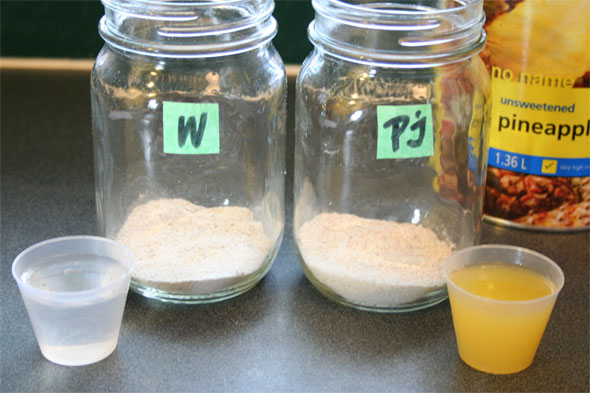 Our Sourdough Starter Mis-en-Place:
We're going to start off making our TWO starters, one 'normal' with just water and the other following the Pineapple Juice Method, side-by-side and see how they do compared to each other.
Walter will live on the left and get normal tap water (Walter, water.. get it?) PJ will be on the right and get unsweetened Pineapple Juice. Yeah, that's a very large can of pineapple juice for three servings of 2 Tbsp each. No worries, it made good beverages for people too.

Day 1:
mix . . .
2 T. whole grain flour* (rye or wheat)
2 T. unsweetened pineapple juice, apple cider or orange juice
* Organic is not a requirement, nor does it need to be freshly ground.
Notice that Debra chooses to use simple measuring here. 2 Tbsp (1/8 cup) is an easy measure to get and is also small enough to not build up a huge amount of starter. I happen to have these little medical measure cups which make it easy but I also have a 1/8 c scoop. Obviously two 1 Tbsp measures would also work fine.  At this stage, accuracy isn't terribly important, as long as the conditions are set up properly. I'll add here that I'm using rye flour during our beginning process, as this is what I have on hand.

Here they are mixed and on the counter. It's 82ºF or 28ºC in the kitchen. It's middle of summer right now.
Looking deep into the jars…. nothing happening at all after four minutes! I'm shocked.
We'll let these sit on the counter, with their lids on, until tomorrow.
Intro • [Day 1] • Day 2 • Day 3 • Day 4 • Day 5 • Day 6 • Day 7 • Final Thoughts • Day 15