Intro • Day 1 • Day 2 • [Day 3] • Day 4 • Day 5 • Day 6 • Day 7 • Final Thoughts • Day 15
Day 3:
add . . .
2 T. whole grain flour*
2 T. juice or cider
Peeked in on Walter at about midnight and he seemed to have peaked out pretty much where we last saw him. Here are the boys at feeding time today: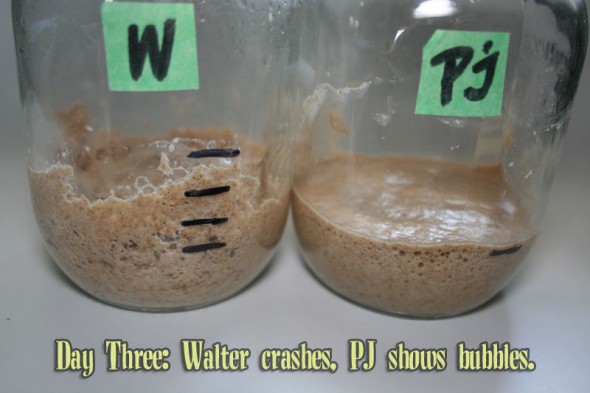 By the way, Walter still stinks… badly! PJ's slight bubble production indicates he may be inching (millimetering?) into phase 3 already: developing more acid-tolerant bacteria.

After giving them their final (we assume) shot of rye – and pineapple juice to PJ – they get a stir and settle in for the rest of the day.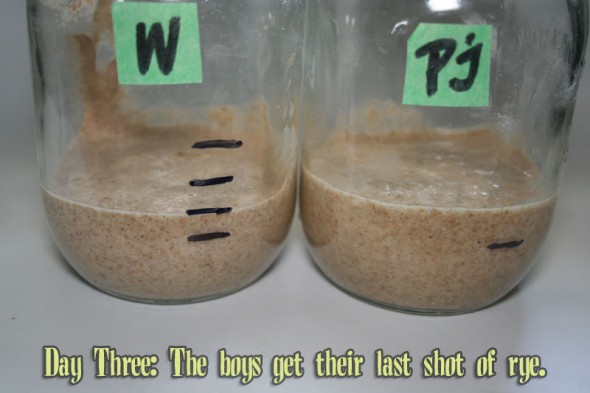 Tomorrow, they graduate to UAP and water. Like grown up boys!
Sniff… They grow up so fast!! Why, it seemed like it was only a couple of days ago they were just little baby starters…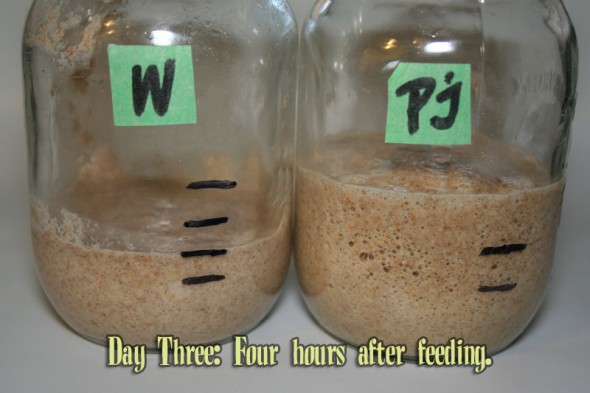 Wally is sleeping (and still stinking) but PJ has decided to get active. That's about a 50% expansion there from the last feed level. The aroma is still primarily of pineapple and I expect this masks any other aromas that may actually be present, like slight yeasty or sour smells. Once we begin to discard and switch to UAP (Unbleached All Purpose) and switch off juice to water, we'll be able to discern what we've got going on here a lot easier. Likewise, the fresh UAP and water will help clear out the stinky bacteria from Wally's jar.
Wally at this point is probably just beginning the stage PJ has been at for the last three days (thanks to the acid in the pineapple juice) so we may not see similar activity from him for a few days more.
Intro • Day 1 • Day 2 • [Day 3] • Day 4 • Day 5 • Day 6 • Day 7 • Final Thoughts • Day 15